Golden Age Sci-Fi 75 (8)
By: Joshua Glenn
June 18, 2016
One in a series of 75 posts about the best science fiction novels published during the genre's so-called Golden Age (from 1934–63, according to HILOBROW's Josh Glenn's periodization schema). For the complete Golden Age Sci-Fi 75 list, click here.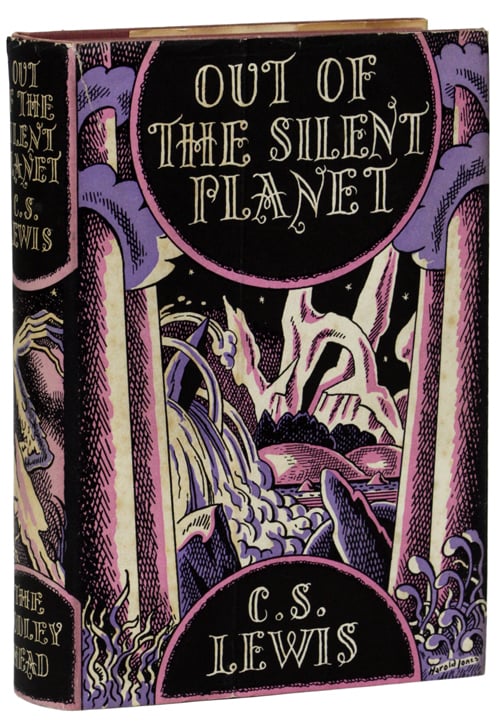 C.S. Lewis's Out of the Silent Planet (1938).
When Dr. Ransom, a Cambridge professor of philology, prevents physicist Dr. Weston (along with Weston's accomplice, the cynical and grasping Dick Devine) from forcing a dull-witted young man into a spherical structure in Devine's back garden, he is drugged by the unscrupulous duo. When he regains consciousness, Ransom finds himself in a spacecraft en route to Malacandra (Mars). Ransom escapes, explores the planet, and is befriended by a tribe of hrossa. Pursued by Weston, who aims to help humankind colonize the universe exploiting its resources, and Devine, who is just trying to get rich, Ransom seeks out Oyarsa, a spirit-like creature who rules Malacandra. She explains that Earth ("Thulcandra," the silent planet) is ruled by an evil spirit, then permits the three humans to return home — if they can make it there alive!
Fun fact: The first installment in Lewis's Cosmic Trilogy; the sequels are Perelandra (1943) and That Hideous Strength (1945). Lewis claimed that the Radium Age sci-fi novel A Voyage to Arcturus, by David Lindsay, gave him the idea of using planets less as places than as spiritual contexts. (If you ask me, the plot also owes a great debt to Charlotte Perkins Gilman's Herland.) This novel was written up by Mark Kingwell in HILOBROW's CROM YOUR ENTHUSIASM series.
***
GOLDEN AGE SCIENCE FICTION at HILOBROW: Golden Age Sci-Fi: 75 Best Novels of 1934–1963 | Robert Heinlein | Karel Capek | William Burroughs | E.E. "Doc" Smith | Clifford D. Simak | H.P. Lovecraft | Olaf Stapledon | Philip K. Dick | Jack Williamson | George Orwell | Boris Vian | Bernard Wolfe | J.G. Ballard | Jorge Luis Borges |Poul Anderson | Walter M. Miller, Jr. | Murray Leinster | Kurt Vonnegut | Stanislaw Lem | Alfred Bester | Isaac Asimov | Ray Bradbury | Madeleine L'Engle | Arthur C. Clarke | PLUS: Jack Kirby's Golden Age and New Wave science fiction comics.
JOSH GLENN'S *BEST ADVENTURES* LISTS: BEST 250 ADVENTURES OF THE 20TH CENTURY | 100 BEST OUGHTS ADVENTURES | 100 BEST RADIUM AGE (PROTO-)SCI-FI ADVENTURES | 100 BEST TEENS ADVENTURES | 100 BEST TWENTIES ADVENTURES | 100 BEST THIRTIES ADVENTURES | 75 BEST GOLDEN AGE SCI-FI ADVENTURES | 100 BEST FORTIES ADVENTURES | 100 BEST FIFTIES ADVENTURES | 100 BEST SIXTIES ADVENTURES | 75 BEST NEW WAVE SCI FI ADVENTURES | 100 BEST SEVENTIES ADVENTURES | 100 BEST EIGHTIES ADVENTURES | 75 BEST DIAMOND AGE SCI-FI ADVENTURES | 100 BEST NINETIES ADVENTURES (in progress) | 1994 | 1995 | 1996 | 1997 | 1998 | 1999 | 2000 | 2001 | 2002 | 2003 | NOTES ON 21st-CENTURY ADVENTURES.