All My Stars (15)
By: Joanne McNeil
April 14, 2016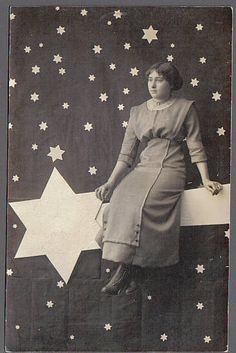 One in a weekly series in which Joanne McNeil recommends books, films, exhibitions, and more. You can also subscribe to the All My Stars newsletter here.
*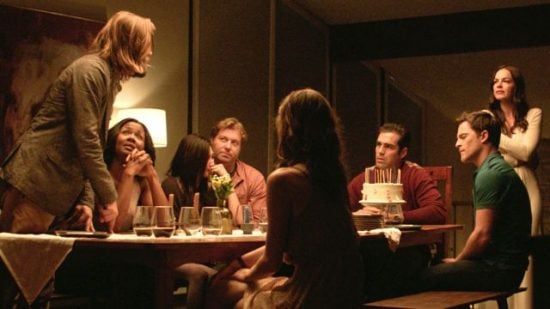 Certain anxieties — fear of flying, vertigo — can get worse with age. Your sense of balance deteriorates. It's also because you have a clearer idea of what you have to lose, what responsibilities you have to others, and a more detailed picture of what comes after you are gone. I've been thinking a lot about The Invitation, since I watched it over the weekend, and the questions it raises about fear, intuition, and social behaviors and expectations. There are a number of smart indie horror films lately but as psychological horror, the film is rare and thoughtful. A few days before seeing it, I tweeted, "Ben Wheatley missed his shot to update High Rise so it takes place in a WeLive complex with 10th floor Juicero bar and Peloton stations." In some ways, The Invitation is the update to Ballard I was looking for, as it finds horror in a person's relaxed instincts in social settings. As one review puts it, "it taps into our general distrust of the world around us and how our survival instinct has been muted and ignored in order to maintain the appearance of being polite."
The Invitation plays kind of like The Anniversary Party mixed with Hitchcock's Rope. It's a satire of California and "wellness" but still sympathetic to characters that misstep as they search for meaning in the world in self-destructive ways. I loved how it was paced, like it was deliberately paced wrong. Since it falls in the genre "horror," even if interstitially, the audience knows where the story is going but the director, Karyn Kusama, makes a number of unexpected decisions before getting there.
There's a fantastic profile of Kusama in Buzzfeed that reveals how many hoops she has jumped through to make films. Aeon Flux was even taken away from her. Her cut sounds incredible — "a challenging sci-fi romantic thriller with the thoughtful pacing of a highbrow Asian martial arts film" — but new editors came in, she was taken off the project, and only at the end, did producers invite her back to cobble something together to release out of their butchered cut.
In the profile, she talks about seeing Amy Heckerling's Fast Times at Ridgemont High and Martha Coolidge's Valley Girl when she was young: "They were a revelation." I thought about how, almost twenty years later, I would see her film Girlfight, and the films by a bunch of women (many of whom have, like Kusama, gone on to direct Halt and Catch Fire episodes.) Back then, I had no sense of film as a place unwelcome to women because it seemed like they were well represented, but that was just what I was noticing and choosing to see.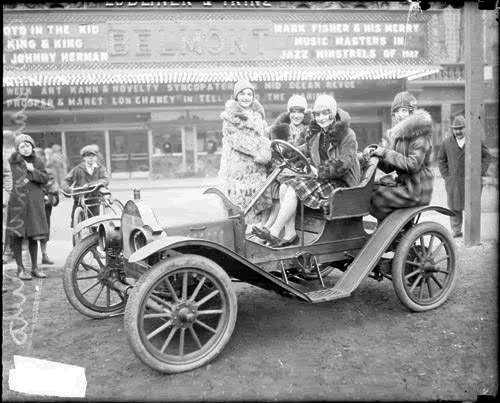 This week, I also watched a documentary on Henry Ford that was just two hours of archival footage and historians talking — but still completely fascinating, because Ford was terrible in a complicated and dramatic way. It goes into his populism, anti-semitism, Fordlandia, his hectoring of his only child, his surveillance of his workforce, and his desire to change the lives of poor people in rural areas by building affordable automobiles. (By the way, a google image search for "flapper driving model t" just gave me so much joy. Recommended.)
***
ALL POSTS IN THIS SERIES
CURATED SERIES at HILOBROW: UNBORED CANON by Josh Glenn | CARPE PHALLUM by Patrick Cates | MS. K by Heather Kasunick | HERE BE MONSTERS by Mister Reusch | DOWNTOWNE by Bradley Peterson | #FX by Michael Lewy | PINNED PANELS by Zack Smith | TANK UP by Tony Leone | OUTBOUND TO MONTEVIDEO by Mimi Lipson | TAKING LIBERTIES by Douglas Wolk | STERANKOISMS by Douglas Wolk | MARVEL vs. MUSEUM by Douglas Wolk | NEVER BEGIN TO SING by Damon Krukowski | WTC WTF by Douglas Wolk | COOLING OFF THE COMMOTION by Chenjerai Kumanyika | THAT'S GREAT MARVEL by Douglas Wolk | LAWS OF THE UNIVERSE by Chris Spurgeon | IMAGINARY FRIENDS by Alexandra Molotkow | UNFLOWN by Jacob Covey | ADEQUATED by Franklin Bruno | QUALITY JOE by Joe Alterio | CHICKEN LIT by Lisa Jane Persky | PINAKOTHEK by Luc Sante | ALL MY STARS by Joanne McNeil | BIGFOOT ISLAND by Michael Lewy | NOT OF THIS EARTH by Michael Lewy | ANIMAL MAGNETISM by Colin Dickey | KEEPERS by Steph Burt | AMERICA OBSCURA by Andrew Hultkrans | HEATHCLIFF, FOR WHY? by Brandi Brown | DAILY DRUMPF by Rick Pinchera | BEDROOM AIRPORT by "Parson Edwards" | INTO THE VOID by Charlie Jane Anders | WE REABSORB & ENLIVEN by Matthew Battles | BRAINIAC by Joshua Glenn | COMICALLY VINTAGE by Comically Vintage | BLDGBLOG by Geoff Manaugh | WINDS OF MAGIC by James Parker | MUSEUM OF FEMORIBILIA by Lynn Peril | ROBOTS + MONSTERS by Joe Alterio | MONSTOBER by Rick Pinchera | POP WITH A SHOTGUN by Devin McKinney | FEEDBACK by Joshua Glenn | 4CP FTW by John Hilgart | ANNOTATED GIF by Kerry Callen | FANCHILD by Adam McGovern | BOOKFUTURISM by James Bridle | NOMADBROW by Erik Davis | SCREEN TIME by Jacob Mikanowski | FALSE MACHINE by Patrick Stuart | 12 DAYS OF SIGNIFICANCE | 12 MORE DAYS OF SIGNIFICANCE | 12 DAYS OF SIGNIFICANCE (AGAIN) | ANOTHER 12 DAYS OF SIGNIFICANCE | UNBORED MANIFESTO by Joshua Glenn and Elizabeth Foy Larsen | H IS FOR HOBO by Joshua Glenn | 4CP FRIDAY by guest curators