All My Stars (38)
By: Joanne McNeil
September 22, 2016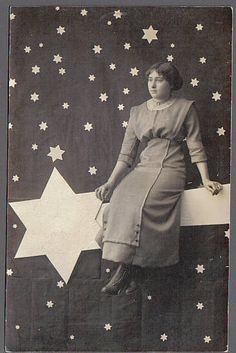 One in a weekly series in which Joanne McNeil recommends books, films, exhibitions, and more. You can also subscribe to the All My Stars newsletter here.
*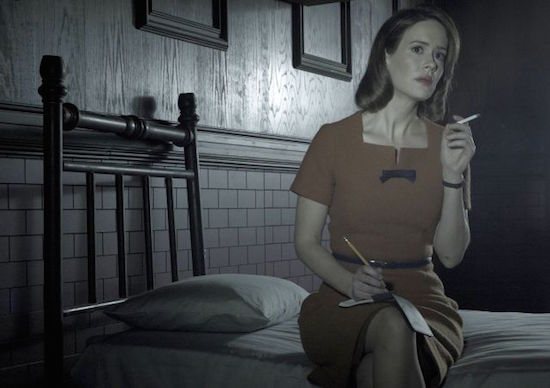 Much like the way The Velvet Underground & Nico will never sound better than it did — maybe not the first time I listened to it, but the fifth through the hundred-and-fifth time I listened to it, all before I graduated high school; television will never feel better than the hours I'd get when I'd stay home from school. I'd spend the day in my pajamas, fix soup for lunch, carry a box of tissues around with me, and waste most of the day in front of the TV. It was trash of course. Trash and commercials for trash. But it was content, otherwise forbidden because the schedule matched up with the days and hours I had class.
I don't remember the names of the shows I watched. Lots of talk show who's-the-father reveals and then soap operas, the latter of which was both boring and surprising. Surprising because of all the peculiar genre-crossing elements. It wasn't just long-lost identical twins. There would be aliens and zombies, time travel and brainwashing. This was particularly amusing in contrast with the show's commitment, albiet hyper-dramatic, to realism. And because it was done outside the gaze of the nascent fandom culture, these shows would have the sci-fi equivalent of mixed metaphors — with aliens and zombies and mind-control all in the same subplot. Straight up searching for all your blue moons in a basket in a haystack.
Very little has been written about this and an otherwise novel-length entry in Wikipedia on soap operas has only this to say: "Some shows during the 2000s incorporated supernatural and science fiction elements into their storylines. One of the main characters on the earlier soap opera Dark Shadows was Barnabas Collins, a vampire, and One Life to Live featured an angel named Virgil. Both shows featured characters who traveled to and from the past."
I was reminded of those shows watching some modern trash this week: American Horror Story. A few friends have been recommending this one to me for ages. I'm both claustrophobic and agoraphobic and find haunted house stories unbearable, so I went with the "Asylum" themed season. What it misses in women walking alone at night in the woods with flashlights, or hiding in dark basements, it makes up for in… aliens, zombies, demonic possession. And that's just the tip of the iceberg. Layering absurd horror upon absurd horror like this made the show feel as lightweight as those soap operas I would catch a glimpse of in middle school. When I'd get up in the middle of an episode to fix a snack or answer an email, I didn't bother to pause the show.
Part of the reason I was curious about this show is Sarah Paulson. I know who she is like I know who Zendeya and Bella Thorne are, and like how I first found out who Justin Bieber is — through the social media ether. Later I'd find out she was in 12 Years a Slave, but she was so convincingly wretched in that role, I only remember being disgusted with the character, so much that I scarcely registered who was the actress who played her.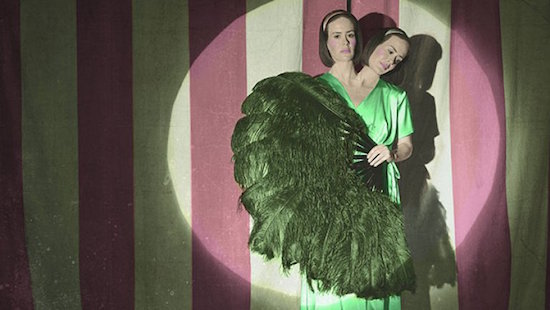 Paulson's such an unlikely breakout star. She's forty, she's queer, her partner is a few decades older, her voice is odd, and while beautiful, there is something remote and patrician about her appearance — like she time-traveled from her internship with Sylvia Plath at Mademoiselle or an audition for the part that eventually went to Patty Duke in Valley of the Dolls. Like everyone else, I adore her, but, unfamiliar with her work, I had no reason to do so.
Well, her performance in American Horror Story lives up to the hype. It is what had me hooked on this very crass and deeply silly show. What's remarkable is Paulson never appears above the material. And I've heard this said about her performance as Marcia Clark in The People v. O.J. Simpson. She's not bringing a strong empathetic performance in juxtaposition with the campy material. Her role adds another dimension to the show… like the zombies. Like the aliens. I hope she finds better parts, and teams up with someone like Quentin Tarantino or Ben Wheatley, filmmakers trying to find something deeper in genre, who might make use of her rare talent.
***
ALL POSTS IN THIS SERIES
CURATED SERIES at HILOBROW: UNBORED CANON by Josh Glenn | CARPE PHALLUM by Patrick Cates | MS. K by Heather Kasunick | HERE BE MONSTERS by Mister Reusch | DOWNTOWNE by Bradley Peterson | #FX by Michael Lewy | PINNED PANELS by Zack Smith | TANK UP by Tony Leone | OUTBOUND TO MONTEVIDEO by Mimi Lipson | TAKING LIBERTIES by Douglas Wolk | STERANKOISMS by Douglas Wolk | MARVEL vs. MUSEUM by Douglas Wolk | NEVER BEGIN TO SING by Damon Krukowski | WTC WTF by Douglas Wolk | COOLING OFF THE COMMOTION by Chenjerai Kumanyika | THAT'S GREAT MARVEL by Douglas Wolk | LAWS OF THE UNIVERSE by Chris Spurgeon | IMAGINARY FRIENDS by Alexandra Molotkow | UNFLOWN by Jacob Covey | ADEQUATED by Franklin Bruno | QUALITY JOE by Joe Alterio | CHICKEN LIT by Lisa Jane Persky | PINAKOTHEK by Luc Sante | ALL MY STARS by Joanne McNeil | BIGFOOT ISLAND by Michael Lewy | NOT OF THIS EARTH by Michael Lewy | ANIMAL MAGNETISM by Colin Dickey | KEEPERS by Steph Burt | AMERICA OBSCURA by Andrew Hultkrans | HEATHCLIFF, FOR WHY? by Brandi Brown | DAILY DRUMPF by Rick Pinchera | BEDROOM AIRPORT by "Parson Edwards" | INTO THE VOID by Charlie Jane Anders | WE REABSORB & ENLIVEN by Matthew Battles | BRAINIAC by Joshua Glenn | COMICALLY VINTAGE by Comically Vintage | BLDGBLOG by Geoff Manaugh | WINDS OF MAGIC by James Parker | MUSEUM OF FEMORIBILIA by Lynn Peril | ROBOTS + MONSTERS by Joe Alterio | MONSTOBER by Rick Pinchera | POP WITH A SHOTGUN by Devin McKinney | FEEDBACK by Joshua Glenn | 4CP FTW by John Hilgart | ANNOTATED GIF by Kerry Callen | FANCHILD by Adam McGovern | BOOKFUTURISM by James Bridle | NOMADBROW by Erik Davis | SCREEN TIME by Jacob Mikanowski | FALSE MACHINE by Patrick Stuart | 12 DAYS OF SIGNIFICANCE | 12 MORE DAYS OF SIGNIFICANCE | 12 DAYS OF SIGNIFICANCE (AGAIN) | ANOTHER 12 DAYS OF SIGNIFICANCE | UNBORED MANIFESTO by Joshua Glenn and Elizabeth Foy Larsen | H IS FOR HOBO by Joshua Glenn | 4CP FRIDAY by guest curators