All My Stars (49)
By: Joanne McNeil
December 8, 2016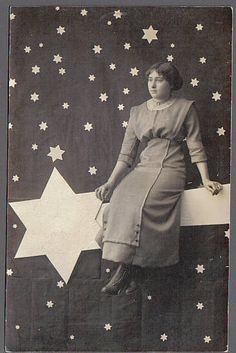 One in a weekly series in which Joanne McNeil recommends books, films, exhibitions, and more. You can also subscribe to the All My Stars newsletter here.
*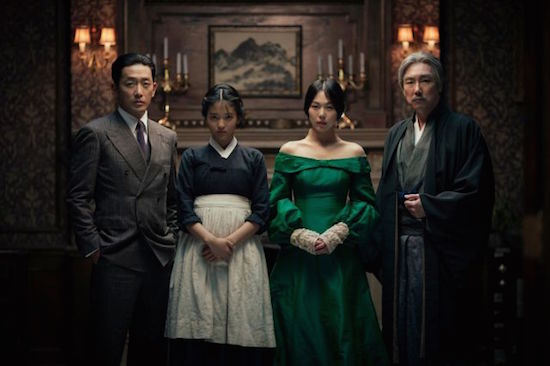 After a long week I rewarded myself with a film that is so extra, just about every review of it has employed "voluptuous" or "sumptuous" to describe it — two heavy-on-the-tongue words for the splendor of its opulence. Yes, I went to see The Handmaiden, which delivered a bounty of buttons, brocade, and silks, while at the same time being the twisty-turny story of a con, timed to precision like The Sting. And all laced with Park Chan-wook's clever perversity. He's got room to breathe with this film. It is not as tightly wound as Oldboy or the Vengeance films.
Part of the reason I admire good film criticism is, even in these newsletters, I find it difficult to describe certain elements of a cast or an individual performance. Some performers have a mysterious and magical charisma that no English word quite comes close to capturing. In a sentence, it is the quality of a beautiful person who hasn't revealed all their cards. The commotion of beauty and mystery. "Intriguing" is too distant. "Stunning" is too much of an emphasis on looks, but this quality is atmospheric. I suppose the closest word to what I mean is "sexy," but that's a bit teenage, certainly people who have it, are the ones to crush over, but some of us prefer wallflowers. And this quality isn't star quality, another superpower charisma: Tom Hardy has it in spades; Bradley Cooper doesn't have it, but he's got more than enough of the latter. It is eerie when an entire cast has it. The cast of Moonlight has it. The cast of Halt and Catch Fire has it.
Whatever it is, the three leads in The Handmaiden all have it too (there are actually four leads, but one plays a creepy uncle, so if the actor normally has it, in this role it would be impossible to tell.) Several years ago, Jung-woo Ha played opposite Vera Farmiga, it personified, in Never Forever. But it's Tae-ri Kim and Min-hee Kim who walk away with the picture. This voluptuous. Sumptuous. Whatever it is, it of a film.
*
This week I read Monster, John Gregory Dunne's memoir that is largely about his screenwriting and script doctoring on an impossible project that was eventually realized as the mediocre romcom, Up Close and Personal. While Hollywood is its own beast — or, "monster," as he puts it — elements of the story will resonate with anyone who has seen a project flounder from too many cooks in the kitchen and endless systematic indecisiveness. Something delightfully odd about the book is there's so much minutiae that feels at times like he's put his "to do" list down in punchy prose. Paragraphs include quick asides about doctor visits scheduled and car rentals and trouble booking hotels and the tasks of planning a bicoastal life that are normally edited out in personal accounts. At one point, he lists his daily schedule working on a script over the Christmas holiday. He and Joan Didion flew out to Honolulu for a cram session and each day they stuck to this routine:
"…a sunrise swim, breakfast, then four hours' work in the suite; an hour for lunch, then two more hours' work in the afternoon; another swim, then three more hours' work before a late dinner with Quintana. After dinner, we went over the day's pages, then printed out a schedule of scenes for the next day."
I wrote it down in my notebook, because it seemed like the perfect planning for a day's work. I'm not very good at setting work/life boundaries even when it comes to scheduling in something as quotidian as lunch and breakfast. But I haven't got Hawaii, a hotel, a pool, or a writing and life companion like Joan Didion for that matter, so…
***
ALL POSTS IN THIS SERIES
CURATED SERIES at HILOBROW: UNBORED CANON by Josh Glenn | CARPE PHALLUM by Patrick Cates | MS. K by Heather Kasunick | HERE BE MONSTERS by Mister Reusch | DOWNTOWNE by Bradley Peterson | #FX by Michael Lewy | PINNED PANELS by Zack Smith | TANK UP by Tony Leone | OUTBOUND TO MONTEVIDEO by Mimi Lipson | TAKING LIBERTIES by Douglas Wolk | STERANKOISMS by Douglas Wolk | MARVEL vs. MUSEUM by Douglas Wolk | NEVER BEGIN TO SING by Damon Krukowski | WTC WTF by Douglas Wolk | COOLING OFF THE COMMOTION by Chenjerai Kumanyika | THAT'S GREAT MARVEL by Douglas Wolk | LAWS OF THE UNIVERSE by Chris Spurgeon | IMAGINARY FRIENDS by Alexandra Molotkow | UNFLOWN by Jacob Covey | ADEQUATED by Franklin Bruno | QUALITY JOE by Joe Alterio | CHICKEN LIT by Lisa Jane Persky | PINAKOTHEK by Luc Sante | ALL MY STARS by Joanne McNeil | BIGFOOT ISLAND by Michael Lewy | NOT OF THIS EARTH by Michael Lewy | ANIMAL MAGNETISM by Colin Dickey | KEEPERS by Steph Burt | AMERICA OBSCURA by Andrew Hultkrans | HEATHCLIFF, FOR WHY? by Brandi Brown | DAILY DRUMPF by Rick Pinchera | BEDROOM AIRPORT by "Parson Edwards" | INTO THE VOID by Charlie Jane Anders | WE REABSORB & ENLIVEN by Matthew Battles | BRAINIAC by Joshua Glenn | COMICALLY VINTAGE by Comically Vintage | BLDGBLOG by Geoff Manaugh | WINDS OF MAGIC by James Parker | MUSEUM OF FEMORIBILIA by Lynn Peril | ROBOTS + MONSTERS by Joe Alterio | MONSTOBER by Rick Pinchera | POP WITH A SHOTGUN by Devin McKinney | FEEDBACK by Joshua Glenn | 4CP FTW by John Hilgart | ANNOTATED GIF by Kerry Callen | FANCHILD by Adam McGovern | BOOKFUTURISM by James Bridle | NOMADBROW by Erik Davis | SCREEN TIME by Jacob Mikanowski | FALSE MACHINE by Patrick Stuart | 12 DAYS OF SIGNIFICANCE | 12 MORE DAYS OF SIGNIFICANCE | 12 DAYS OF SIGNIFICANCE (AGAIN) | ANOTHER 12 DAYS OF SIGNIFICANCE | UNBORED MANIFESTO by Joshua Glenn and Elizabeth Foy Larsen | H IS FOR HOBO by Joshua Glenn | 4CP FRIDAY by guest curators