Limerickania (9)
By: Douglas Wolk
March 5, 2016
Ninth in a series of 10.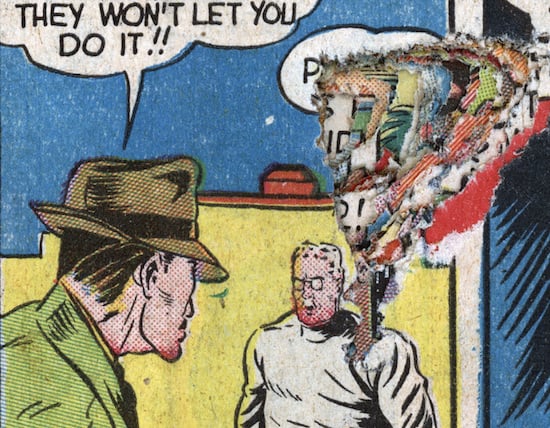 Interdicted from tunneling through it,
you turn stocky and tender as suet.
But the gent in the trilby
is terribly shrill: "Be
a tribble, you blighter, and chew it!"
*
— Thanks, John Hilgart, for the inspiring comic-book panel.
MORE DOUGLAS WOLK at HILOBROW: #SQUADGOALS: Seven Soldiers of Victory | WTC WTF series | THAT'S GREAT MARVEL series | LIMERICKANIA series | HERMENAUTIC TAROT: Dexterity | QUIRK YOUR ENTHUSIASM: Family Fodder's "Savoir Faire" | KERN YOUR ENTHUSIASM: Todd Klone | HERC YOUR ENTHUSIASM: Busy Bee's "Making Cash Money" | KIRB YOUR ENTHUSIASM: 2001: A Space Odyssey | SEE ALL OF DOUGLAS'S POSTS, including HILO HERO items on Karen Berger, Rakim, Sheila E., Chester Gould, and others.
MORE HILOBROW/4CP SERIES: BLOW UP YOUR COMICS — John Hilgart glosses 30 favorite 4CP images | The HERMENAUTIC TAROT: 54 Writers, on 54 4CP Tarot Cards | The Art of 4CP | SUBSUPERMEN — Golden Age heroes who didn't make the grade | MASKED MAN | LIMERICKANIA | MEET THE L.I.S. — Implicit superheroes, concealed within comic-book mastheads | 4CP FRIDAY — themed comic-book detail galleries, curated by 4CP fans
MORE COMICS-RELATED SERIES: KIRB YOUR ENTHUSIASM — 25 writers on 25 Jack Kirby panels | ANNOTATED GIF — Kerry Callen brings comic book covers to life | COMICALLY VINTAGE — that's-what-she-said vintage comic panels | DC — THE NEW 52 — an 11-year-old reviews DC's new lineup | SECRET PANEL — Silver Age comics' double entendres | SKRULLICISM — they lurk among us