When the World Screamed (4)
By: Arthur Conan Doyle
October 5, 2015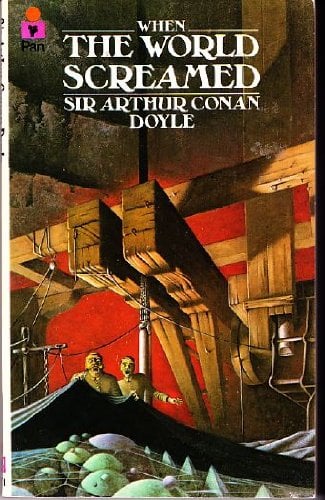 Arthur Conan Doyle's novella When the World Screamed was first published in 1928. The fifth and final Professor Challenger adventure, it takes us not outward (e.g., to a South American plateau crawling with dinosaurs), nor inward (e.g., to an airtight chamber, while the Earth passes through a poison belt), but instead downward. Challenger, here described as "a primitive cave-man in a lounge suit," while also "the greatest brain in Europe," proposes to drill his way from a tract of land in Sussex (England) eight miles beneath the planet's epidermis. Why? In order to prove his hypothesis that the world is itself a living organism! Enjoy.
ALL INSTALLMENTS SO FAR
'You will accept my statement without question. We are through the crust. It was exactly fourteen thousand four hundred and forty-two yards thick, or roughly eight miles. In the course of our sinking it may interest you to know that we have exposed a fortune in the matter of coal-beds which would probably in the long run defray the cost of the enterprise. Our chief difficulty has been the springs of water in the lower chalk and Hastings sands, but these we have overcome. The last stage has now been reached — and the last stage is none other than Mr. Peerless Jones. You, sir, represent the mosquito. Your Artesian borer takes the place of the stinging proboscis. The brain has done its work. Exit the thinker. Enter the mechanical one, the peerless one, with his rod of metal. Do I make myself clear?'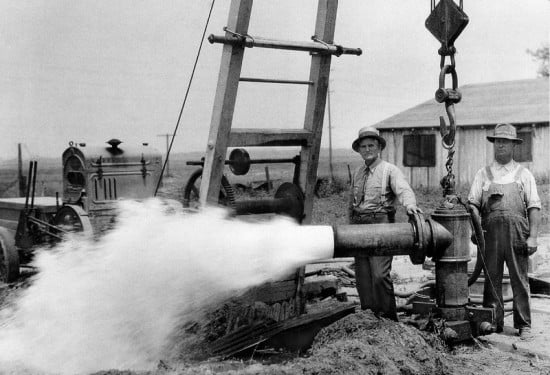 'You talk of eight miles!' I cried. 'Are you aware, sir, that five thousand feet is considered nearly the limit for Artesian borings? I am acquainted with one in upper Silesia which is six thousand two hundred feet deep, but it is looked upon as a wonder.'
'You misunderstand me, Mr. Peerless. Either my explanation or your brain is at fault, and I will not insist upon which. I am well aware of the limits of Artesian borings, and it is not likely that I would have spent millions of pounds upon my colossal tunnel if a six-inch boring would have met my needs. All that I ask you is to have a drill ready which shall be as sharp as possible, not more than a hundred feet in length, and operated by an electric motor. An ordinary percussion drill driven home by a weight will meet every requirement.
'Why by an electric motor?'
'I am here, Mr. Jones, to give orders, not reasons. Before we finish it may happen — it may, I say, happen — that your very life may depend upon this drill being started from a distance by electricity. It can, I presume, be done?'
'Certainly it can be done.'
'Then prepare to do it. The matter is not yet ready for your actual presence, but your preparations may now be made. I have nothing more to say.'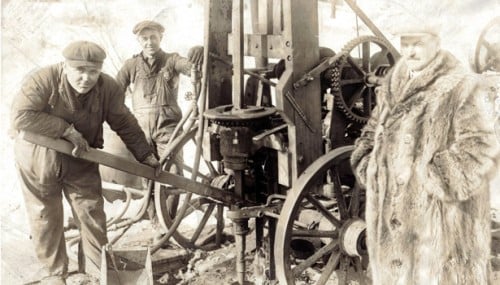 'But it is essential,' I expostulated, 'that you should let me know what soil the drill is to penetrate. Sand, or clay, or chalk would each need different treatment.'
'Let us say jelly,' said Challenger. 'Yes, we will for the present suppose that you have to sink your drill into jelly. And now, Mr. Jones, I have matters of some importance to engage my mind, so I will wish you good morning. You can draw up a formal contract with mention of your charges for my Head of Works.'
I bowed and turned, but before I reached the door my curiosity overcame me. He was already writing furiously with a quill pen screeching over the paper, and he looked up angrily at my interruption.
'Well, sir, what now? I had hoped you were gone.'
'I only wished to ask you, sir, what the object of so extraordinary an experiment can be?'
'Away, sir, away!' he cried, angrily. 'Raise your mind above the base mercantile and utilitarian needs of commerce. Shake off your paltry standards of business. Science seeks knowledge. Let the knowledge lead us where it will, we still must seek it. To know once for all what we are, why we are, where we are, is that not in itself the greatest of all human aspirations? Away, sir, away!'
His great black head was bowed over his papers once more and blended with his beard. The quill pen screeched more shrilly than ever. So I left him, this extraordinary man, with my head in a whirl at the thought of the strange business in which I now found myself to be his partner.
When I got back to my office I found Ted Malone waiting with a broad grin upon his face to know the result of my interview.
'Well!' he cried. 'None the worse? No case of assault and battery? You must have handled him very tactfully. What do you think of the old boy?'
'The most aggravating, insolent, intolerant, self-opinionated man I have ever met, but —'
'Exactly!' cried Malone. 'We all come to that "but." Of course, he is all you say and a lot more, but one feels that so big a man is not to be measured in our scale, and that we can endure from him what we would not stand from any other living mortal. Is that not so?'
'Well, I don't know him well enough yet to say, but I will admit that if he is not a mere bullying megalomaniac, and if what he says is true, then he certainly is in a class by himself. But is it true?'
'Of course it is true. Challenger always delivers the goods. Now, where are you exactly in the matter? Has he told you about Hengist Down?'
'Yes, in a sketchy sort of way.'
'Well, you may take it from me that the whole thing is colossal —  colossal in conception and colossal in execution. He hates pressmen, but I am in his confidence, for he knows that I will publish no more than he authorizes. Therefore I have his plans, or some of his plans. He is such a deep old bird that one never is sure if one has really touched bottom. Anyhow, I know enough to assure you that Hengist Down is a practical proposition and nearly completed. My advice to you now is simply to await events, and meanwhile to get your gear all ready. You'll hear soon enough either from him or from me.'
NEXT INSTALLMENT | ALL INSTALLMENTS SO FAR
***
RADIUM AGE SCIENCE FICTION: "Radium Age" is HILOBROW's name for the 1904–33 era, which saw the discovery of radioactivity, the revelation that matter itself is constantly in movement — a fitting metaphor for the first decades of the 20th century, during which old scientific, religious, political, and social certainties were shattered. This era also saw the publication of genre-shattering writing by Edgar Rice Burroughs, Sax Rohmer, E.E. "Doc" Smith, Jack London, Arthur Conan Doyle, Aldous Huxley, Olaf Stapledon, Karel Čapek, H.P. Lovecraft, Charlotte Perkins Gilman, Yevgeny Zamyatin, Philip Gordon Wylie, and other pioneers of post-Verne/Wells, pre-Golden Age "science fiction." More info here.
READ GORGEOUS PAPERBACKS: HiLoBooks has reissued the following 10 obscure but amazing Radium Age science fiction novels in beautiful print editions: Jack London's The Scarlet Plague, Rudyard Kipling's With the Night Mail (and "As Easy as A.B.C."), Arthur Conan Doyle's The Poison Belt, H. Rider Haggard's When the World Shook, Edward Shanks' The People of the Ruins, William Hope Hodgson's The Night Land, J.D. Beresford's Goslings, E.V. Odle's The Clockwork Man, Cicely Hamilton's Theodore Savage, and Muriel Jaeger's The Man with Six Senses. For more information, visit the HiLoBooks homepage.
SERIALIZED BY HILOBOOKS: Jack London's The Scarlet Plague | Rudyard Kipling's With the Night Mail (and "As Easy as A.B.C.") | Arthur Conan Doyle's The Poison Belt | H. Rider Haggard's When the World Shook | Edward Shanks' The People of the Ruins | William Hope Hodgson's The Night Land | J.D. Beresford's Goslings | E.V. Odle's The Clockwork Man | Cicely Hamilton's Theodore Savage | Muriel Jaeger's The Man With Six Senses | Jack London's "The Red One" | Philip Francis Nowlan's Armageddon 2419 A.D. | Homer Eon Flint's The Devolutionist | W.E.B. DuBois's "The Comet" | Edgar Rice Burroughs's The Moon Men | Charlotte Perkins Gilman's Herland | Sax Rohmer's "The Zayat Kiss" | Eimar O'Duffy's King Goshawk and the Birds | Frances Hodgson Burnett's The Lost Prince | Morley Roberts's The Fugitives | Helen MacInnes's The Unconquerable | Geoffrey Household's Watcher in the Shadows | William Haggard's The High Wire | Hammond Innes's Air Bridge | James Branch Cabell's Jurgen | John Buchan's "No Man's Land" | John Russell's "The Fourth Man" | E.M. Forster's "The Machine Stops" | John Buchan's Huntingtower | Arthur Conan Doyle's When the World Screamed | Victor Bridges' A Rogue By Compulsion | Jack London's The Iron Heel | H. De Vere Stacpoole's The Man Who Lost Himself | P.G. Wodehouse's Leave It to Psmith | Richard Connell's "The Most Dangerous Game" | Houdini and Lovecraft's "Imprisoned with the Pharaohs" | Arthur Conan Doyle's "The Sussex Vampire."