When the World Screamed (5)
By: Arthur Conan Doyle
October 12, 2015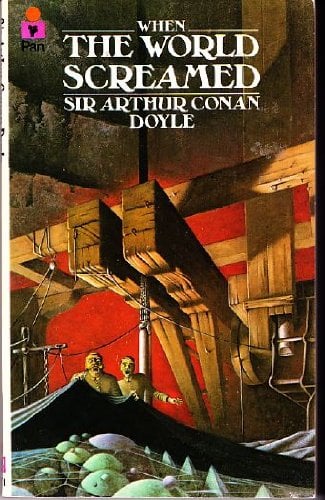 Arthur Conan Doyle's novella When the World Screamed was first published in 1928. The fifth and final Professor Challenger adventure, it takes us not outward (e.g., to a South American plateau crawling with dinosaurs), nor inward (e.g., to an airtight chamber, while the Earth passes through a poison belt), but instead downward. Challenger, here described as "a primitive cave-man in a lounge suit," while also "the greatest brain in Europe," proposes to drill his way from a tract of land in Sussex (England) eight miles beneath the planet's epidermis. Why? In order to prove his hypothesis that the world is itself a living organism! Enjoy.
ALL INSTALLMENTS SO FAR
As it happened, it was from Malone himself that I heard. He came round quite early to my office some weeks later, as the bearer of a message.
'I've come from Challenger' said he.
'You are like the pilot fish to the shark.'
'I'm proud to be anything to him. He really is a wonder. He has done it all right. It's your turn now, and then he is ready to ring up the curtain.'
'Well, I can't believe it until I see it, but I have everything ready and loaded on a lorry. I could start it off at any moment.'
'Then do so at once. I've given you a tremendous character for energy and punctuality, so mind you don't let me down. In the meantime, come down with me by rail and I will give you an idea of what has to be done.'
It was a lovely spring morning — May 22nd, to be exact — when we made that fateful journey which brought me on to a stage which is destined to be historical. On the way Malone handed me a note from Challenger which I was to accept as my instructions.
Sir, (it ran) —

Upon arriving at Hengist Down you will put yourself at the disposal of Mr. Barforth, the Chief Engineer, who is in possession of my plans. My young friend, Malone, the bearer of this, is also in touch with me and may protect me from any personal contact. We have now experienced certain phenomena in the shaft at and below the fourteen thousand-foot level which fully bear out my views as to the nature of a planetary body, but some more sensational proof is needed before I can hope to make an impression upon the torpid intelligence of the modern scientific world. That proof you are destined to afford, and they to witness. As you descend in the lifts you will observe, presuming that you have the rare quality of observation, that you pass in succession the secondary chalk beds, the coal measures, some Devonian and Cambrian indications, and finally the granite, through which the greater part of our tunnel is conducted. The bottom is now covered with tarpaulin, which I order you not to tamper with, as any clumsy handling of the sensitive inner cuticle of the earth might bring about premature results. At my instruction, two strong beams have been laid across the shaft twenty feet above the bottom, with a space between them. This space will act as a clip to hold up your Artesian tube. Fifty feet of drill will suffice, twenty of which will project below the beams, so that the point of the drill comes nearly down to the tarpaulin. As you value your life do not let it go further. Thirty feet will then project upwards in the shaft, and when you have released it we may assume that not less than forty feet of drill will bury itself in the earth's substance. As this substance is very soft I find that you will probably need no driving power, and that simply a release of the tube will suffice by its own weight to drive it into the layer which we have uncovered. These instructions would seem to be sufficient for any ordinary intelligence, but I have little doubt that you will need more, which can be referred to me through our young friend, Malone.

GEORGE EDWARD CHALLENGER.
It can be imagined that when we arrived at the station of Storrington, near the northern foot of the South Downs, I was in a state of considerable nervous tension. A weather-worn Vauxhall thirty landaulette was awaiting us, and bumped us for six or seven miles over by-paths and lanes which, in spite of their natural seclusion, were deeply rutted and showed every sign of heavy traffic. A broken lorry lying in the grass at one point showed that others had found it rough going as well as we. Once a huge piece of machinery which seemed to be the valves and piston of a hydraulic pump projected itself, all rusted, from a clump of furze.
'That's Challenger's doing,' said Malone, grinning.
'Said it was one-tenth of an inch out of estimate, so he simply chucked it by the wayside.'
'With a lawsuit to follow, no doubt.'
'A lawsuit! My dear chap, we should have a court of our own. We have enough to keep a judge busy for a year. Government too. The old devil cares for no one. Rex v. George Challenger and George Challenger v. Rex. A nice devil's dance the two will have from one court to another. Well, here we are. All right, Jenkins, you can let us in!'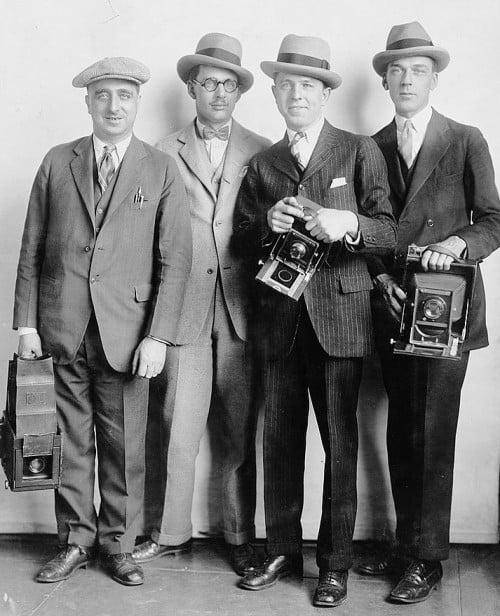 A huge man with a notable cauliflower ear was peering into the car, a scowl of suspicion upon his face. He relaxed and saluted as he recognized my companion.
'All right, Mr. Malone. I thought it was the American Associated Press.'
'Oh, they are on the track, are they?'
'They to-day, and The Times yesterday. Oh, they are buzzing round proper. Look at that!' He indicated a distant dot upon the sky-line.
'See that glint ! That's the telescope of the Chicago Daily News. Yes, they are fair after us now. I've seen 'em in rows, same as the crows, along the Beacon yonder.'
'Poor old Press gang!' said Malone, as we entered a gate in a formidable barbed wire fence. 'I am one of them myself, and I know how it feels.'
At this moment we heard a plaintive bleat behind us of 'Malone! Ted Malone!' It came from a fat little man who had just arrived upon a motor-bike and was at present struggling in the Herculean grasp of the gatekeeper.
'Here, let me go!' he sputtered. 'Keep your hands off! Malone, call off this gorilla of yours.'
'Let him go, Jenkins! He's a friend of mine!' cried Malone. 'Well, old bean, what is it? What are you after in these parts? Fleet Street is your stamping ground — not the wilds of Sussex.'
'You know what I am after perfectly well,' said our visitor. 'I've got the assignment to write a story about Hengist Down and I can't go home without the copy.'
NEXT INSTALLMENT | ALL INSTALLMENTS SO FAR
***
RADIUM AGE SCIENCE FICTION: "Radium Age" is HILOBROW's name for the 1904–33 era, which saw the discovery of radioactivity, the revelation that matter itself is constantly in movement — a fitting metaphor for the first decades of the 20th century, during which old scientific, religious, political, and social certainties were shattered. This era also saw the publication of genre-shattering writing by Edgar Rice Burroughs, Sax Rohmer, E.E. "Doc" Smith, Jack London, Arthur Conan Doyle, Aldous Huxley, Olaf Stapledon, Karel Čapek, H.P. Lovecraft, Charlotte Perkins Gilman, Yevgeny Zamyatin, Philip Gordon Wylie, and other pioneers of post-Verne/Wells, pre-Golden Age "science fiction." More info here.
READ GORGEOUS PAPERBACKS: HiLoBooks has reissued the following 10 obscure but amazing Radium Age science fiction novels in beautiful print editions: Jack London's The Scarlet Plague, Rudyard Kipling's With the Night Mail (and "As Easy as A.B.C."), Arthur Conan Doyle's The Poison Belt, H. Rider Haggard's When the World Shook, Edward Shanks' The People of the Ruins, William Hope Hodgson's The Night Land, J.D. Beresford's Goslings, E.V. Odle's The Clockwork Man, Cicely Hamilton's Theodore Savage, and Muriel Jaeger's The Man with Six Senses. For more information, visit the HiLoBooks homepage.
SERIALIZED BY HILOBOOKS: Jack London's The Scarlet Plague | Rudyard Kipling's With the Night Mail (and "As Easy as A.B.C.") | Arthur Conan Doyle's The Poison Belt | H. Rider Haggard's When the World Shook | Edward Shanks' The People of the Ruins | William Hope Hodgson's The Night Land | J.D. Beresford's Goslings | E.V. Odle's The Clockwork Man | Cicely Hamilton's Theodore Savage | Muriel Jaeger's The Man With Six Senses | Jack London's "The Red One" | Philip Francis Nowlan's Armageddon 2419 A.D. | Homer Eon Flint's The Devolutionist | W.E.B. DuBois's "The Comet" | Edgar Rice Burroughs's The Moon Men | Charlotte Perkins Gilman's Herland | Sax Rohmer's "The Zayat Kiss" | Eimar O'Duffy's King Goshawk and the Birds | Frances Hodgson Burnett's The Lost Prince | Morley Roberts's The Fugitives | Helen MacInnes's The Unconquerable | Geoffrey Household's Watcher in the Shadows | William Haggard's The High Wire | Hammond Innes's Air Bridge | James Branch Cabell's Jurgen | John Buchan's "No Man's Land" | John Russell's "The Fourth Man" | E.M. Forster's "The Machine Stops" | John Buchan's Huntingtower | Arthur Conan Doyle's When the World Screamed | Victor Bridges' A Rogue By Compulsion | Jack London's The Iron Heel | H. De Vere Stacpoole's The Man Who Lost Himself | P.G. Wodehouse's Leave It to Psmith | Richard Connell's "The Most Dangerous Game" | Houdini and Lovecraft's "Imprisoned with the Pharaohs" | Arthur Conan Doyle's "The Sussex Vampire."