When the World Screamed (3)
By: Arthur Conan Doyle
September 29, 2015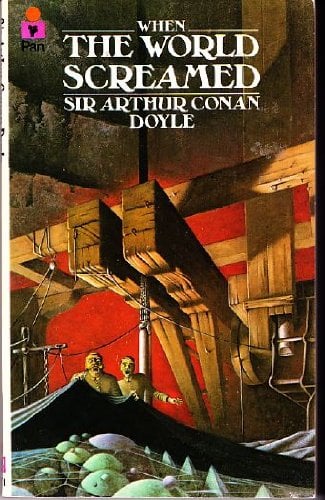 Arthur Conan Doyle's novella When the World Screamed was first published in 1928. The fifth and final Professor Challenger adventure, it takes us not outward (e.g., to a South American plateau crawling with dinosaurs), nor inward (e.g., to an airtight chamber, while the Earth passes through a poison belt), but instead downward. Challenger, here described as "a primitive cave-man in a lounge suit," while also "the greatest brain in Europe," proposes to drill his way from a tract of land in Sussex (England) eight miles beneath the planet's epidermis. Why? In order to prove his hypothesis that the world is itself a living organism! Enjoy.
ALL INSTALLMENTS SO FAR
'Your brain, I observe,' he continued, 'fails to register. But it will gradually absorb the idea. You will recall how a moor or heath resembles the hairy side of a giant animal. A certain analogy runs through all nature. You will then consider the secular rise and fall of land, which indicates the slow respiration of the creature. Finally, you will note the fidgetings and scratchings which appear to our Lilliputian perceptions as earthquakes and convulsions.'
'What about volcanoes?' I asked.
'Tut, tut! They correspond to the heat spots upon our own bodies.'
My brain whirled as I tried to find some answer to these monstrous contentions.
'The temperature!' I cried. 'Is it not a fact that it rises rapidly as one descends, and that the centre of the earth is liquid heat?'
He waved my assertion aside.
'You are probably aware, sir, since Council schools are now compulsory, that the earth is flattened at the poles. This means that the pole is nearer to the centre than any other point and would therefore be most affected by this heat of which you spoke. It is notorious, of course, that the conditions of the poles are tropical, is it not?'
'The whole idea is utterly new to me.'
'Of course it is. It is the privilege of the original thinker to put forward ideas which are new and usually unwelcome to the common clay. Now, sir, what is this?' He held up a small object which he had picked from the table.
'I should say it is a sea-urchin.'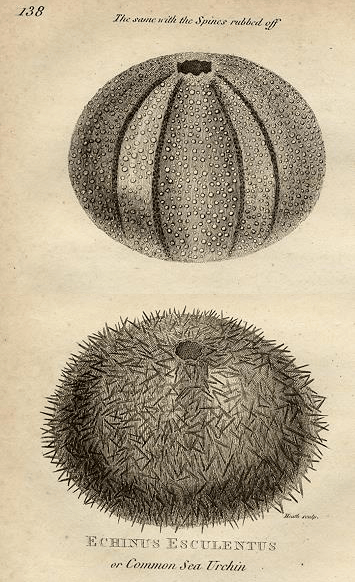 'Exactly!' he cried, with an air of exaggerated surprise, as when an infant has done something clever. 'It is a sea-urchin — a common echinus. Nature repeats itself in many forms regardless of the size. This echinus is a model, a prototype, of the world. You perceive that it is roughly circular, but flattened at the poles. Let us then regard the world as a huge echinus. What are your objections?'
My chief objection was that the thing was too absurd for argument, but I did not dare to say so. I fished around for some less sweeping assertion.
'A living creature needs food,' I said. 'Where could the world sustain its huge bulk?'
'An excellent point — excellent!' said the Professor, with a huge air of patronage. 'You have a quick eye for the obvious, though you are slow in realizing the more subtle implications. How does the world get nourishment? Again we turn to our little friend the echinus. The water which surrounds it flows through the tubes of this small creature and provides its nutrition.'
'Then you think that the water —'
'No, sir. The ether. The earth browses upon a circular path in the fields of space, and as it moves the ether is continually pouring through it and providing its vitality. Quite a flock of other little world-echini are doing the same thing, Venus, Mars, and the rest, each with its own field for grazing.'
The man was clearly mad, but there was no arguing with him. He accepted my silence as agreement and smiled at me in most beneficent fashion.
'We are coming on, I perceive,' said he. 'Light is beginning to break in. A little dazzling at first, no doubt, but we will soon get used to it. Pray give me your attention while I found one or two more observations upon this little creature in my hand.
'We will suppose that on this outer hard rind there were certain infinitely small insects which crawled upon the surface. Would the echinus ever be aware of their existence?'
'I should say not.'
'You can well imagine then, that the earth has not the least idea of the way in which it is utilized by the human race. It is quite unaware of this fungus growth of vegetation and evolution of tiny animalcules which has collected upon it during its travels round the sun as barnacles gather upon the ancient vessel. That is the present state of affairs, and that is what I propose to alter.'
I stared in amazement. 'You propose to alter it?'
'I propose to let the earth know that there is at least one person, George Edward Challenger, who calls for attention — who, indeed, insists upon attention. It is certainly the first intimation it has ever had of the sort.'
'And how, sir, will you do this?'
'Ah, there we get down to business. You have touched the spot. I will again call your attention to this interesting little creature which I hold in my hand. It is all nerves and sensibility beneath that protective crust. Is it not evident that if a parasitic animalcule desired to call its attention it would sink a hole in its shell and so stimulate its sensory apparatus?'
'Certainly.'
'Or, again, we will take the case of the homely flea or a mosquito which explores the surface of the human body. We may be unaware of its presence. But presently, when it sinks its proboscis through the skin, which is our crust, we are disagreeably reminded that we are not altogether alone. My plans now will no doubt begin to dawn upon you. Light breaks in the darkness.'
'Good heavens! You propose to sink a shaft through the earth's crust?'
He closed his eyes with ineffable complacency.
'You see before you,' he said, 'the first who will ever pierce that horny hide. I may even put it in the present tense and say who has pierced it.'
'You have done it!'
'With the very efficient aid of Morden and think I may say that I have done it. Several years of constant work which has been carried on night and day, and conducted by every known species of drill, borer, crusher, and explosive, has at last brought us to our goal.'
'You don't mean to say you are through the crust!'
'If your expressions denote bewilderment they may pass. If they denote incredulity —'
'No, sir, nothing of the kind.'
NEXT INSTALLMENT | ALL INSTALLMENTS SO FAR
***
RADIUM AGE SCIENCE FICTION: "Radium Age" is HILOBROW's name for the 1904–33 era, which saw the discovery of radioactivity, the revelation that matter itself is constantly in movement — a fitting metaphor for the first decades of the 20th century, during which old scientific, religious, political, and social certainties were shattered. This era also saw the publication of genre-shattering writing by Edgar Rice Burroughs, Sax Rohmer, E.E. "Doc" Smith, Jack London, Arthur Conan Doyle, Aldous Huxley, Olaf Stapledon, Karel Čapek, H.P. Lovecraft, Charlotte Perkins Gilman, Yevgeny Zamyatin, Philip Gordon Wylie, and other pioneers of post-Verne/Wells, pre-Golden Age "science fiction." More info here.
READ GORGEOUS PAPERBACKS: HiLoBooks has reissued the following 10 obscure but amazing Radium Age science fiction novels in beautiful print editions: Jack London's The Scarlet Plague, Rudyard Kipling's With the Night Mail (and "As Easy as A.B.C."), Arthur Conan Doyle's The Poison Belt, H. Rider Haggard's When the World Shook, Edward Shanks' The People of the Ruins, William Hope Hodgson's The Night Land, J.D. Beresford's Goslings, E.V. Odle's The Clockwork Man, Cicely Hamilton's Theodore Savage, and Muriel Jaeger's The Man with Six Senses. For more information, visit the HiLoBooks homepage.
SERIALIZED BY HILOBOOKS: Jack London's The Scarlet Plague | Rudyard Kipling's With the Night Mail (and "As Easy as A.B.C.") | Arthur Conan Doyle's The Poison Belt | H. Rider Haggard's When the World Shook | Edward Shanks' The People of the Ruins | William Hope Hodgson's The Night Land | J.D. Beresford's Goslings | E.V. Odle's The Clockwork Man | Cicely Hamilton's Theodore Savage | Muriel Jaeger's The Man With Six Senses | Jack London's "The Red One" | Philip Francis Nowlan's Armageddon 2419 A.D. | Homer Eon Flint's The Devolutionist | W.E.B. DuBois's "The Comet" | Edgar Rice Burroughs's The Moon Men | Charlotte Perkins Gilman's Herland | Sax Rohmer's "The Zayat Kiss" | Eimar O'Duffy's King Goshawk and the Birds | Frances Hodgson Burnett's The Lost Prince | Morley Roberts's The Fugitives | Helen MacInnes's The Unconquerable | Geoffrey Household's Watcher in the Shadows | William Haggard's The High Wire | Hammond Innes's Air Bridge | James Branch Cabell's Jurgen | John Buchan's "No Man's Land" | John Russell's "The Fourth Man" | E.M. Forster's "The Machine Stops" | John Buchan's Huntingtower | Arthur Conan Doyle's When the World Screamed | Victor Bridges' A Rogue By Compulsion | Jack London's The Iron Heel | H. De Vere Stacpoole's The Man Who Lost Himself | P.G. Wodehouse's Leave It to Psmith | Richard Connell's "The Most Dangerous Game" | Houdini and Lovecraft's "Imprisoned with the Pharaohs" | Arthur Conan Doyle's "The Sussex Vampire."