Philip Stone's Hat-Trick
By: Gordon Dahlquist
July 12, 2013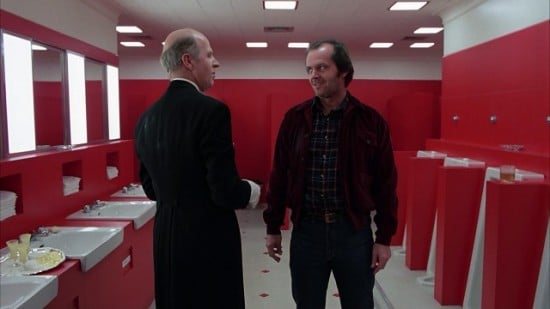 When it came to shooting one of the final, wrenching scenes of Barry Lyndon, it's said that Ryan O'Neal took Stanley Kubrick aside and nodded at the tall actor with whom he was about to perform and "wondered aloud if the guy had what it took." Kubrick's shooting style for the film was almost completely improvisational — which, given the scale of Barry Lyndon, the period necessities, and lavish design — is basically unimaginable today. The shooting script was a copy of Thackaray's novel pasted into a notebook (for one of the film's most famous set-pieces — a seven minute nail-biter of violence and restraint — the page read simply "Barry and Lord Bullingdon fight a duel"). And so, as Kubrick and his cast had worked through the film's second half, where the triumphant life of a well-married rake falls completely to pieces, O'Neal can perhaps be excused for doubting the chops of an actor who had appeared in scene after scene without speaking a single line. Philip Stone was cast as Graham, Lady Lyndon's man of business, and up to that point, his role consisted of looking on helplessly as the estate is bled dry. After the duel, however, it is Graham who appears at the inn where the prostrate Barry has just undergone a partial amputation. Nervous at facing his former master but resolute in his revenge, Graham quietly offers to settle Barry's debts, on the condition that he renounce both his marriage and England for the rest of his life. If one of Kubrick's great themes is the tension between social strictures and individual passion, Stone shows us the pale-lipped lizard under the rock, whose bite is all the more bitter for being both unlooked for and fully justified.
Kubrick reportedly assured O'Neal that "the guy" would be fine. Stone had appeared in Kubrick's previous film, A Clockwork Orange, playing the permissive, passive father of Malcolm MacDowell's psychotic thug. Whether turning a blind eye to his son's crimes, defending the lodger whose good behavior — and rent — has eclipsed the son who can longer fight back, or offering the newly famous Alex a place to stay at the film's end, Stone's father is a squirm-inducing portrait of disconnected narcissism, of drug-taking, order-following, low-stakes contentment. The fable-like film is deeply Brechtian, theatrical with coarse humor and self-conscious framing that contrast with visceral depictions of violence. Stone's father is a man in retreat, his body hiding within his floridly youthful suit and tie like a hermit crab inside its shell. It's a droll performance, almost commedia dell'arte, wrapped around an ugly core of fear.
Stone's third appearance for Kubrick came four years later in The Shining, playing the previous caretaker of the Overlook Hotel, Delbert Grady. Most spectacularly in a chilling scene set in an all-red bathroom, Grady emerges as the avatar of the hotel, pushing the troubled, drunken Jack Torrance to slaughter of family — just as, with an axe, Grady had himself "corrected" the daughters who tried to burn the hotel down, and then the wife that tried to stop him. What's wonderful about Stone's performance is also his arbitrary presence: he's in the film because Kubrick trusts him — because again, there's an improvisational element, and dozens and dozens of takes. But the reticent note that inflects the nervous Graham and the cowed Father becomes insidious and threatening in Grady. The transitions in the bathroom scene, as he manipulates the befuddled Torrance, are both splendid and ugly — the compliant blandness of evil, roping in the next dupe.
Stone appeared in many other films, and a lot of British television. He is a perfectly fine actor, like so many others, usually asked to deliver again what he's done before. In the three Kubrick films, his work catches the light a bit differently, and what's underneath quivers, lovely and cold.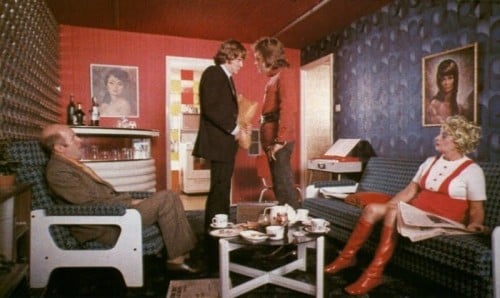 ***
MORE HORROR ON HILOBROW: Early '60s Horror, a series by David Smay | Phone Horror, a series by Devin McKinney | Philip Stone's Hat-Trick | Shocking Blocking: Candyman | Shocking Blocking: A Bucket of Blood | Kenneth Anger | Sax Rohmer | August Derleth | Edgar Ulmer | Vincent Price | Max von Sydow | Lon Chaney Sr. | James Whale | Wes Craven | Roman Polanski | Ed Wood | John Carpenter | George A. Romero | David Cronenberg | Roger Corman | Georges Franju | Shirley Jackson | Jacques Tourneur | Ray Bradbury | Edgar Allan Poe | Algernon Blackwood | H.P. Lovecraft | Clark Ashton Smith | Gaston Leroux |