Diamond Age 75 (34)
By: Joshua Glenn
November 3, 2019
One in a series of posts about the 75 best science fiction novels published during the genre's Diamond Age era (from 1984–2003, according to HILOBROW's periodization schema). For Josh Glenn's complete Diamond Age Sci-Fi 75 list, click here.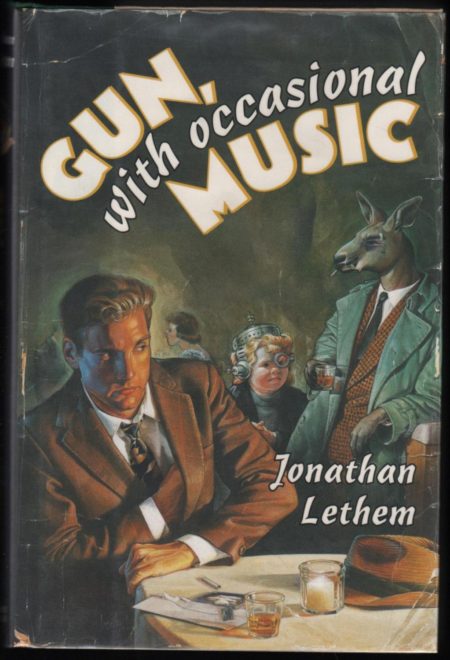 Jonathan Lethem's sci-fi/neo-noir adventure Gun, with Occasional Music (1994).
The author's first novel is a pastiche of hardboiled crime fiction and cyberpunk; it's affectionate towards the former, tongue-in-cheek towards the latter. In a not-too-distant future Los Angeles and Oakland, smart-mouthed private "inquisitor" Conrad Metcalf looks into the murder of Dr. Maynard Stanhunt, a prominent urologist who turns out to have been in cahoots with the gangster Danny Phoneblum. The victim's ex-wife and the murder suspect's sister are raising a "babyhead" — one of a cohort of infants whose development has been sped up, resulting in a Gen X-like subculture of cynical, unmotivated, whiny assholes. A thuggish evolved kangaroo (think Wilmer, the jumped-up "gunsel" from The Maltese Falcon) is tailing Metcalf, who's got the hots for a sexy inquisitor with the unimprovable name Catherine Teleprompter. All these shenanigans take place in a dystopian America in which it's all but forbidden to use words to describe news events; there's a cultural taboo against asking questions; and everyone is on [the] Make, a legal drug that keeps users forgetful and contented. The inquisitors, who've settled upon a fall guy for the murder rap, subtract so many of Metcalf's state-issued karma points that he may wind up doing time in the big freeze. But when Metcalf uncovers a scheme in which zero-karma convicts are implanted with "slaveboxes" and used as prostitutes (hello, Dollhouse), he plays it "existential. and maybe a bit stupid." It's the only way he knows how to play it.
Fun fact: "I really, genuinely wanted to be published in shabby pocket-sized editions and be neglected — and then discovered and vindicated when I was fifty," Lethem has said, about his early novels. "To honor, by doing so, Charles Willeford and Philip K. Dick and Patricia Highsmith and Thomas Disch, these exiles within their own culture. I felt that was the only honorable path."
***
DIAMOND AGE SCI-FI at HILOBROW: William Gibson | Bruce Sterling | Margaret Atwood | Ann Nocenti | Frank Miller | Alan Moore | Octavia E. Butler | Iain M. Banks | Grant Morrison | Neal Stephenson | Jonathan Lethem | Charles Burns | China Miéville.
JOSH GLENN'S *BEST ADVENTURES* LISTS: BEST 250 ADVENTURES OF THE 20TH CENTURY | 100 BEST OUGHTS ADVENTURES | 100 BEST RADIUM AGE (PROTO-)SCI-FI ADVENTURES | 100 BEST TEENS ADVENTURES | 100 BEST TWENTIES ADVENTURES | 100 BEST THIRTIES ADVENTURES | 75 BEST GOLDEN AGE SCI-FI ADVENTURES | 100 BEST FORTIES ADVENTURES | 100 BEST FIFTIES ADVENTURES | 100 BEST SIXTIES ADVENTURES | 75 BEST NEW WAVE SCI FI ADVENTURES | 100 BEST SEVENTIES ADVENTURES | 100 BEST EIGHTIES ADVENTURES | 75 BEST DIAMOND AGE SCI-FI ADVENTURES | 100 BEST NINETIES ADVENTURES (in progress) | 1994 | 1995 | 1996 | 1997 | 1998 | 1999 | 2000 | 2001 | 2002 | 2003 | NOTES ON 21st-CENTURY ADVENTURES.