Diamond Age 75 (26)
By: Joshua Glenn
September 8, 2019
One in a series of posts about the 75 best science fiction novels published during the genre's Diamond Age era (from 1984–2003, according to HILOBROW's periodization schema). For Josh Glenn's complete Diamond Age Sci-Fi 75 list, click here.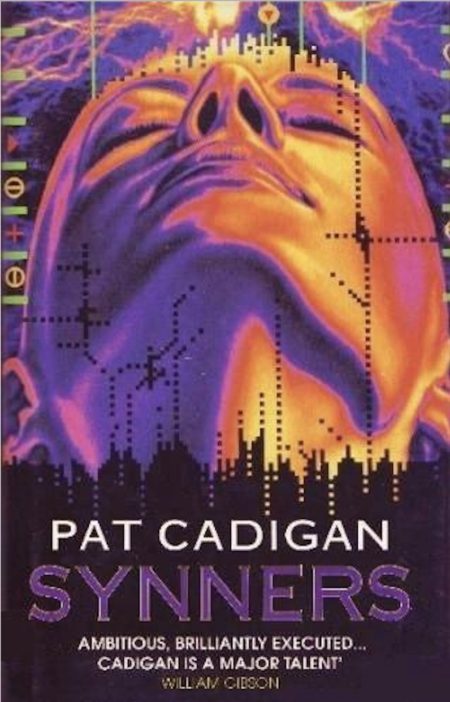 Pat Cadigan's Synners (1991).
Gina, Visual Mark, and Gabe are middle-aged virtual-reality creatives, who've seen new technological breakthroughs transform their industry — and the wider world — for better and worse. The brain has been thoroughly mapped; and "sockets," which allow us to input sensory information directly into our brains, and which were at first intended for entertainment purposes (immersive movies and music videos), have changed the way people experience life. When the corporation for which they work (Diversification Inc.) gives Visual Mark sockets, he becomes even less tethered to reality than before. Gina isn't particularly interested in sockets — but she uses them to stay connected with her ex-boyfriend. It seems that these virtual-reality creatives can use sockets not only to input experiences, but to output them too; Visual Mark feels liberated by the technology, and abandons his body. Gabe, meanwhile, who was a bit of a slacker, finds it hard to adjust to sockets — which demand that he focus his attention and be the ever-present master of his imaginings. Instead of mastering this new technology, our three protagonists are mastered by it. Like one of Gabe's productions, the novel itself is a bit cryptic, and hard to follow, with multiple POVs… until suddenly, after the halfway point, it coheres into a powerful, thrilling adventure story.
Fun facts: Robert A. Heinlein dedicated his 1982 novel Friday to Cadigan. She won a Hugo Award for her 2012 novella The Girl-Thing Who Went Out for Sushi.
***
DIAMOND AGE SCI-FI at HILOBROW: William Gibson | Bruce Sterling | Margaret Atwood | Ann Nocenti | Frank Miller | Alan Moore | Octavia E. Butler | Iain M. Banks | Grant Morrison | Neal Stephenson | Jonathan Lethem | Charles Burns | China Miéville.
JOSH GLENN'S *BEST ADVENTURES* LISTS: BEST 250 ADVENTURES OF THE 20TH CENTURY | 100 BEST OUGHTS ADVENTURES | 100 BEST RADIUM AGE (PROTO-)SCI-FI ADVENTURES | 100 BEST TEENS ADVENTURES | 100 BEST TWENTIES ADVENTURES | 100 BEST THIRTIES ADVENTURES | 75 BEST GOLDEN AGE SCI-FI ADVENTURES | 100 BEST FORTIES ADVENTURES | 100 BEST FIFTIES ADVENTURES | 100 BEST SIXTIES ADVENTURES | 75 BEST NEW WAVE SCI FI ADVENTURES | 100 BEST SEVENTIES ADVENTURES | 100 BEST EIGHTIES ADVENTURES | 75 BEST DIAMOND AGE SCI-FI ADVENTURES | 100 BEST NINETIES ADVENTURES (in progress) | 1994 | 1995 | 1996 | 1997 | 1998 | 1999 | 2000 | 2001 | 2002 | 2003 | NOTES ON 21st-CENTURY ADVENTURES.