New Wave Sci-Fi 75 (63)
By: Joshua Glenn
December 16, 2018
One in a series of posts about the 75 best science fiction novels published during the genre's New Wave era (from 1964–1983, according to HILOBROW's periodization schema). For Josh Glenn's complete New Wave Sci-Fi 75 list, click here.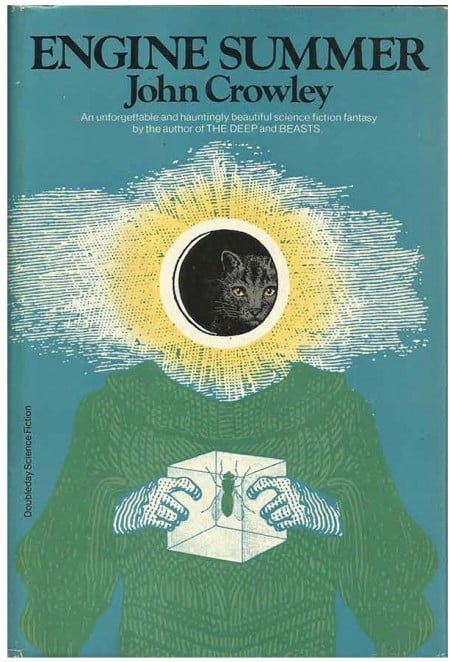 John Crowley's Engine Summer (1979).
A beautifully written, trippy novella set in a post-apocalyptic America, where relics of the past confound and amaze our protagonist, young Rush That Speaks. He's grown up in Little Belaire, an idyllic, tribalist community of "true speakers" who fled society's collapse (specifically, they appear to have fled Bel Air, California) in the distant past. This reader could have happily explored Little Belaire and its traditions along with Rush That Speaks for a longer stretch, but when Once a Day, the girl he loves, absconds to live with a cat-like society called Dr. Boots's List, Little Rush heads out after her. First, however, he spends time living with Blink, a "saint," in a treehouse, gathering more intel about the high-tech, unhappy prelapsarian world of the vanished "angels." Once he's taken in by Dr. Boots's List, Rush That Speaks undergoes a mind-meld with Dr. Boots — from which he will never fully recover. At which point, an "angel" drops from the sky, and much is made clear to us. As with Riddley Walker, published the following year, Engine Summer is among other things a riddle, requiring readers to puzzle out secrets of the past (our near-future, perhaps) that the book's characters themselves will never truly understand. The book's ending is a deeply poignant one.
Fun facts: Crowley is best known as the author of Little, Big (1981), a much-admired fantasy novel, and for his Ægypt series of novels (1987–2007). I like these books, too, but strongly urge science fiction fans to revisit his early work.
***
NEW WAVE SCI-FI at HILOBROW: 75 Best New Wave (1964–1983) Sci-Fi Novels | Back to Utopia: Fredric Jameson's theorizing about New Wave sci-fi | Douglas Adams | Poul Anderson | J.G. Ballard | John Brunner | William Burroughs | Octavia E. Butler | Samuel R. Delany | Philip K. Dick | Frank Herbert | Ursula K. Le Guin | Barry N. Malzberg | Moebius (Jean Giraud) | Michael Moorcock | Alan Moore | Gary Panter | Walker Percy | Thomas Pynchon | Joanna Russ | James Tiptree Jr. (Alice Sheldon) | Kurt Vonnegut | PLUS: Jack Kirby's Golden Age and New Wave science fiction comics.
JOSH GLENN'S *BEST ADVENTURES* LISTS: BEST 250 ADVENTURES OF THE 20TH CENTURY | 100 BEST OUGHTS ADVENTURES | 100 BEST RADIUM AGE (PROTO-)SCI-FI ADVENTURES | 100 BEST TEENS ADVENTURES | 100 BEST TWENTIES ADVENTURES | 100 BEST THIRTIES ADVENTURES | 75 BEST GOLDEN AGE SCI-FI ADVENTURES | 100 BEST FORTIES ADVENTURES | 100 BEST FIFTIES ADVENTURES | 100 BEST SIXTIES ADVENTURES | 75 BEST NEW WAVE SCI FI ADVENTURES | 100 BEST SEVENTIES ADVENTURES | 100 BEST EIGHTIES ADVENTURES | 75 BEST DIAMOND AGE SCI-FI ADVENTURES | 100 BEST NINETIES ADVENTURES (in progress) | 1994 | 1995 | 1996 | 1997 | 1998 | 1999 | 2000 | 2001 | 2002 | 2003 | NOTES ON 21st-CENTURY ADVENTURES.