OUTBOUND TO MONTEVIDEO (1)
By: Mimi Lipson
September 11, 2018
Part one of a series of posts adapted from a travel journal originally posted on apexart.org.
*
PART 1
Yesterday blended into today, all planes and airports.
JFK – San Salvador
San Salvador – Lima
Lima – Montevideo.
My plane touched down a little before four a.m. After shuffling through customs I was met by Javier, my man in Uruguay.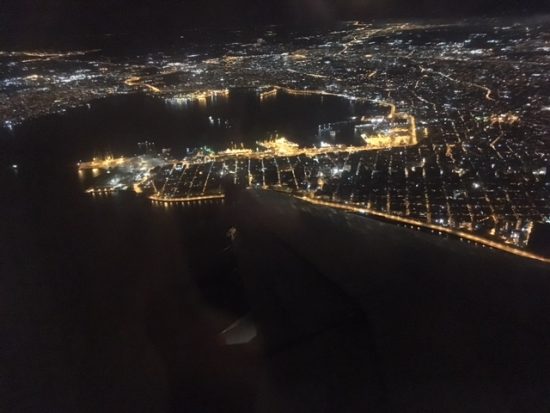 I am an apexart International Fellow, in Montevideo at the pleasure of a gallery in New York City. The program sponsors international artist-visitor in New York — "inbound" Fellows — and their "outbound" counterparts, who are sent to cities of the gallery's choosing. On the apexart website you will find a statement of purpose:
Unlike an artist residency program, the apexart Fellowship provides a rich, 30-day schedule of non-art activities, all while requiring Fellows to refrain from producing creative works. The apexart Fellowship schedule prioritizes educational experiences that are outside of the Fellow's stated interests. This diversity of activities leaves Fellows with new ideas, approaches, and content to incorporate into their creative practices.
The application process involved an interview, which was mostly a matter of laying out the practical and philosophical aspects of the fellowship. Elizabeth from the gallery explained that a day's schedule might include cultural activities — a museum, a concert — alongside an exercise class or tour of a factory. I might be asked to try a specific kind of street food, or perform voluntary service. The fellowship, she said, would be a stark contrast to that most common form of international artist experience: the art fair.
I nodded. Had they mistaken me for someone who went to art fairs?
I would be on my own for the most part. Elizabeth stressed this particularly: I would have a contact in my destination city, but it was important that I accept the challenge of navigating my schedule with a minimum of assistance. I would be on my own most of the time. I might get lonely.
I nodded again, more impatiently.
***
Here is a thumbnail picture of Javier from the apexart website, in lieu of the one I should have taken of him at the airport.
He was an inbound Fellow in 2015. He is a philosopher of media and narratives and perhaps other things. I was pretty spaced out. He's studied acting as well, and is a charming conversationalist.
We sat at a McCafe near the baggage carousels, waiting for a decent hour to call on our air b'n'b hostess. Javier bought me a McCapuccino. "I brought my own," he said, and I noticed for the first time that he was wearing a tooled leather holster around his waist, like a fanny pack. He produced from it a thermos and an ornate travel cup with an attached metal straw. "This is mate," he said. "You'll be seeing a lot of it." He poured hot water from the thermos into the cup, and while letting it steep, he went over a printout of my first week's activities.
Movies, city walks, museums, a farmer's market. (Javier paused and offered the mate straw to me. It tasted like hay.) There were photographs of Montevideans I will be meeting for coffee dates and concerts. Traveling alone is nothing to me; this is the terrifying unknown: having my days and many of my nights planned by a remote committee of gallerists. I noted with mild alarm that I will be playing field hockey later in the week.
Before learning that I would be outbound to Montevideo, I had barely thought of Uruguay. I may or may not have known the name of its capital. I knew it was near Argentina, and that there had been a dictatorship; I wasn't sure how recently. I've done little preparation for the trip — out of laziness, and because it seemed more in the spirit of serendipity to go in cold. What I've since learned, mostly in conversations that arose when I told people I'd be coming here, is limited to a few promising factoids. Marijuana is legal, and abortion. The dictatorship ended in 1985. Uruguay has the highest rate of atheism of any country in the world. Now, sitting across from Javier and regretting my ignorance, I asked about the founding of Montevideo. Here is what I remember of his reply — with apologies.
In the 1720s, a Spanish man who thought he was in Argentina discovered this little peninsula in a river delta, which he thought was a sea. Though the Atlantic is not far away, the coastline in that aerial view is the bank of the Plata. (Uruguayans, I'm learning, are rightfully proud of their extremely wide river.) He dropped off some cattle and continued on his way to Argentina. When he stopped by five years later on his way back to Spain, he discovered that the cattle had thrived! So he stayed, and that was the beginning of colonial Montevideo. What of the aboriginal people? Javier said they were pushed out and had no luck elsewhere, because they were a small group and could not compete with either the Europeans or the other aboriginal groups. I got the impression of a sad, doomed people. The original city was walled. I think it was entirely contained in that thumb-like protrusion in the aerial photo above. According to my printout, I will be seeing it on Day 2.
It was still dark when we got in Javier's Chevy Corsa, and barely dawn when I arrived at my home for the month — a studio apartment in a nondescript building of recent and cheap construction. Here is the view from my window. It looks like Anytown, The World.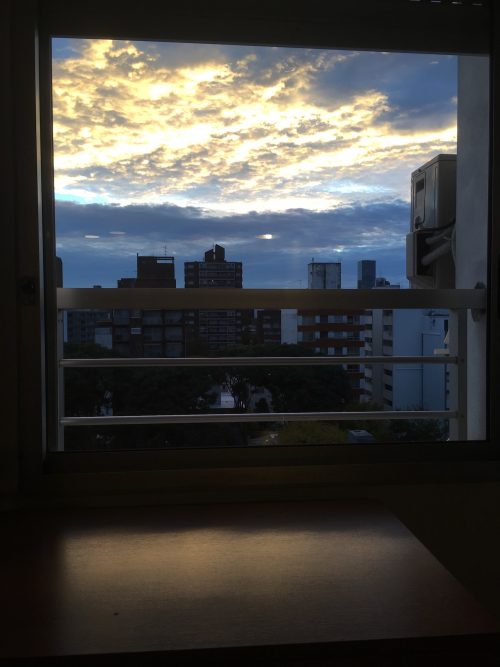 ***
One in a series of ten posts contributed by HILOBROW friend Mimi Lipson.
MORE MIMI LIPSON: Tube Your Enthusiasm: THE BEVERLY HILLBILLIES | Wowee Zowee: THANK YOU | #Squadgoals: THE RUNAWAYS | Lost Objects: DODGE DART | Klute Your Enthusiasm: MEAN STREETS | Quirk Your Enthusiasm: HOW COME YOU'RE SUCH A HIT WITH THE BOYS, JANE? | Grok My Enthusiasm: 1973 SEARS ROEBUCK CATALOG and TRASH PICKING | Hermenautic Tarot: EUPHORIA | Significant Objects: HALSTON MUG | PLUS: HILO HERO items on Joey Ramone, Divine, Redd Foxx, Russ Meyer, Shelley Winters, Noam Chomsky, and many others.
CURATED SERIES at HILOBROW: UNBORED CANON by Josh Glenn | CARPE PHALLUM by Patrick Cates | MS. K by Heather Kasunick | HERE BE MONSTERS by Mister Reusch | DOWNTOWNE by Bradley Peterson | #FX by Michael Lewy | PINNED PANELS by Zack Smith | TANK UP by Tony Leone | OUTBOUND TO MONTEVIDEO by Mimi Lipson | TAKING LIBERTIES by Douglas Wolk | STERANKOISMS by Douglas Wolk | MARVEL vs. MUSEUM by Douglas Wolk | NEVER BEGIN TO SING by Damon Krukowski | WTC WTF by Douglas Wolk | COOLING OFF THE COMMOTION by Chenjerai Kumanyika | THAT'S GREAT MARVEL by Douglas Wolk | LAWS OF THE UNIVERSE by Chris Spurgeon | IMAGINARY FRIENDS by Alexandra Molotkow | UNFLOWN by Jacob Covey | ADEQUATED by Franklin Bruno | QUALITY JOE by Joe Alterio | CHICKEN LIT by Lisa Jane Persky | PINAKOTHEK by Luc Sante | ALL MY STARS by Joanne McNeil | BIGFOOT ISLAND by Michael Lewy | NOT OF THIS EARTH by Michael Lewy | ANIMAL MAGNETISM by Colin Dickey | KEEPERS by Steph Burt | AMERICA OBSCURA by Andrew Hultkrans | HEATHCLIFF, FOR WHY? by Brandi Brown | DAILY DRUMPF by Rick Pinchera | BEDROOM AIRPORT by "Parson Edwards" | INTO THE VOID by Charlie Jane Anders | WE REABSORB & ENLIVEN by Matthew Battles | BRAINIAC by Joshua Glenn | COMICALLY VINTAGE by Comically Vintage | BLDGBLOG by Geoff Manaugh | WINDS OF MAGIC by James Parker | MUSEUM OF FEMORIBILIA by Lynn Peril | ROBOTS + MONSTERS by Joe Alterio | MONSTOBER by Rick Pinchera | POP WITH A SHOTGUN by Devin McKinney | FEEDBACK by Joshua Glenn | 4CP FTW by John Hilgart | ANNOTATED GIF by Kerry Callen | FANCHILD by Adam McGovern | BOOKFUTURISM by James Bridle | NOMADBROW by Erik Davis | SCREEN TIME by Jacob Mikanowski | FALSE MACHINE by Patrick Stuart | 12 DAYS OF SIGNIFICANCE | 12 MORE DAYS OF SIGNIFICANCE | 12 DAYS OF SIGNIFICANCE (AGAIN) | ANOTHER 12 DAYS OF SIGNIFICANCE | UNBORED MANIFESTO by Joshua Glenn and Elizabeth Foy Larsen | H IS FOR HOBO by Joshua Glenn | 4CP FRIDAY by guest curators