Golden Age Sci-Fi 75 (61)
By: Joshua Glenn
November 11, 2016
One in a series of 75 posts about the best science fiction novels published during the genre's so-called Golden Age (from 1934–63, according to HILOBROW's Josh Glenn's periodization schema). For the complete Golden Age Sci-Fi 75 list, click here.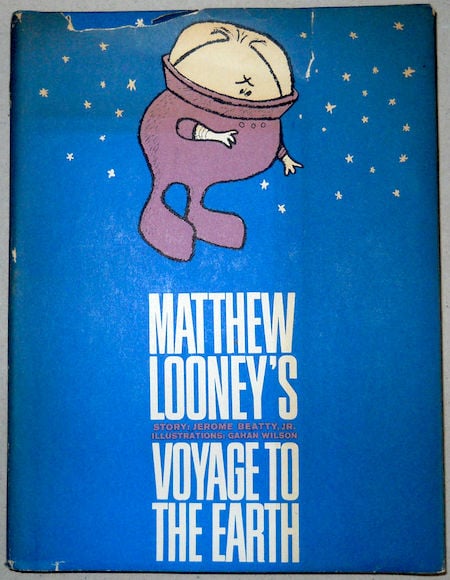 Jerome Beatty Jr.'s Matthew Looney's Voyage to the Earth (1961).
With endearing illustrations by Gahan Wilson, this now-forgotten classic of YA sci-fi tells the story of a boy from the Moon who wonders if (scientific consensus to the contrary) there is intelligent life on Earth — and who, despite bullying, political intrigue, and danger, stubbornly sets out to find out the truth. The Moon's civilization, it seems, is almost exactly like our own, except for that fact that they eat scrambled arks (and burgles with canal juice), measure distance in lunacules and time in moonits, and must be very careful not to jump too high… and go floating off into space. Matthew's adventure is set against an all-too-Earthlike backdrop of space-race political maneuvering: While scientists like Professor Ploozer stress peaceful and scientific uses for their rockets and missions and probes, the Moonster military and politicians are more interested in developing and testing weapons — which they'd like to use to colonize or destroy the Earth!
Fun fact: Subsequent Matthew Looney books include Matthew Looney's Invasion of the Earth (1965), Matthew Looney in the Outback (1969), and Matthew Looney and the Space Pirates (1974). Matthew's sister, Maria, is the protagonist of Maria Looney on the Red Planet (1977), Maria Looney and the Cosmic Circus (1978), and Maria Looney and the Remarkable Robot (1978).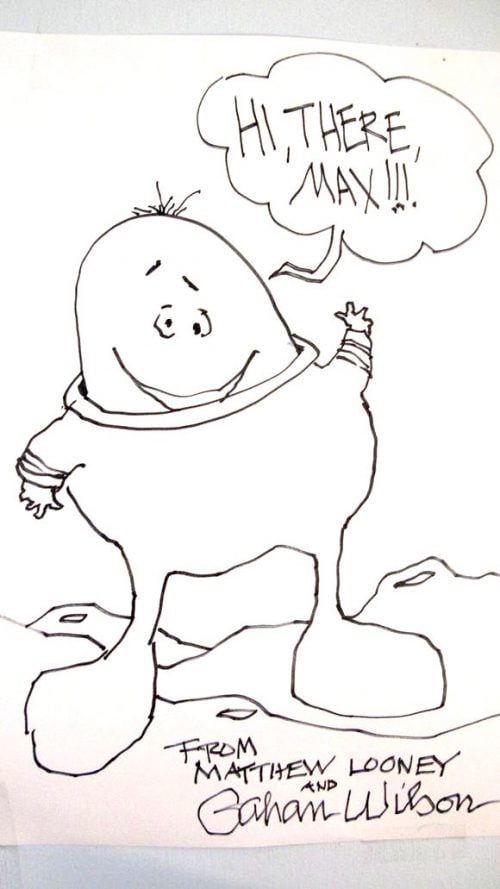 ***
GOLDEN AGE SCIENCE FICTION at HILOBROW: Golden Age Sci-Fi: 75 Best Novels of 1934–1963 | Robert Heinlein | Karel Capek | William Burroughs | E.E. "Doc" Smith | Clifford D. Simak | H.P. Lovecraft | Olaf Stapledon | Philip K. Dick | Jack Williamson | George Orwell | Boris Vian | Bernard Wolfe | J.G. Ballard | Jorge Luis Borges |Poul Anderson | Walter M. Miller, Jr. | Murray Leinster | Kurt Vonnegut | Stanislaw Lem | Alfred Bester | Isaac Asimov | Ray Bradbury | Madeleine L'Engle | Arthur C. Clarke | PLUS: Jack Kirby's Golden Age and New Wave science fiction comics.
JOSH GLENN'S *BEST ADVENTURES* LISTS: BEST 250 ADVENTURES OF THE 20TH CENTURY | 100 BEST OUGHTS ADVENTURES | 100 BEST RADIUM AGE (PROTO-)SCI-FI ADVENTURES | 100 BEST TEENS ADVENTURES | 100 BEST TWENTIES ADVENTURES | 100 BEST THIRTIES ADVENTURES | 75 BEST GOLDEN AGE SCI-FI ADVENTURES | 100 BEST FORTIES ADVENTURES | 100 BEST FIFTIES ADVENTURES | 100 BEST SIXTIES ADVENTURES | 75 BEST NEW WAVE SCI FI ADVENTURES | 100 BEST SEVENTIES ADVENTURES | 100 BEST EIGHTIES ADVENTURES | 75 BEST DIAMOND AGE SCI-FI ADVENTURES | 100 BEST NINETIES ADVENTURES (in progress) | 1994 | 1995 | 1996 | 1997 | 1998 | 1999 | 2000 | 2001 | 2002 | 2003 | NOTES ON 21st-CENTURY ADVENTURES.