Gahan Wilson
By: Adam McGovern
February 8, 2015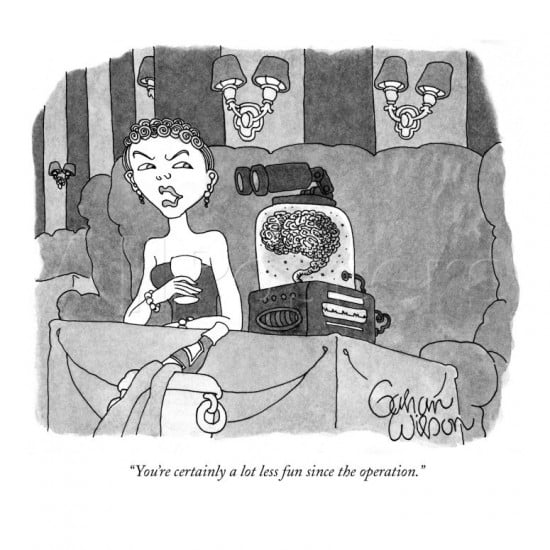 "To Adam, who has my sympathy because he likes to draw monsters," read the inscription on an edition of cartoonist GAHAN WILSON's (born 1930) I Paint What I See, secured by my equally sympathetic dad at a mid-1970s bookstore signing. The dedication is drawn on the title page in a speech-balloon coming from a stubby bumpy friendly kid behemoth with buggy eyes and froggy hands, and I still have it somewhere though the book itself perished in a basement flood. I'd committed it to memory anyway, and took to heart the implication of the autograph — that making stories about misfits and fantasies was a burden, but a gladly shared one, and that the monsters would get me because I was waiting for them at the curb. Wilson was the antithesis of the one-panel, one-gag cartoonist he appeared to be, since such extensive narratives were compressed into his snapshots. Whole dystopian novels detached from their illustrations were sensed in cartoons like the couple gathered 'round the nightly news asking in reference to the anchorman, "Remember when they didn't cry?" or the startled toddler on a sterile street grasping his urban mom's leg as she reassures him about the object of his panic, "Don't be afraid, dear — it's a tree." My dad's generation had had smiling square-jawed social-realist soldiers encouraging them from war-effort public wall posters; my own Vietnam-era brood had Wilson's once-ubiquitous saucer-eyed, solitary, soot-covered vet grasping his heavy sidearms and peering through a blasted miasma exulting, "I think I won!" Wilson's misshapen mind's eye, in which every figure and prop and setting looks like it's made of the same stuff as those watches by Dalí, has remained unblinking and interested to this day. We may melt under scrutiny, but we'll also lose a lot of what was holding us in.
ALSO SEE: Quatschwatch: Cuddly Cthulhu | Comics & Cartoonists on HiLobrow
***
On his or her birthday, HiLobrow irregularly pays tribute to one of our high-, low-, no-, or hilobrow heroes. Also born this date: Will Allen, Elizabeth Bishop.
READ MORE about members of the Postmodernist Generation (1924-33).