Golden Age Sci-Fi 75 (50)
By: Joshua Glenn
October 15, 2016
One in a series of 75 posts about the best science fiction novels published during the genre's so-called Golden Age (from 1934–63, according to HILOBROW's Josh Glenn's periodization schema). For the complete Golden Age Sci-Fi 75 list, click here.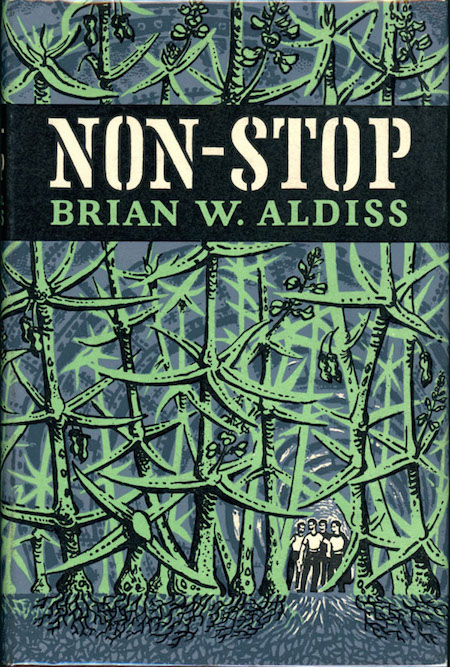 Brian Aldiss's Non-Stop (1958; also published as Starship).
Upon the death of his wife, Roy Complain, member of a primitive tribe of hunter-gatherers who live in a territory surrounded by jungle-like "ponics" (plant growth) known only as "Quarters," joins another tribe's expedition into the heart of darkness… in order to discover more about the world in which they live. This is an apophenic adventure — the protagonists of which seek meaning. Why is their world made of plastic and steel? What lies beyond the jungle? What's the deal with the intelligent rats? The expedition's leader, a priest named Marapper, has found ancient documents which seem to suggest that "Quarters," and other territories, are… a gargantuan spaceship, an interstellar ark, headed from and to unknown destinations, on which two dozen generations have already lived. Marker's plan is to find the ship's control room, and to divert the ship to the nearest habitable planet. What lies ahead — in the ship's control center?
Fun fact: This was Brian Aldiss's first novel — and it reflects his view that entropy will always derail grand human projects.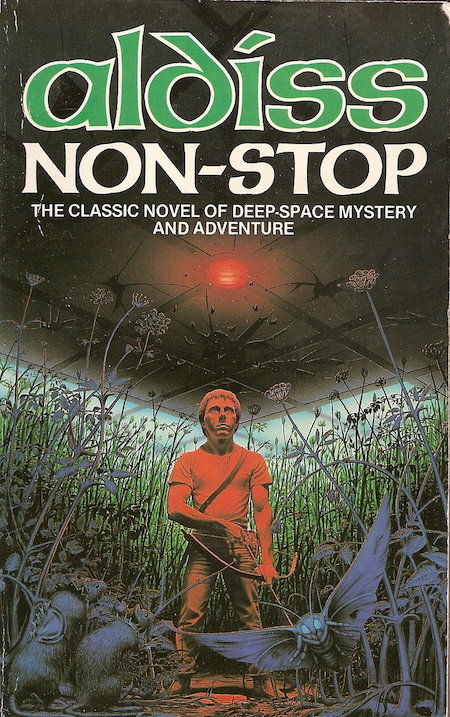 ***
GOLDEN AGE SCIENCE FICTION at HILOBROW: Golden Age Sci-Fi: 75 Best Novels of 1934–1963 | Robert Heinlein | Karel Capek | William Burroughs | E.E. "Doc" Smith | Clifford D. Simak | H.P. Lovecraft | Olaf Stapledon | Philip K. Dick | Jack Williamson | George Orwell | Boris Vian | Bernard Wolfe | J.G. Ballard | Jorge Luis Borges |Poul Anderson | Walter M. Miller, Jr. | Murray Leinster | Kurt Vonnegut | Stanislaw Lem | Alfred Bester | Isaac Asimov | Ray Bradbury | Madeleine L'Engle | Arthur C. Clarke | PLUS: Jack Kirby's Golden Age and New Wave science fiction comics.
JOSH GLENN'S *BEST ADVENTURES* LISTS: BEST 250 ADVENTURES OF THE 20TH CENTURY | 100 BEST OUGHTS ADVENTURES | 100 BEST RADIUM AGE (PROTO-)SCI-FI ADVENTURES | 100 BEST TEENS ADVENTURES | 100 BEST TWENTIES ADVENTURES | 100 BEST THIRTIES ADVENTURES | 75 BEST GOLDEN AGE SCI-FI ADVENTURES | 100 BEST FORTIES ADVENTURES | 100 BEST FIFTIES ADVENTURES | 100 BEST SIXTIES ADVENTURES | 75 BEST NEW WAVE SCI FI ADVENTURES | 100 BEST SEVENTIES ADVENTURES | 100 BEST EIGHTIES ADVENTURES | 75 BEST DIAMOND AGE SCI-FI ADVENTURES | 100 BEST NINETIES ADVENTURES (in progress) | 1994 | 1995 | 1996 | 1997 | 1998 | 1999 | 2000 | 2001 | 2002 | 2003 | NOTES ON 21st-CENTURY ADVENTURES.