Golden Age Sci-Fi 75 (38)
By: Joshua Glenn
September 3, 2016
One in a series of 75 posts about the best science fiction novels published during the genre's so-called Golden Age (from 1934–63, according to HILOBROW's Josh Glenn's periodization schema). For the complete Golden Age Sci-Fi 75 list, click here.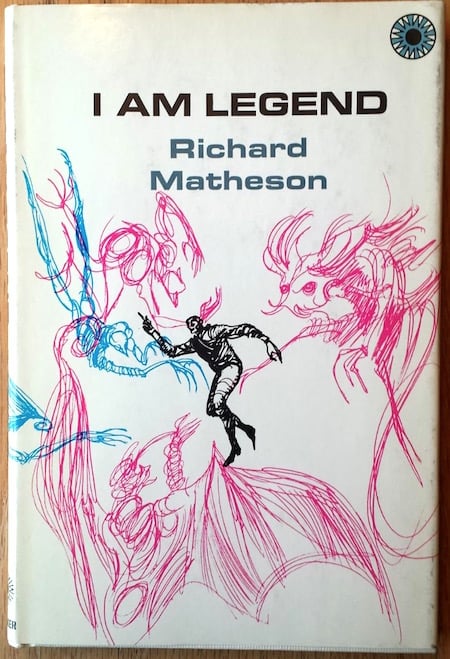 Richard Matheson's I Am Legend (1954).
Though it has inspired more thrilling novels (Stephen King is a Matheson fan) and movies, I Am Legend is less an adventure than it is a novel of ideas (about the psychology of social isolation), a bleak Robinsonade (set in a vampire-infested Los Angeles of 1976, with no hope of rescue), and a scientific mystery (valorizing painstaking inductive reasoning). What action there is largely occurs in flashbacks — as we learn about the devastating spread of a zombie-ism/vampirism-like pandemic. Even our hero, Robert Neville, is less creative and brilliant than he is merely dogged; and he's a drunk. Still, there is much to enjoy here. Neville stakes vampires by day, and by night — as the vampires howl outside his door — he attempts to unravel the cause of the plague (are the vampires physically, or just psychologically transformed?), and muses about the overlap between legend and history. Then he meets — and pursues, and captures — Ruth, who might be a survivor of the plague. Or is she something else? Are there non-feral vampires? Is he, himself, a legend?
Fun fact: The excellent 1971 science-fiction movie The Omega Man, starring Charlton Heston, is loosely based on I Am Legend. Other movie adaptations have been less entertaining.
***
GOLDEN AGE SCIENCE FICTION at HILOBROW: Golden Age Sci-Fi: 75 Best Novels of 1934–1963 | Robert Heinlein | Karel Capek | William Burroughs | E.E. "Doc" Smith | Clifford D. Simak | H.P. Lovecraft | Olaf Stapledon | Philip K. Dick | Jack Williamson | George Orwell | Boris Vian | Bernard Wolfe | J.G. Ballard | Jorge Luis Borges |Poul Anderson | Walter M. Miller, Jr. | Murray Leinster | Kurt Vonnegut | Stanislaw Lem | Alfred Bester | Isaac Asimov | Ray Bradbury | Madeleine L'Engle | Arthur C. Clarke | PLUS: Jack Kirby's Golden Age and New Wave science fiction comics.
JOSH GLENN'S *BEST ADVENTURES* LISTS: BEST 250 ADVENTURES OF THE 20TH CENTURY | 100 BEST OUGHTS ADVENTURES | 100 BEST RADIUM AGE (PROTO-)SCI-FI ADVENTURES | 100 BEST TEENS ADVENTURES | 100 BEST TWENTIES ADVENTURES | 100 BEST THIRTIES ADVENTURES | 75 BEST GOLDEN AGE SCI-FI ADVENTURES | 100 BEST FORTIES ADVENTURES | 100 BEST FIFTIES ADVENTURES | 100 BEST SIXTIES ADVENTURES | 75 BEST NEW WAVE SCI FI ADVENTURES | 100 BEST SEVENTIES ADVENTURES | 100 BEST EIGHTIES ADVENTURES | 75 BEST DIAMOND AGE SCI-FI ADVENTURES | 100 BEST NINETIES ADVENTURES (in progress) | 1994 | 1995 | 1996 | 1997 | 1998 | 1999 | 2000 | 2001 | 2002 | 2003 | NOTES ON 21st-CENTURY ADVENTURES.