Golden Age Sci-Fi 75 (26)
By: Joshua Glenn
July 29, 2016
One in a series of 75 posts about the best science fiction novels published during the genre's so-called Golden Age (from 1934–63, according to HILOBROW's Josh Glenn's periodization schema). For the complete Golden Age Sci-Fi 75 list, click here.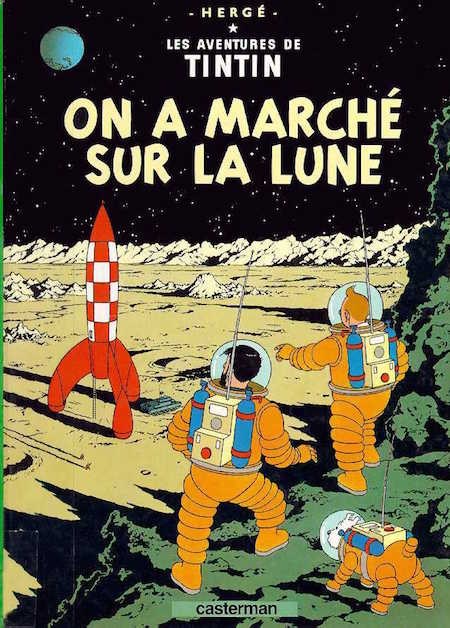 Hergé's Tintin comic On a marché sur la Lune (Explorers on the Moon, 1952–53; as an album, 1954).
By the end of the preceding volume (Destination Moon) of this two-part adventure, Tintin, Snowy, and Captain Haddock have ended up crewing an atomic rocket-powered spacecraft that is leaving the Earth bound for the Moon; Professor Calculus, the rocket's designer, and his assistant, Frank Wolff, are also aboard. (Spoiler alert: So are the detectives Thomson and Thompson, and a spy working for a foreign power!) After a few mishaps along the way — including Haddock's drunken, impromptu spacewalk — the rocket lands, and Tintin becomes the first man on the Moon. (The rocket-landing artwork is superb.) The team explores the Moon's surface… but the rocket is hijacked! The rocket heads for home, but they're short on oxygen. Someone will have to die, if the others are to survive. A thrilling, semi-serious, semi-humorous sci-fi adventure.
Fun fact: The 17th volume of The Adventures of Tintin was influenced, in part, by Hergé's friendly rivalry with Belgian cartoonist Edgar P. Jacobs, who had recently enjoyed success with a sci-fi comic, The Secret of the Swordfish.
***
GOLDEN AGE SCIENCE FICTION at HILOBROW: Golden Age Sci-Fi: 75 Best Novels of 1934–1963 | Robert Heinlein | Karel Capek | William Burroughs | E.E. "Doc" Smith | Clifford D. Simak | H.P. Lovecraft | Olaf Stapledon | Philip K. Dick | Jack Williamson | George Orwell | Boris Vian | Bernard Wolfe | J.G. Ballard | Jorge Luis Borges |Poul Anderson | Walter M. Miller, Jr. | Murray Leinster | Kurt Vonnegut | Stanislaw Lem | Alfred Bester | Isaac Asimov | Ray Bradbury | Madeleine L'Engle | Arthur C. Clarke | PLUS: Jack Kirby's Golden Age and New Wave science fiction comics.
JOSH GLENN'S *BEST ADVENTURES* LISTS: BEST 250 ADVENTURES OF THE 20TH CENTURY | 100 BEST OUGHTS ADVENTURES | 100 BEST RADIUM AGE (PROTO-)SCI-FI ADVENTURES | 100 BEST TEENS ADVENTURES | 100 BEST TWENTIES ADVENTURES | 100 BEST THIRTIES ADVENTURES | 75 BEST GOLDEN AGE SCI-FI ADVENTURES | 100 BEST FORTIES ADVENTURES | 100 BEST FIFTIES ADVENTURES | 100 BEST SIXTIES ADVENTURES | 75 BEST NEW WAVE SCI FI ADVENTURES | 100 BEST SEVENTIES ADVENTURES | 100 BEST EIGHTIES ADVENTURES | 75 BEST DIAMOND AGE SCI-FI ADVENTURES | 100 BEST NINETIES ADVENTURES (in progress) | 1994 | 1995 | 1996 | 1997 | 1998 | 1999 | 2000 | 2001 | 2002 | 2003 | NOTES ON 21st-CENTURY ADVENTURES.