Best Adventures of 1946 (7)
By: Joshua Glenn
June 11, 2016
One in a series of 10 posts identifying Josh Glenn's favorite 1946 adventure novels. Happy 70th anniversary!
*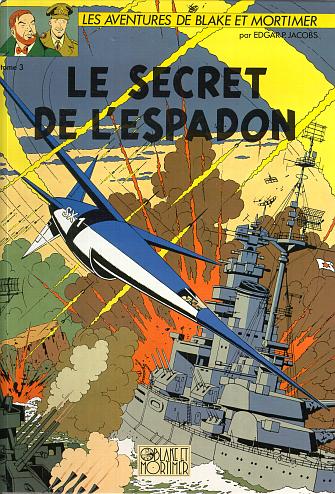 Edgar P. Jacobs's Blake and Mortimer comics adventure Le Secret de l'Espadon (The Secret of the Swordfish, serialized 1946–1949; as three albums, 1950–1953).
Blake is a British Intelligence agent, Mortimer a Scottish-born scientist. As their first adventure opens, World War III has begun! The Swordfish, a super-weapon that Mortimer has been developing, is in danger of being stolen by Olrik, head of security for an Asian superpower known as "the Yellow Empire" (sorry), which has launched an assault against the free world. Blake and Mortimer flee to a secret base in the Middle East — but they are shot down over Iran. With the help of one of Blake's former military comrades, the dashing Ahmed Nasir, the duo escape. Alas, Blake is injured, and Mortimer captured — but the plans are hidden. So Olrik tortures Mortimer, until he agrees to build them a super-weapon. Blake rescues Mortimer, and several British scientists… one of whom is a spy!
Fun fact: The Secret of the Swordfish was published in Tintin magazine from the first issue in September 1946. Blake and Mortimer would have many other adventures. If Jacobs's drawing style looks familiar, it's because he formerly assisted Hergé.
***
Let me know if I've missed any 1946 adventures that you particularly admire.