All My Stars (21)
By: Joanne McNeil
May 26, 2016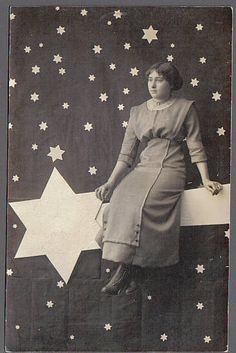 One in a weekly series in which Joanne McNeil recommends books, films, exhibitions, and more. You can also subscribe to the All My Stars newsletter here.
*
I keep waking up too early — 4:30, 5:30 — unable to get back to sleep but for a few blinks (ordinarily my trouble would be staying up until 4:30, 5:30 unable to get to sleep.) Probably it is anxiety and emotions in advance of my move on Sunday but I'm too tired to process (but I can say that is part of the reason this week's newsletter is more hastily written than normally.) Bleary-eyed, I'll click around and decide quickly on what to watch. So while I watched Maria Bamford's new Netflix series Lady Dynamite over the weekend, it was all in the stretch before getting out of bed and fixing coffee and can't remember it, although I remember really liking it.
This morning I watched Punch-Drunk Love before breakfast and I remember it only because I'd seen it before. A few new things struck me this time, maybe because of the delicate hour. I was particularly moved by the Jeremy Blake video art transitions. Maybe because I know who Jeremy Blake is now. It is such a simple and striking gesture in a film that is deceptively simple and unadorned.
When the credits begin to roll, Netflix will auto-minimize the window and pop it in the top left corner to push you along to its algorithmically determined next suggestion. Don't let it! Keep the window on full screen and stay for the credits! There are no opening credits (I hadn't noticed before, but that's pretty common with Paul Thomas Anderson films. The Master, Magnolia, Boogie Nights, and There Will Be Blood also had no opening credits.) The closing sequence with Jeremy Blake visuals is icing on the cake.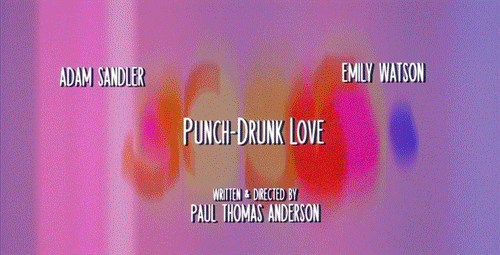 (Gif found on this lovely little website from 2004 — maybe a Dreamweaver template? — "Redeeming the Mileage of Punch-Drunk Love," created for the purpose of praising how beautiful the film is, with sections on the colors, light, lens flare, etc.)
It is a beautiful movie and one that delivers in most of the places that Magnolia (another film I watched this week) frustrated me. Maybe that's why I respect it so much? Paul Thomas Anderson made a flawed film that was nevertheless almost universally praised as a "masterpiece" and three years later bested it with something more focused, less flashy, and more honest that played up all his strengths. I did not watch Magnolia at 4am. Instead I played it over the course of three days for about twenty minutes at a time while packing. It would be a good TV show, maybe because then there would be room for build up to all the major trauma-drama — divorce, cancer, suicide, sexual abuse — instead of waving these big guns all at once amidst late '90s deep thoughts on chance and contingency, twee and unearned like a bad Paul Auster story. (And yes, I've had that Aimee Mann song in my head all week, but I don't even mind.) One of the smartest things about Magnolia is how he frontloads it with Tom Cruise as Frank Mackie. Who might have guessed that the pick-up artist guru character would be the most contemporary-seeming detail now? The others are stock characters, but extraordinary actors were cast to transcend the limitations of the material. So many stars in this one but Melora Walters steals all the scenes because she had the least to work with but brings so much. I found myself thinking about how the characters in Pulp Fiction were purposefully "the ones you've seen a zillion times — the boxer who's supposed to throw a fight and doesn't, the Mob guy who's supposed to take the boss's wife out for the evening, the two hit men who come and kill these guys." Magnolia gives us tropes too, but none of Pulp Fiction's distance. I want to laugh at it. But now that distance is watching it and thinking, that yes, indeed, this captures the vibes of 1999. Even if the film itself doesn't quite move me, it reminds me of another time.
I reached for Magnolia because I started the week watching another 1999 movie: Election. A film that creeped me out then, back when I was a high school student, and creeps me out still, and I only revisited for reasons I'm not proud of (a women on the set was harassed and sexually assaulted and recently wrote a personal essay about the nightmare that was filming.) Please don't call women "Tracy Flick." Especially if you haven't seen this film in more than a decade. Even if they are running for president. Also stop referencing Idiocracy with its "bad breeding" agenda. But enough about that. This newsletter is about things I like. I hope to like more things once I'm settled again!
***
ALL POSTS IN THIS SERIES
CURATED SERIES at HILOBROW: UNBORED CANON by Josh Glenn | CARPE PHALLUM by Patrick Cates | MS. K by Heather Kasunick | HERE BE MONSTERS by Mister Reusch | DOWNTOWNE by Bradley Peterson | #FX by Michael Lewy | PINNED PANELS by Zack Smith | TANK UP by Tony Leone | OUTBOUND TO MONTEVIDEO by Mimi Lipson | TAKING LIBERTIES by Douglas Wolk | STERANKOISMS by Douglas Wolk | MARVEL vs. MUSEUM by Douglas Wolk | NEVER BEGIN TO SING by Damon Krukowski | WTC WTF by Douglas Wolk | COOLING OFF THE COMMOTION by Chenjerai Kumanyika | THAT'S GREAT MARVEL by Douglas Wolk | LAWS OF THE UNIVERSE by Chris Spurgeon | IMAGINARY FRIENDS by Alexandra Molotkow | UNFLOWN by Jacob Covey | ADEQUATED by Franklin Bruno | QUALITY JOE by Joe Alterio | CHICKEN LIT by Lisa Jane Persky | PINAKOTHEK by Luc Sante | ALL MY STARS by Joanne McNeil | BIGFOOT ISLAND by Michael Lewy | NOT OF THIS EARTH by Michael Lewy | ANIMAL MAGNETISM by Colin Dickey | KEEPERS by Steph Burt | AMERICA OBSCURA by Andrew Hultkrans | HEATHCLIFF, FOR WHY? by Brandi Brown | DAILY DRUMPF by Rick Pinchera | BEDROOM AIRPORT by "Parson Edwards" | INTO THE VOID by Charlie Jane Anders | WE REABSORB & ENLIVEN by Matthew Battles | BRAINIAC by Joshua Glenn | COMICALLY VINTAGE by Comically Vintage | BLDGBLOG by Geoff Manaugh | WINDS OF MAGIC by James Parker | MUSEUM OF FEMORIBILIA by Lynn Peril | ROBOTS + MONSTERS by Joe Alterio | MONSTOBER by Rick Pinchera | POP WITH A SHOTGUN by Devin McKinney | FEEDBACK by Joshua Glenn | 4CP FTW by John Hilgart | ANNOTATED GIF by Kerry Callen | FANCHILD by Adam McGovern | BOOKFUTURISM by James Bridle | NOMADBROW by Erik Davis | SCREEN TIME by Jacob Mikanowski | FALSE MACHINE by Patrick Stuart | 12 DAYS OF SIGNIFICANCE | 12 MORE DAYS OF SIGNIFICANCE | 12 DAYS OF SIGNIFICANCE (AGAIN) | ANOTHER 12 DAYS OF SIGNIFICANCE | UNBORED MANIFESTO by Joshua Glenn and Elizabeth Foy Larsen | H IS FOR HOBO by Joshua Glenn | 4CP FRIDAY by guest curators