The Zayat Kiss (1)
By: Sax Rohmer
September 11, 2013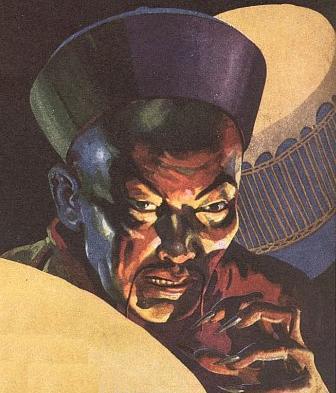 HILOBROW is pleased to present the first installment of our serialization of Sax Rohmer's story "The Zayat Kiss." New installments will appear each Wednesday for six weeks.
After the bloody Boxer Rebellion of 1900, which was sparked by secret societies in China whose aim was to eradicate Western and Christian influence in that country, a "Yellow Peril" panic briefly spread in the West. Sax Rohmer (Arthur Henry Ward) was a British journalist who haunted London's Chinatown during that period; "The Zayat Kiss," published in 1912, is set in that milieu. This story would be repurposed as the first three chapters of Rohmer's popular novel The Mystery of Dr. Fu Manchu (1913; in the US: The Insidious Dr. Fu Manchu), the first of a long series. Rohmer's master criminal character, Fu Manchu, has since inspired depictions of sinister Asiatic science-fiction villains from Ming the Merciless to Dr. No, to Iron Man's enemy The Mandarin.
SUBSCRIBE to HILOBROW's serialized fiction via RSS.
ALL EXCERPTS: 1 | 2 | 3 | 4 | 5 | 6
***
"A gentleman to see you, doctor."
From across the common a clock sounded the half hour.
"Ten-thirty!" I said. "A late visitor. Show him up, if you please."
I pushed my writing aside and tilted the lamp shade as footsteps sounded on the landing. The next moment I had jumped to my feet, for a tall, lean man, with his square-cut, clean-shaven face sun baked to the hue of coffee, entered and extended both hands with a cry:
"Good old Petrie! Didn't expect me, I'll swear!"
It was Nayland Smith, whom I had thought to be in Burma!
"Smith," I said, and gripped his hands hard, "this is a delightful surprise! Whatever — however —"
"Excuse me, Petrie!" he broke in. "Don't put it down to the sun!" And he put out the lamp, plunging the room into darkness.
I was too surprised to speak.
"No doubt you will think me mad," he continued, and dimly I could see him at the window, peering out into the road, but before you are many hours older you will know that I have good reason to be cautious. Ah, nothing suspicious! Perhaps I am first this time." And stepping back to the writing table, he relighted the lamp.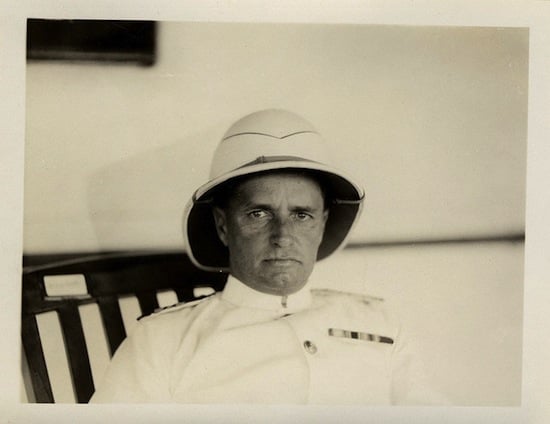 "Mysterious enough for you?" he laughed, and glanced at my unfinished MS. "A story, eh? From which I gather that the district is beastly healthy — what, Petrie? Well, I can put some material in your way that, if sheer uncanny mystery is a marketable commodity, ought to make you independent of influenza and broken legs and shattered nerves and all the rest."
I surveyed him doubtfully, but there was nothing in his appearance to justify me in supposing him to suffer from delusions.
His eyes were too bright, certainly, and a hardness now had crept over his face. I got out the whiskey and siphon, saying:
"You have taken your leave early?"
"I am not on leave," he replied, and slowly filled his pipe. "I am on duty."
"On duty!" I exclaimed. "What, are you moved to London, or something?"
"I have got a roving commission, Petrie, and it doesn't rest with me where I am to-day, nor where I shall be to-morrow."
There was something ominous in the words, and putting down my glass, I faced round and looked him squarely in the eyes.
"Out with it!" I said. "What is it all about?"
Smith suddenly stood up and stripped off his coat. Rolling back his left shirt sleeve he revealed a wicked-looking wound in the fleshy part of the forearm. It was quite healed, but curiously striated for an inch or so around.
"Ever seen one like it?" he asked.
"Not exactly," I confessed. "It appears to have been deeply cauterized."
"Right! Very deeply! A barb steeped in the venom of a hamadryad went in there!"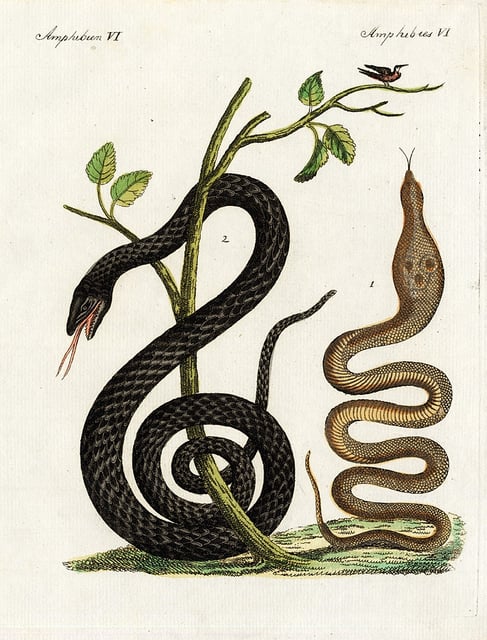 A shudder I could not repress ran through me at mention of that most deadly of all the reptiles of the East.
"There's only one treatment," he continued, rolling his sleeve down again, "and that's with a sharp knife, a match, and a broken cartridge. I lay on my back raving for three days afterward in a forest that stank with malaria, but I should have been lying there now if I had hesitated. Here's the point. It was not an accident!"
"What do you mean?"
"I mean that it was a deliberate attempt on my life, and I am hard upon the tracks of the man who extracted that venom — patiently, drop by drop — from the poison glands of the snake, who prepared the arrow, and who caused it to be shot at me."
"What fiend is this?"
"A fiend who, unless my calculations are at fault, is now in London, and who regularly wars with pleasant weapons of that kind. Petrie, I have traveled from Burma not in the interest of the British Government merely, but in the interests of the entire white race, and I honestly believe — though I pray I may be wrong — that its survival depends largely upon the success of my mission."
To say that I was perplexed conveys no idea of the mental chaos created by these extraordinary statements, for into my humdrum suburban life Nayland Smith had brought fantasy of the wildest. I did not know what to think, what to believe.
"I am wasting precious time!" he rapped decisively, and, draining his glass, he stood up. "I came straight to you because you are the only man I dare to trust. Except the big chief at headquarters, you are the only person in England, I hope, who knows that Nayland Smith has quitted Burma. I must have some one with me, Petrie, all the time — it's imperative! Can you put me up here, and spare a few days to the strangest business, I promise you, that ever was recorded in fact or fiction?"
I agreed readily enough, for, unfortunately, my professional dudes were not onerous.
"Good man!" he cried, wringing my hand in his impetuous way. "We start now."
"What, to-night?"
"To-night! I had thought of turning in, I must admit. I have not dared to sleep for forty-eight hours, except in fifteen-minute stretches. But there is one move that must be made to-night and immediately. I must warn Sir Crichton Davey."
"Sir Crichton Davey — of the India —"
"Petrie, he is a doomed man! Unless he follows my instructions without question, without hesitation — before Heaven, nothing can save him! I do not know when the blow will fall, how it will fall, nor from whence, but I know that my first duty is to warn him. Let us walk down to the corner of the common and get a taxi."
***
RADIUM AGE SCIENCE FICTION: "Radium Age" is HILOBROW's name for the 1904–33 era, which saw the discovery of radioactivity, the revelation that matter itself is constantly in movement — a fitting metaphor for the first decades of the 20th century, during which old scientific, religious, political, and social certainties were shattered. This era also saw the publication of genre-shattering writing by Edgar Rice Burroughs, Sax Rohmer, E.E. "Doc" Smith, Jack London, Arthur Conan Doyle, Aldous Huxley, Olaf Stapledon, Karel Čapek, H.P. Lovecraft, Charlotte Perkins Gilman, Yevgeny Zamyatin, Philip Gordon Wylie, and other pioneers of post-Verne/Wells, pre-Golden Age "science fiction." More info here.
READ GORGEOUS PAPERBACKS: HiLoBooks has reissued the following 10 obscure but amazing Radium Age science fiction novels in beautiful print editions: Jack London's The Scarlet Plague, Rudyard Kipling's With the Night Mail (and "As Easy as A.B.C."), Arthur Conan Doyle's The Poison Belt, H. Rider Haggard's When the World Shook, Edward Shanks' The People of the Ruins, William Hope Hodgson's The Night Land, J.D. Beresford's Goslings, E.V. Odle's The Clockwork Man, Cicely Hamilton's Theodore Savage, and Muriel Jaeger's The Man with Six Senses. For more information, visit the HiLoBooks homepage.
SERIALIZED BY HILOBOOKS: Jack London's The Scarlet Plague | Rudyard Kipling's With the Night Mail (and "As Easy as A.B.C.") | Arthur Conan Doyle's The Poison Belt | H. Rider Haggard's When the World Shook | Edward Shanks' The People of the Ruins | William Hope Hodgson's The Night Land | J.D. Beresford's Goslings | E.V. Odle's The Clockwork Man | Cicely Hamilton's Theodore Savage | Muriel Jaeger's The Man With Six Senses | Jack London's "The Red One" | Philip Francis Nowlan's Armageddon 2419 A.D. | Homer Eon Flint's The Devolutionist | W.E.B. DuBois's "The Comet" | Edgar Rice Burroughs's The Moon Men | Charlotte Perkins Gilman's Herland | Sax Rohmer's "The Zayat Kiss" | Eimar O'Duffy's King Goshawk and the Birds | Frances Hodgson Burnett's The Lost Prince | Morley Roberts's The Fugitives | Helen MacInnes's The Unconquerable | Geoffrey Household's Watcher in the Shadows | William Haggard's The High Wire | Hammond Innes's Air Bridge | James Branch Cabell's Jurgen | John Buchan's "No Man's Land" | John Russell's "The Fourth Man" | E.M. Forster's "The Machine Stops" | John Buchan's Huntingtower | Arthur Conan Doyle's When the World Screamed | Victor Bridges' A Rogue By Compulsion | Jack London's The Iron Heel | H. De Vere Stacpoole's The Man Who Lost Himself | P.G. Wodehouse's Leave It to Psmith | Richard Connell's "The Most Dangerous Game" | Houdini and Lovecraft's "Imprisoned with the Pharaohs" | Arthur Conan Doyle's "The Sussex Vampire".