The Red One (3)
By: Jack London
October 20, 2012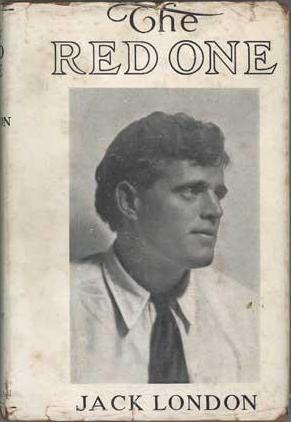 HILOBROW is pleased to present the third installment of our serialization of Jack London's Jungian science fiction story "The Red One." We have also serialized London's science fiction novel The Scarlet Plague, and published it in a gorgeous paperback edition with a new introduction by Matthew Battles.
Lured into the uncharted jungle of Guadalcanal by an otherworldly noise, the naturalist Bassett is attacked by cannibalistic bushmen who worship "The Red One" (or "The Star-Born"), a deity which turns out to hail from extraterrestrial parts. First published posthumously, in the October 1918 issue of Cosmopolitan, the story is now in public domain.
SUBSCRIBE to HILOBROW's serialized fiction via RSS.
ALL EXCERPTS: 1 | 2 | 3 | 4 | 5
***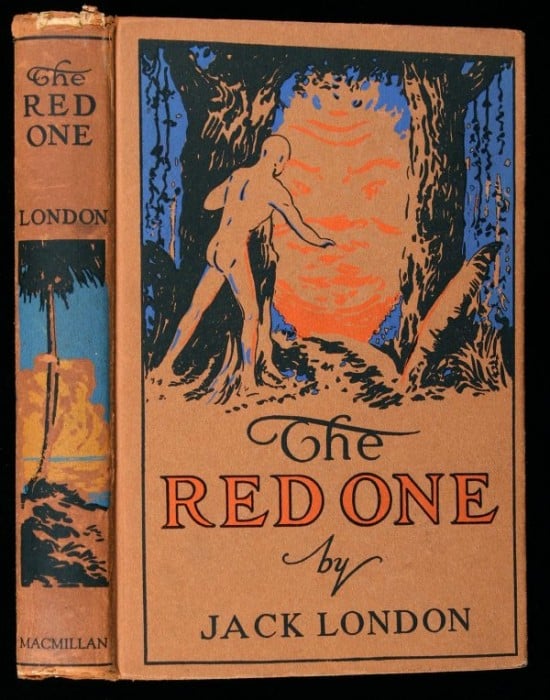 Why The Star-Born? In vain Bassett interrogated Ngurn. According to that old devil-devil doctor, the Red One had always been, just where he was at present, for ever singing and thundering his will over men. But Ngurn's father, wrapped in decaying grass-matting and hanging even then over their heads among the smoky rafters of the devil-devil house, had held otherwise. That departed wise one had believed that the Red One came from out of the starry night, else why — so his argument had run — had the old and forgotten ones passed his name down as the Star-Born? Bassett could not but recognize something cogent in such argument. But Ngurn affirmed the long years of his long life, wherein he had gazed upon many starry nights, yet never had he found a star on grass land or in jungle depth — and he had looked for them. True, he had beheld shooting stars (this in reply to Bassett's contention); but likewise had he beheld the phosphorescence of fungoid growths and rotten meat and fireflies on dark nights, and the flames of wood-fires and of blazing candle-nuts; yet what were flame and blaze and glow when they had flamed and blazed and glowed? Answer: memories, memories only, of things which had ceased to be, like memories of matings accomplished, of feasts forgotten, of desires that were the ghosts of desires, flaring, flaming, burning, yet unrealized in achievement of easement and satisfaction. Where was the appetite of yesterday? the roasted flesh of the wild pig the hunter's arrow failed to slay? the maid, unwed and dead ere the young man knew her?
A memory was not a star, was Ngurn's contention. How could a memory be a star? Further, after all his long life he still observed the starry night-sky unaltered. Never had he noted the absence of a single star from its accustomed place. Besides, stars were fire, and the Red One was not fire — which last involuntary betrayal told Bassett nothing.
"Will the Red One speak to-morrow?" he queried.
Ngurn shrugged his shoulders as who should say.
"And the day after? — and the day after that?" Bassett persisted.
"I would like to have the curing of your head," Ngurn changed the subject. "It is different from any other head. No devil-devil has a head like it. Besides, I would cure it well. I would take months and months. The moons would come and the moons would go, and the smoke would be very slow, and I should myself gather the materials for the curing smoke. The skin would not wrinkle. It would be as smooth as your skin now."
He stood up, and from the dim rafters, grimed with the smoking of countless heads, where day was no more than a gloom, took down a matting-wrapped parcel and began to open it.
"It is a head like yours," he said, "but it is poorly cured."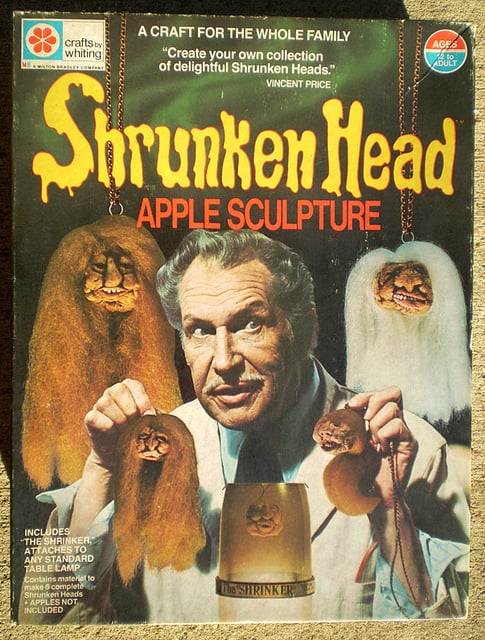 Bassett had pricked up his ears at the suggestion that it was a white man's head; for he had long since come to accept that these jungle-dwellers, in the midmost centre of the great island, had never had intercourse with white men. Certainly he had found them without the almost universal bêche-de-mer English of the west South Pacific. Nor had they knowledge of tobacco, nor of gunpowder. Their few precious knives, made from lengths of hoop-iron, and their few and more precious tomahawks from cheap trade hatchets, he had surmised they had captured in war from the bushmen of the jungle beyond the grass lands, and that they, in turn, had similarly gained them from the salt-water men who fringed the coral beaches of the shore and had contact with the occasional white men.
"The folk in the out beyond do not know how to cure heads," old Ngurn explained, as he drew forth from the filthy matting and placed in Bassett's hands an indubitable white man's head.
Ancient it was beyond question; white it was as the blond hair attested. He could have sworn it once belonged to an Englishman, and to an Englishman of long before by token of the heavy gold circlets still threaded in the withered ear-lobes.
"Now your head…" the devil-devil doctor began on his favourite topic.
"I'll tell you what," Bassett interrupted, struck by a new idea. "When I die I'll let you have my head to cure, if, first, you take me to look upon the Red One."
"I will have your head anyway when you are dead," Ngurn rejected the proposition. He added, with the brutal frankness of the savage: "Besides, you have not long to live. You are almost a dead man now. You will grow less strong. In not many months I shall have you here turning and turning in the smoke. It is pleasant, through the long afternoons, to turn the head of one you have known as well as I know you. And I shall talk to you and tell you the many secrets you want to know. Which will not matter, for you will be dead."
"Ngurn," Bassett threatened in sudden anger. "You know the Baby Thunder in the Iron that is mine." (This was in reference to his all-potent and all-awful shotgun.) "I can kill you any time, and then you will not get my head."
"Just the same, will Vngngn, or some one else of my folk get it," Ngurn complacently assured him. "And just the same will it turn here in the and turn devil-devil house in the smoke. The quicker you slay me with your Baby Thunder, the quicker will your head turn in the smoke."
And Bassett knew he was beaten in the discussion.
What was the Red One? — Bassett asked himself a thousand times in the succeeding week, while he seemed to grow stronger. What was the source of the wonderful sound? What was this Sun Singer, this Star-Born One, this mysterious deity, as bestial-conducted as the black and kinky-headed and monkey-like human beasts who worshipped it, and whose silver-sweet, bull-mouthed singing and commanding he had heard at the taboo distance for so long?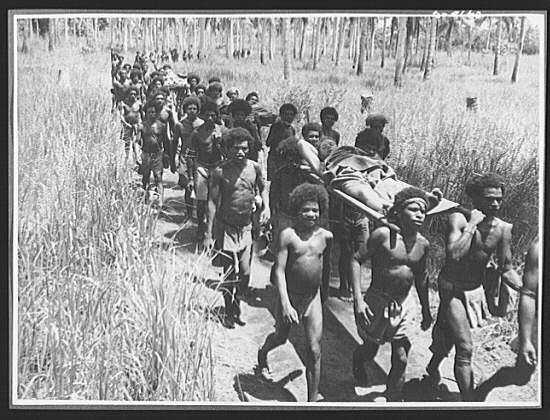 Ngurn had he failed to bribe with the inevitable curing of his head when he was dead. Vngngn, imbecile and chief that he was, was too imbecilic, too much under the sway of Ngurn, to be considered. Remained Balatta, who, from the time she found him and poked his blue eyes open to recrudescence of her grotesque female hideousness, had continued his adorer. Woman she was, and he had long known that the only way to win from her treason of her tribe was through the woman's heart of her.
Bassett was a fastidious man. He had never recovered from the initial horror caused by Balatta's female awfulness. Back in England, even at best the charm of woman, to him, had never been robust. Yet now, resolutely, as only a man can do who is capable of martyring himself for the cause of science, he proceeded to violate all the fineness and delicacy of his nature by making love to the unthinkably disgusting bushwoman.
He shuddered, but with averted face hid his grimaces and swallowed his gorge as he put his arm around her dirt-crusted shoulders and felt the contact of her rancidoily and kinky hair with his neck and chin. But he nearly screamed when she succumbed to that caress so at the very first of the courtship and mowed and gibbered and squealed little, queer, pig-like gurgly noises of delight. It was too much. And the next he did in the singular courtship was to take her down to the stream and give her a vigorous scrubbing.
From then on he devoted himself to her like a true swain as frequently and for as long at a time as his will could override his repugnance. But marriage, which she ardently suggested, with due observance of tribal custom, he balked at. Fortunately, taboo rule was strong in the tribe. Thus, Ngurn could never touch bone, or flesh, or hide of crocodile. This had been ordained at his birth. Vngngn was denied ever the touch of woman. Such pollution, did it chance to occur, could be purged only by the death of the offending female. It had happened once, since Bassett's arrival, when a girl of nine, running in play, stumbled and fell against the sacred chief. And the girl-child was seen no more. In whispers, Balatta told Bassett that she had been three days and nights in dying before the Red One. As for Balatta, the breadfruit was taboo to her. For which Bassett was thankful. The taboo might have been water.
For himself, he fabricated a special taboo. Only could he marry, he explained, when the Southern Cross rode highest in the sky. Knowing his astronomy, he thus gained a reprieve of nearly nine months; and he was confident that within that time he would either be dead or escaped to the coast with full knowledge of the Red One and of the source of the Red One's wonderful voice. At first he had fancied the Red One to be some colossal statue, like Memnon, rendered vocal under certain temperature conditions of sunlight. But when, after a war raid, a batch of prisoners was brought in and the sacrifice made at night, in the midst of rain, when the sun could play no part, the Red One had been more vocal than usual, Bassett discarded that hypothesis.
In company with Balatta, sometimes with men and parties of women, the freedom of the jungle was his for three quadrants of the compass. But the fourth quadrant, which contained the Red One's abiding place, was taboo. He made more thorough love to Balatta — also saw to it that she scrubbed herself more frequently. Eternal female she was, capable of any treason for the sake of love. And, though the sight of her was provocative of nausea and the contact of her provocative of despair, although he could not escape her awfulness in his dream-haunted nightmares of her, he nevertheless was aware of the cosmic verity of sex that animated her and that made her own life of less value than the happiness of her lover with whom she hoped to mate. Juliet or Balatta? Where was the intrinsic difference? The soft and tender product of ultra-civilization, or her bestial prototype of a hundred thousand years before her? — there was no difference.
Bassett was a scientist first, a humanist afterward. In the jungle-heart of Guadalcanal he put the affair to the test, as in the laboratory he would have put to the test any chemical reaction. He increased his feigned ardour for the bushwoman, at the same time increasing the imperiousness of his will of desire over her to be led to look upon the Red One face to face. It was the old story, he recognized, that the woman must pay, and it occurred when the two of them, one day, were catching the unclassified and unnamed little black fish, an inch long, half-eel and half-scaled, rotund with salmon-golden roe, that frequented the fresh water, and that were esteemed, raw and whole, fresh or putrid, a perfect delicacy. Prone in the muck of the decaying jungle-floor, Balatta threw herself, clutching his ankles with her hands kissing his feet and making slubbery noises that chilled his backbone up and down again. She begged him to kill her rather than exact this ultimate love-payment. She told him of the penalty of breaking the taboo of the Red One — a week of torture, living, the details of which she yammered out from her face in the mire until he realized that he was yet a tyro in knowledge of the frightfulness the human was capable of wreaking on the human.
***
***
RADIUM AGE SCIENCE FICTION: "Radium Age" is HILOBROW's name for the 1904–33 era, which saw the discovery of radioactivity, the revelation that matter itself is constantly in movement — a fitting metaphor for the first decades of the 20th century, during which old scientific, religious, political, and social certainties were shattered. This era also saw the publication of genre-shattering writing by Edgar Rice Burroughs, Sax Rohmer, E.E. "Doc" Smith, Jack London, Arthur Conan Doyle, Aldous Huxley, Olaf Stapledon, Karel Čapek, H.P. Lovecraft, Charlotte Perkins Gilman, Yevgeny Zamyatin, Philip Gordon Wylie, and other pioneers of post-Verne/Wells, pre-Golden Age "science fiction." More info here.
HILOBOOKS: The mission of HiLoBooks is to serialize novels on HiLobrow; and also, as of 2012, operating as an imprint of Richard Nash's Cursor, to reissue Radium Age science fiction in beautiful new print editions. So far, we have published Jack London's The Scarlet Plague, Rudyard Kipling's With the Night Mail (and "As Easy as A.B.C."), Arthur Conan Doyle's The Poison Belt, H. Rider Haggard's When the World Shook, Edward Shanks's The People of the Ruins, William Hope Hodgson's The Night Land, and J.D. Beresford's Goslings. Forthcoming: E.V. Odle's The Clockwork Man, Cicely Hamilton's Theodore Savage, and Muriel Jaeger's The Man with Six Senses. For more information, visit the HiLoBooks homepage.
SERIALIZED BY HILOBOOKS: Jack London's The Scarlet Plague | Rudyard Kipling's With the Night Mail (and "As Easy as A.B.C.") | Arthur Conan Doyle's The Poison Belt | H. Rider Haggard's When the World Shook | Edward Shanks' The People of the Ruins | William Hope Hodgson's The Night Land | J.D. Beresford's Goslings | E.V. Odle's The Clockwork Man | Cicely Hamilton's Theodore Savage | Muriel Jaeger's The Man With Six Senses | Jack London's "The Red One" | Philip Francis Nowlan's Armageddon 2419 A.D. | Homer Eon Flint's The Devolutionist | W.E.B. DuBois's "The Comet" | Edgar Rice Burroughs's The Moon Men | Charlotte Perkins Gilman's Herland | Sax Rohmer's "The Zayat Kiss" | Eimar O'Duffy's King Goshawk and the Birds | Frances Hodgson Burnett's The Lost Prince | Morley Roberts's The Fugitives | Helen MacInnes's The Unconquerable | Geoffrey Household's Watcher in the Shadows | William Haggard's The High Wire | Hammond Innes's Air Bridge | James Branch Cabell's Jurgen | John Buchan's "No Man's Land" | John Russell's "The Fourth Man" | E.M. Forster's "The Machine Stops" | John Buchan's Huntingtower | Arthur Conan Doyle's When the World Screamed | Victor Bridges' A Rogue By Compulsion | Jack London's The Iron Heel | H. De Vere Stacpoole's The Man Who Lost Himself | P.G. Wodehouse's Leave It to Psmith | Richard Connell's "The Most Dangerous Game" | Houdini and Lovecraft's "Imprisoned with the Pharaohs" | Arthur Conan Doyle's "The Sussex Vampire."