IN CAHOOTS (6)
By: Joshua Glenn
November 14, 2022
Sixth in a series of posts via which HILOBROW's Josh Glenn offers anecdotes and advice from his own creative career.
IN CAHOOTS: GOING INDIE | MATERIAL CULTURE | COMMUNITY BUILDING | WALKING THE TIGHTROPE | OBJECT-ORIENTED | PARTNERING | CAMARADERIE.
---
PARTNERING
---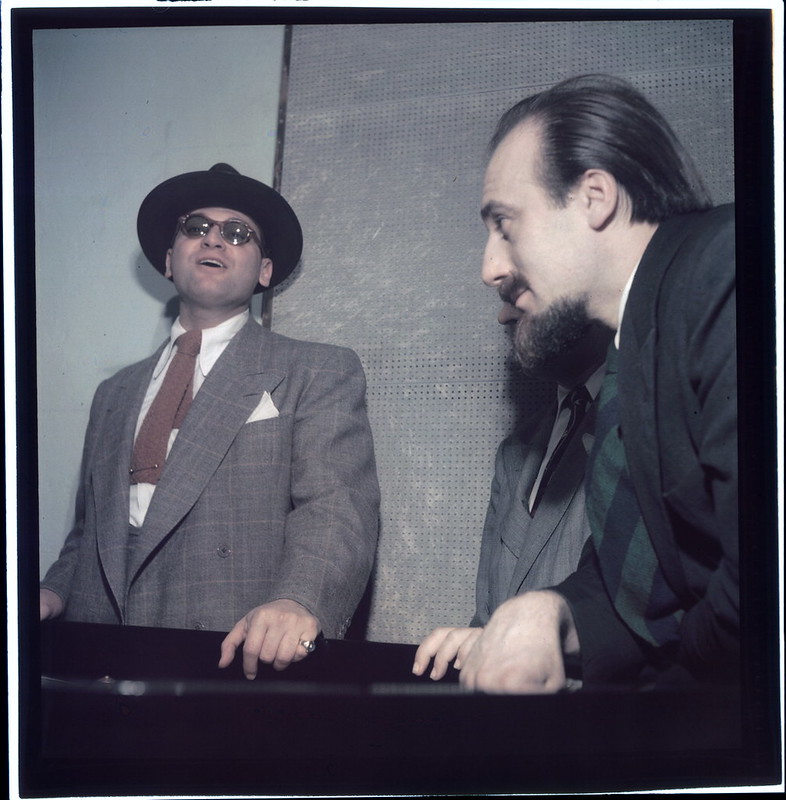 I'll stop talking about my pre-2010 creative career, at this point. (For 2010 to the present, please see the HYPOCRITE IDLER series.) Let's talk about collaboration. NB: A couple of legendary creative duos are referenced below, as inspiration; I'm not comparing my own results with theirs.
I've written about this topic a few times already. From YOU DOWN WITH VCP?, here is Rule #1:
BUDDY UP. If you find the right collaborator(s), you'll become very productive indeed. Why? Because the right collaborator provides everything required — feedback, deadlines, encouragement, humor, inspiration, fresh perspective, criticism and agonistic praise — to prevent you from spiraling into inertia. How to find the right collaborator? Collaborate with someone who is neither more nor less professional than you. By "professional" I mean: self-motivated, organized and reliable, cool under pressure, willing and able to take responsibility and accept blame, transparent and open, cooperative, and flexible. If your collaborator is more professional than you, then you'll feel guilty — and guilt has a way of turning into resentment and bitterness. If your collaborator is less professional than you, then they'll feel guilty. It's not worth the tsuris.
Also, although this is not germane to my own experience, check out my 2007 essay "The Argonaut Folly" (for n+1), a survey of the history (in fact and fiction) of creative types who've experimented with not only working but living together.
*
I started taking notes on my creative partnership with Rob Walker in preparation for the 8/14/22 episode of Slate's podcast WORKING. Host June Thomas wanted to talk to me and Rob about the nitty-gritty aspects of our work process, so I decided to come prepared with a few key points.
I've already addressed most of this stuff via previous posts in this series, but here's the takeway: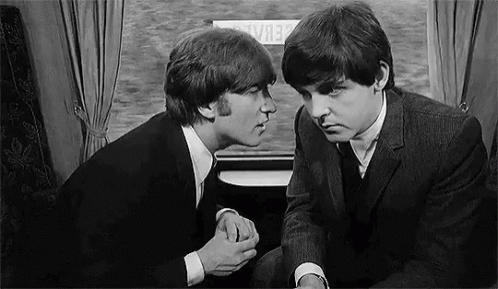 A truly effective creative duo needs a John Lennon, who sprinkles genius on the work. But it also needs a Paul McCartney, who shows up every day and actually makes the work happen. Beware of the would-be John Lennons in your life! Too often, in my own creative collaborations, a collaborator has wanted me to be McCartney — a role I'm well suited for, since I do show up and put in the elbow grease. But even McCartney himself could only take so much of this treatment. Rob and I both balance John/Paul aspects in our own creative work, so when we collaborate there's never any resentment.
Rob and I share an unusual — even eccentric — attitude towards material culture. As I've tried to articulate throughout this series, when it comes to objects, we're not materialistic dupes, and certainly not hoarders; and yet we disagree with those who think it's foolish to pay attention to objects. The same thing goes for the world of branding and marketing; we're interested in this stuff, in a sort of alien-anthropologist way. We don't have a message we're trying to get across, around any of this stuff.
I'm a fan of Rob's, and he's a fan of mine. We follow each other's work — and have done so for twenty years now (as noted here). Perhaps this is possible because we're not operating in the same "lane." Rob's a journalist; I'm not. So we aren't competing for the same resources. There's no reason for professional jealousy. (Besides Lennon's lazy willingness to let McCartney do all the heavy lifting, it was jealousy and disagreements about money that broke up the Beatles.) In fact, Rob is one of the first people to whom I turn when I'm confused about the direction I'm headed next; he's got my back.

Have you seen the 2021 Edgar Wright documentary about Ron and Russell Mael (aka Sparks)? I was floored by their long-term creative collaboration. Whether their music has been well-received or not, from one decade to the next, since 1966 they've just continued to make music. The path is the goal, for collaborative teams like Sparks; of course you want to have a hit, to find an audience, but true satisfaction, for them, comes from the work itself. Rob and I each earn a living doing other sorts of work; our creative projects are break-even affairs at best — and we're OK with that.
Rob and I don't just communicate via email. A friend and former Globe colleague of mine, Gareth Cook, once advised me that "If an editor and writer only communicate via email, eventually they will despise each other." This wise advice also pertains to family, friends, and creative collaborators. (Also, to married couples who text each other all the time.) Pick up the phone, one in a while. Have a teleconference. Travel to see one another. I can't stress enough how important this last point is.
Taken together, I feel that these points offer a definition of what it means — for me, anyway — to be "in cahoots," as opposed to merely collaborating.
*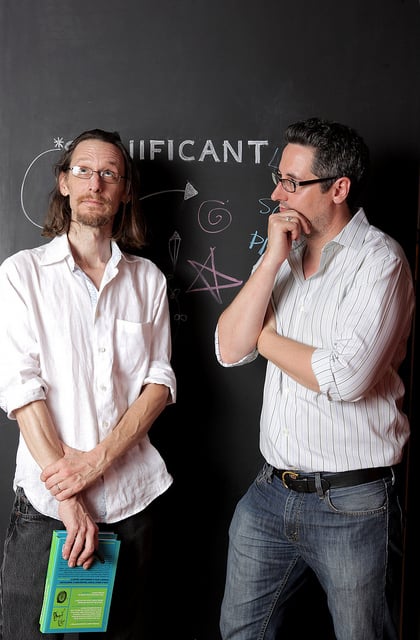 The SIGNIFICANT OBJECTS project generated a lot of buzz. (To this day, we hear from marketing scientists who want our permission to replicate the test in more controlled, laboratory-like conditions.) Since then, Rob and I have also collaborated on PROJECT:OBJECT, a series of themed "volumes" of nonfiction narratives about objects — including ILLICIT OBJECTS, MOVIE OBJECTS, FETISHES, and more. Over three hundred writers have participated in our various projects, at this point — it's extraordinary.
This endeavor, too, has now resulted in a beautiful book! Lost Objects: 50 Stories About the Things We Miss and Why They Matter was pre-released in September by Hat & Beard Press; it was designed by Tony Leone. Nearly 100 talented writers and/or artists contributed, including in no particular order: Geoff Manaugh | Theo Ellsworth | Laura Lippman | Ben Katchor | Neil LaBute | Miranda Mellis | Adam Goldberg | Chris Piascik | Anita Kunz | Matt Wuerker | Lydia Millet | Berta Valló | Ben Greenman | Clara Selina Bach | Leah Hennessey | Dean Haspiel | Kathryn Davis | Charles Glaubitz | Seth | Mark Dery | Paola Antonelli | Margaret Wertheim | Armando Veve | Allison Bamcat | Lucy Sante | Kate Bingaman-Burt | Nina Katchadourian | Matthew Sharpe | Amanda Clarke | Gary Panter | Amy Thielen | Oliver Munday | Rick Pinchera | Joe Alterio | Chelsey Johnson | Rubi McGrory | Susannah Breslin | Seth Mnookin | Linzie Hunter. (Yet another Hermenaut.)
Lost Objects publicity info can be found here and here.
Next time: CAMARADERIE.
***
MORE FURSHLUGGINER THEORIES BY JOSH GLENN: SCHEMATIZING | IN CAHOOTS | JOSH'S MIDJOURNEY | POPSZTÁR SAMIZDAT | VIRUS VIGILANTE | TAKING THE MICKEY | WE ARE IRON MAN | AND WE LIVED BENEATH THE WAVES | IS IT A CHAMBER POT? | I'D LIKE TO FORCE THE WORLD TO SING | THE ARGONAUT FOLLY | THE PERFECT FLANEUR | THE TWENTIETH DAY OF JANUARY | THE REAL THING | THE YHWH VIRUS | THE SWEETEST HANGOVER | THE ORIGINAL STOOGE | BACK TO UTOPIA | FAKE AUTHENTICITY | CAMP, KITSCH & CHEESE | THE UNCLE HYPOTHESIS | MEET THE SEMIONAUTS | THE ABDUCTIVE METHOD | ORIGIN OF THE POGO | THE BLACK IRON PRISON | BLUE KRISHMA | BIG MAL LIVES | SCHMOOZITSU | YOU DOWN WITH VCP? | CALVIN PEEING MEME | DANIEL CLOWES: AGAINST GROOVY | DEBATING IN A VACUUM | PLUPERFECT PDA | SHOCKING BLOCKING.