IN CAHOOTS (7)
By: Joshua Glenn
November 25, 2022
Seventh and last in a series of posts via which HILOBROW's Josh Glenn offers anecdotes and advice from his own creative career.
IN CAHOOTS: GOING INDIE | MATERIAL CULTURE | COMMUNITY BUILDING | WALKING THE TIGHTROPE | OBJECT-ORIENTED | PARTNERING | CAMARADERIE.
---
CAMARADERIE
---
At one or two points during the IN CAHOOTS series, I have praised Rob Walker to the skies and used our collaborations as a model… which may have created the impression that my other collaborations have been less rewarding. Not so! While it's true that a handful of my collaborations — going back to the Hermenaut days in the Nineties — have been frustrating, at times, I've been thrilled with the majority of my creative collaborations. So let me wrap up IN CAHOOTS with shout-outs to a few folks in particular.
I'm titling this installment CAMARADERIE because the term's etymology — like "in cahoots" — suggests face-to-face, shoulder-to-shoulder collaboration. Collaborators who are also friends — and who become, through shared challenges, a kind of family.
*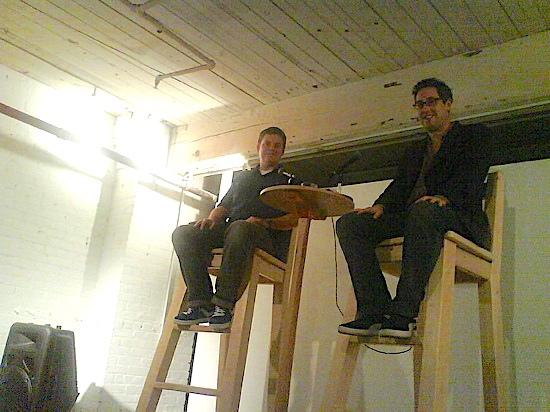 As mentioned previously, Mark Kingwell and I have co-authored three books; the most recent, The Adventurer's Glossary, was published last year by McGill-Queen's University Press.
Mark and I are kindred spirits. We enjoy, and enjoy thinking deeply about, a lot of the same lowbrow literature and movies; and we're both prolific prose writers. It's almost too easy for us to collaborate — our email exchanges on various topics can quickly run to 20,000 words. (In 2023, HILOBROW will serialize one such exchange, on the subject of adventure and adventure fiction.)
I've stayed at Mark's home in Toronto — and at his apartment, too, back when he had one. You really get to know a guy when you wake up surrounded by his sneaker collection and his bookshelves crammed with vintage Penguin paperback crime novels.
I'm also grateful to Mark for introducing me to Seth, a cartoonist and artist whose work I'd admired for years, and who is now another of my most valued collaborators.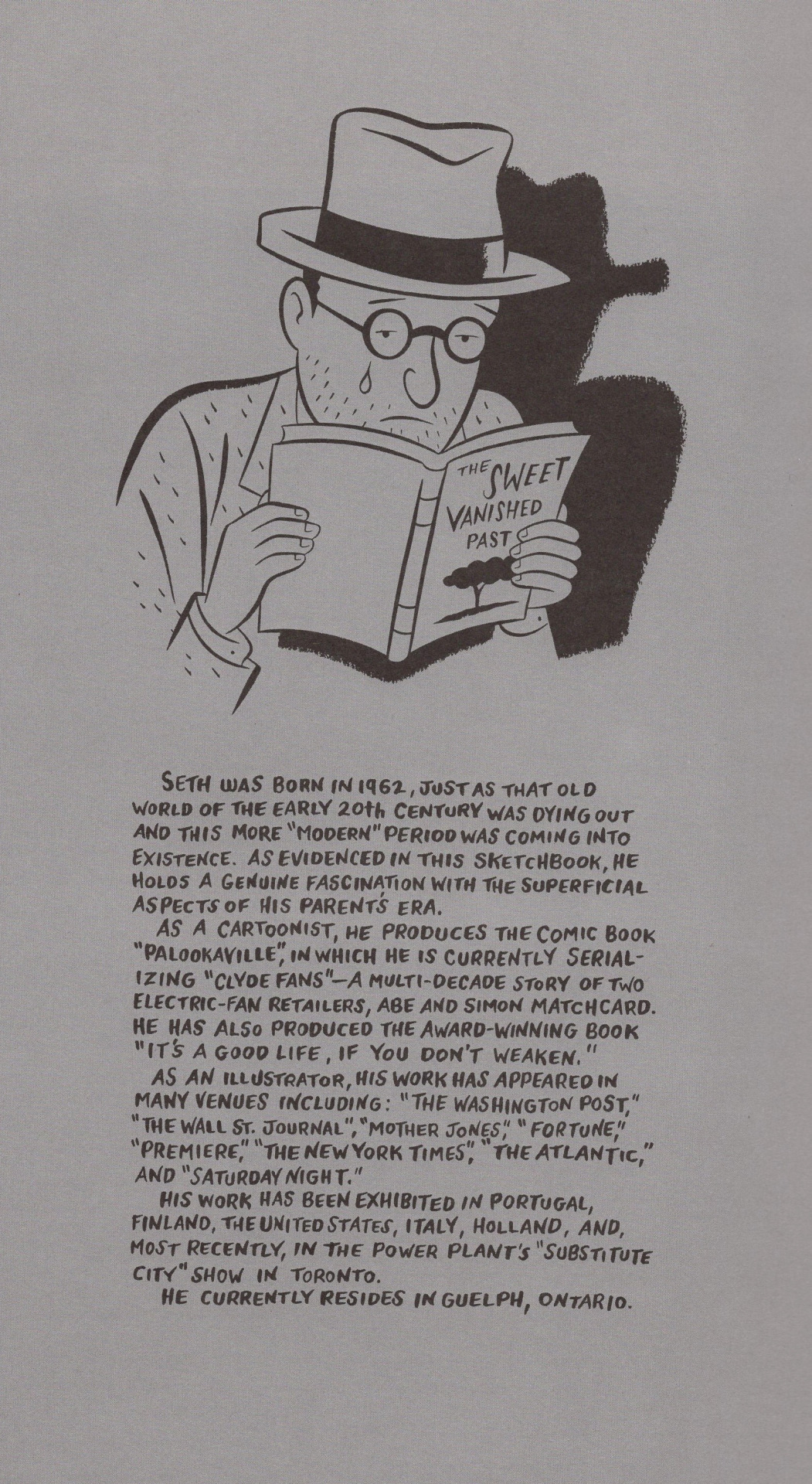 Like the semi-autobiographical characters in his graphic novels, Seth is endlessly fascinated and bemused by the pop culture of previous generations. Here's something I wrote about him once:
His protagonists, sporting fedoras and overcoats, traverse city streets and wide-open Ontario landscapes, restlessly searching for elusive traces of early-20th-century visual ephemera: novelty postcards, gag cartoons, newspaper ads, storefront signage, dolls and toys. For his semiautobiographical characters, and for Seth himself, the past, to paraphrase cyberpunk author William Gibson's pronunciamento about the future, is here — it's just not evenly distributed.
I'm describing myself here, too, of course. Which is why our collaboration on the MIT Press RADIUM AGE series of reissued proto-sf novels is so fun. Every three months or so, I'll call Seth up — at his home studio in Guelph, Ontario. I'll tell him the titles of the next season's books, and we'll discuss the plots. Business having been briskly concluded, we'll then settle in for a long chat… about old movies, comic books, and sf novels. I think Seth is my only friend with whom I keep in touch via telephone.
*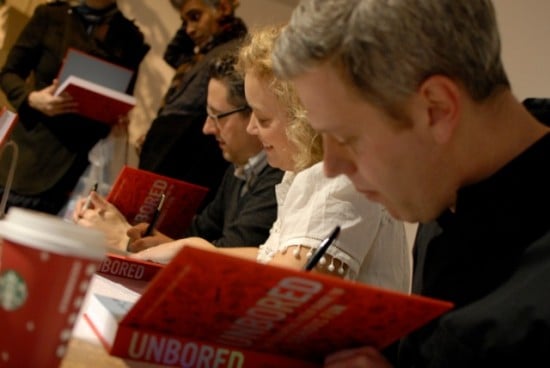 As mentioned previously, from 2012–2015 Elizabeth Foy Larsen and Tony Leone and I created three UNBORED family activity guides (published by Bloomsbury). You can read about them here. Also, since 2015 we've worked with the "brainy toy and game company" MindWare to produce five family activity kits; and we're working on a sixth kit now.
I've mentioned both Tony and Elizabeth in previous installments, but as a reminder: I worked with Elizabeth at Utne Reader magazine, and Tony was designer of the final issues of Hermenaut. Tony also designed the covers of the proto-sf novels I reissued some years ago via HiLoBooks, and most recently he designed Lost Objects (Hat & Beard), my latest collaboration with Rob Walker. He and I share an office, with another friend too.
Elizabeth, Tony, and I are hands-on parents who share the same somewhat countercultural values around child-rearing. One of the key inspirations for the original UNBORED book was the 1972 educational TV show Zoom…. But we also share a perverse sense of humor — which means that every one of our meetings (teleconferences, usually, since EFL lives in Minneapolis) primarily involves cracking off-color jokes. Tony's daughter is still within the UNBORED age range, but all of our other children have aged out by now. We would have quit this collaboration a few years ago, if it weren't so much fun.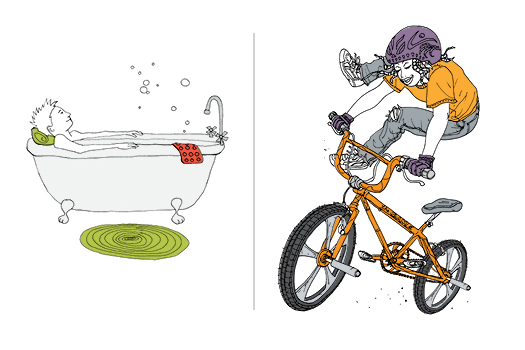 I should also mention the illustrators with whom we work on UNBORED. Back in the day, Tony introduced his fellow MassArt alumni Michael Lewy, Mister Reusch, and Heather Kasunick to Hermenaut. Michael would later create the covers for the HiLoBooks sf reissue series. Mister Reusch and Heather, meanwhile, would contribute over a hundred illustrations to the three UNBORED books, while Mister Reusch illustrated our five activity kits. Chris Piascik illustrated title pages and interstitials, too.
PS: The UNBORED books also offered an opportunity for us to collaborate with dozens of makers and doers whose work Elizabeth and I admired, and whom we wanted to introduce to our readers. For example: Joe Alterio, Deb Chachra, Matthew De Abaitua, Tom Nealon, Mark Frauenfelder, Flourish Klink, Anindita Basu Sempere, Geoff Manaugh, Bre Pettis and Kio Stark, John Edgar Park, Jean Railla, Douglas Rushkoff, Jessamyn West, Ginia Bellafante, Chris Dahlen, Chelsey Johnson, Jeff Potter, Chris Spurgeon, Courtney Stanton, Patrick Cates, Stephen Duncombe, Catherine Newman, Liz Lee Heinecke, Eben Weiss, Ann Bancroft, Kate DiCamillo, Reyn Guyer, Tom Hodgkinson, Stone Librande, Magda Sayeg, James Sturm, Rebecca Walker, Mark Winne, Josh Foer and Dylan Thuras, Elly Blue, Gavin Pretor-Pinney, Andrew Innes, Richela Fabian Morgan, and Lizzie Stark. Many of these folks are also HILOBROW contributors, too….
*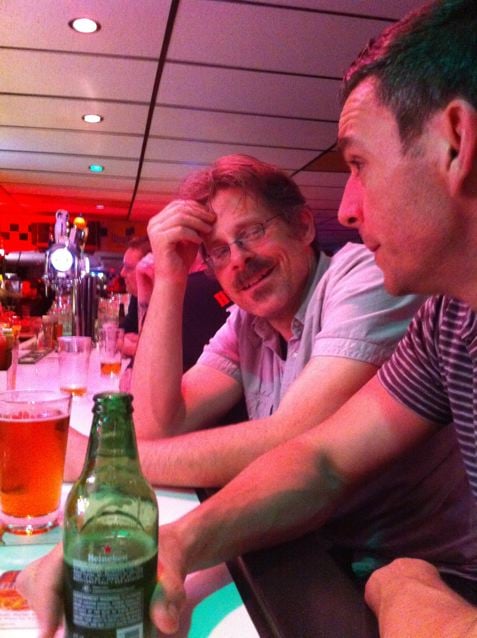 Editing HILOBROW offers me the chance to collaborate with 100+ talented friends each year — far too many to attempt to list. (But the website's longtime stalwarts include: Mimi Lipson, Lucy Sante, Mark Kingwell, Lynn Peril, Adam McGovern, Peggy Nelson, Marc Weidenbaum, Tom Nealon, Carlo Rotella, Douglas Wolk, Susan Roe, Gordon Dahlquist, Miranda Mellis, Rick Pinchera, Carl Wilson, Greg Rowland, Annie Nocenti, Mandy Keifetz, Anthony Miller, Adrienne Crew, and Jessamyn West.) I should mention that Matthew Battles helped get the website started, in the early days; he also helped get HiLoBooks up and running. Peggy Nelson has been a key player at various times, too. Adam McGovern and Heather Quinlan, in recent years, have stepped up in a big way to edit a few series per year.
*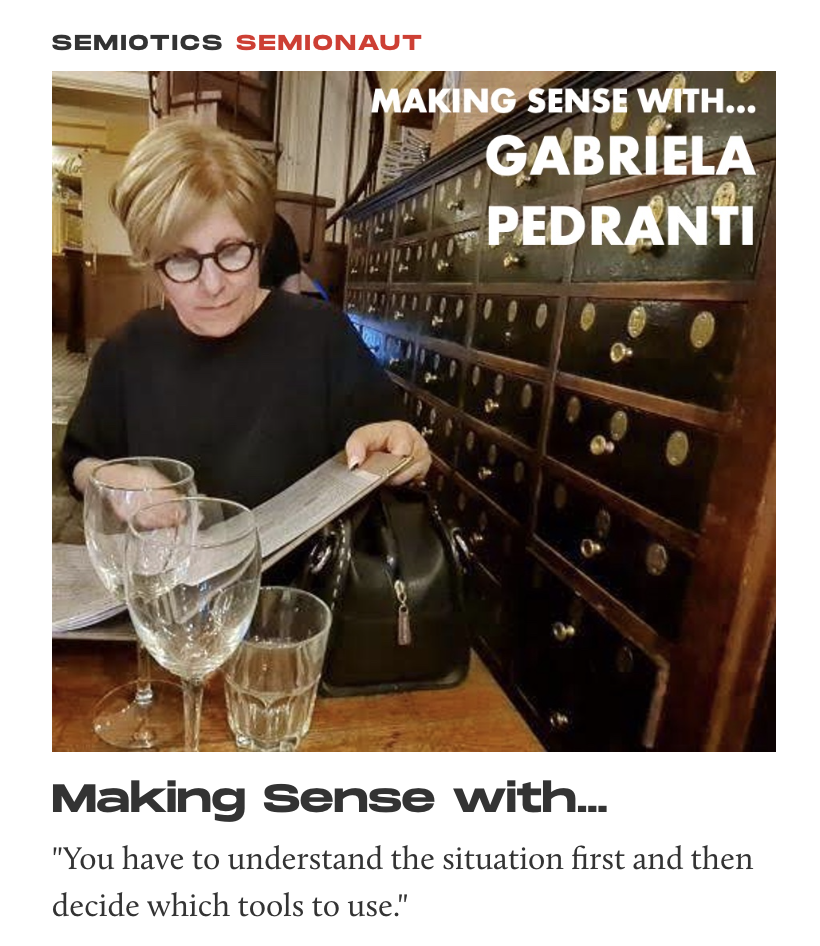 HILOBROW's sister website, SEMIOVOX, offers me the chance to collaborate with my friends from the international semiotic practitioner community. These include: Martha Arango (Colombia/Sweden), Daria Arkhipova (Russia/Italy), Chris Arning (UK), Maciej Biedziński (Poland), Mariane Cara (Brazil), Paulina Goch-Kenawy (Poland), Samuel Grange (France), Aiyana Gunjan (India), Ivan Islas (Mexico), Seema Khanwalkar (India), Sarah Johnson (Canada), Louise Jolly (UK), Lucia Laurent-Neva (UK), Wei Fen Lee (Singapore), Charles Leech (Canada), Luca Marchetti (France/Italy), Sónia Marques (Portugal), Thierry Mortier (Belgium/Sweden), Serdar Paktin (Turkey), Masha Papanthymou (Russia), Vijay Parthasarathy (US/India), Gabriela Pedranti (Argentina/Spain), Malex Salamanques Amiel (Venezuela/UK), Hamsini Shivakumar (India), and Ximena Tobi (Argentina).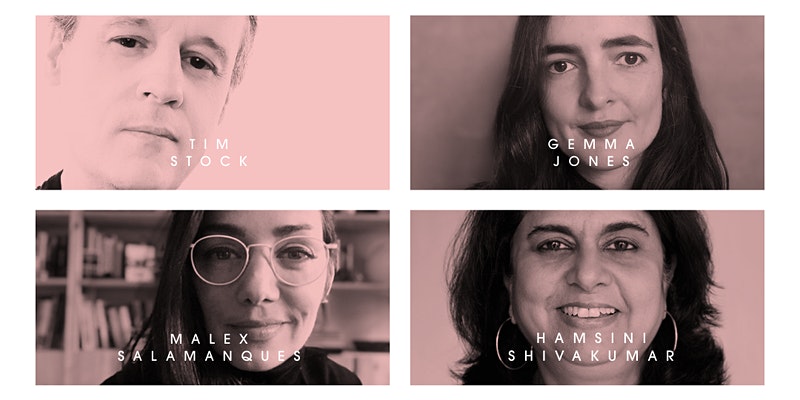 In 2021, I helped start the SEMIOFEST SESSIONS, a monthly online teleconference convening commercial semioticians from around the world — as a means not only to surface and disseminate the best of applied semiotic thinking but also to strengthen our professional community's ties of friendship and caring during an isolating and divisive moment. I'm very grateful to Semiofest founders Chris Arning, Hamsini Shivakumar, and Lucia Laurent-Neva for working hard to make this vision a reality. (Follow Semiofest on LinkedIn for updates.)
*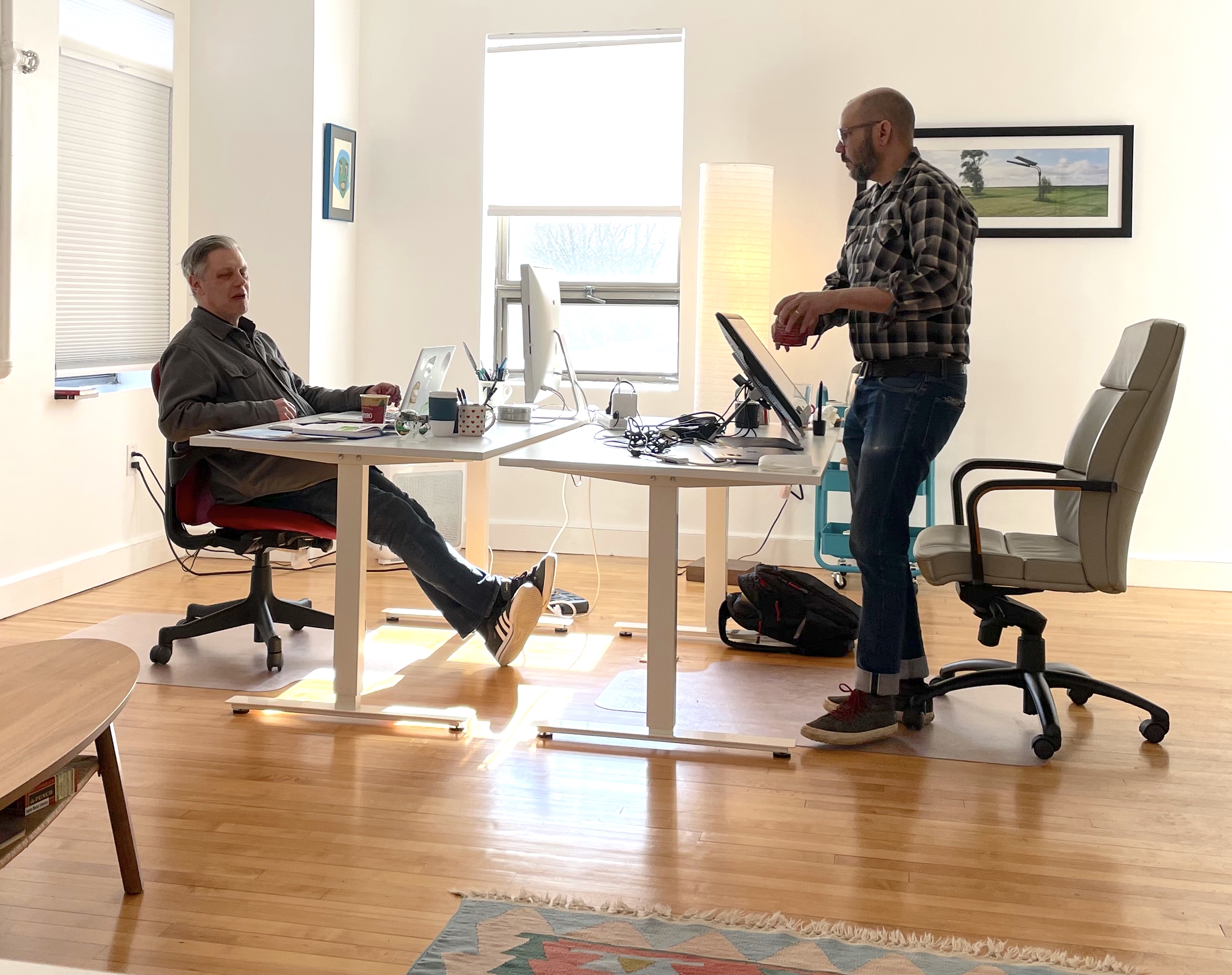 Tony and I share an office with our mutual friend Rick Pinchera, a talented illustrator (with whom I once created an iPhone game called KER-PUNCH!, and who does illustrations for HILOBROW, and who is a contributor to Lost Objects). The three of us are talking about a paper-and-pencil game project, too.
James Parker and Matthew Battles and I convene online for an hour every weekday morning, along with HILOBROW friend Charlie Mitchell, supporting each other through fiction-writing projects.
Also, Matthew and James and I — along with our friend Tor Aarestad — meet up weekly at Tom Nealon's bookstore to shoot the breeze.
I could go on… but this series has to stop somewhere. As is suggested by the title of this series, and of this installment, there's a lot to be said for spending time in the same space with your talented friends. Creative sparks will soon begin to fly!
*
Hope you find all of this stuff useful and inspiring as you embark on your own collaborations.
***
MORE FURSHLUGGINER THEORIES BY JOSH GLENN: SCHEMATIZING | IN CAHOOTS | JOSH'S MIDJOURNEY | POPSZTÁR SAMIZDAT | VIRUS VIGILANTE | TAKING THE MICKEY | WE ARE IRON MAN | AND WE LIVED BENEATH THE WAVES | IS IT A CHAMBER POT? | I'D LIKE TO FORCE THE WORLD TO SING | THE ARGONAUT FOLLY | THE PERFECT FLANEUR | THE TWENTIETH DAY OF JANUARY | THE REAL THING | THE YHWH VIRUS | THE SWEETEST HANGOVER | THE ORIGINAL STOOGE | BACK TO UTOPIA | FAKE AUTHENTICITY | CAMP, KITSCH & CHEESE | THE UNCLE HYPOTHESIS | MEET THE SEMIONAUTS | THE ABDUCTIVE METHOD | ORIGIN OF THE POGO | THE BLACK IRON PRISON | BLUE KRISHMA | BIG MAL LIVES | SCHMOOZITSU | YOU DOWN WITH VCP? | CALVIN PEEING MEME | DANIEL CLOWES: AGAINST GROOVY | DEBATING IN A VACUUM | PLUPERFECT PDA | SHOCKING BLOCKING.