IN CAHOOTS (5)
By: Joshua Glenn
November 10, 2022
Fifth in a series of posts via which HILOBROW's Josh Glenn offers anecdotes and advice from his own creative career.
IN CAHOOTS: GOING INDIE | MATERIAL CULTURE | COMMUNITY BUILDING | WALKING THE TIGHTROPE | OBJECT-ORIENTED | PARTNERING | CAMARADERIE.
---
OBJECT-ORIENTED
---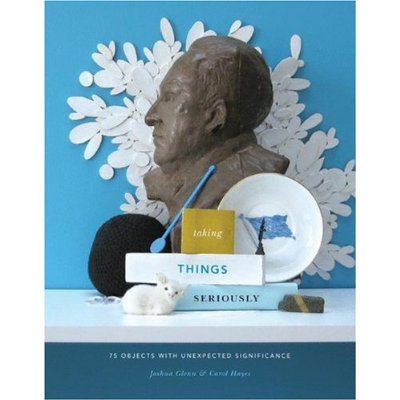 While I was still at the Globe, I took a meeting once a year with my friend Alane Mason, an editor at W.W. Norton. She and I knew some of the same folks; she published Lynn Peril's Pink Think: Becoming a Woman in Many Uneasy Lessons (2002), for example, and Matthew Battles's Library: an Unquiet History (2003). But the only idea I had for a book, at that point, was some sort of collection of the best essays that we'd published in Hermenaut. "Don't look back," Alane advised me. "You've developed amazing skills, editing and publishing Hermenaut — use your skills to make new things."
At some point during 2005, Susan and I attended a party — with a graphic-designer friend, Carol Hayes, who in those days was dating Scott Hamrah — in New York. Side note: Tony Leone, who designed the last two issues of Hermenaut and with whom I've shared an office for the past decade, introduced me to fellow MassArt alumni Michael Lewy, Mark "Mister" Reusch, and Heather Kasunick. Michael created and photographed dioramas for the covers of the final two issues; and he and Heather and Mark contributed illustrations. Tony and Michael would later collaborate on the design and illustration of my Radium Age Science Fiction series from HiLoBooks; while Tony, Mister Reusch, and Heather would collaborate on the design and illustration of the UNBORED books I'd coauthor/edit with Elizabeth Foy Larsen (my former Utne Reader colleague).
Back to the party. As I used to do at every party, in those days, I marveled at the fact that in nearly everyone's home or office one will always discover an ostensibly worthless object — a rock, a rusty toy, a midcentury novelty item — displayed as though it were rare and precious. In this apartment, for example, one could not help but notice a seven-foot-tall bowling trophy whose plaque read FELICITY ERWIN: INTERBOROUGH BIRTHDAY CHAMPION. When I asked Felicity (Lissi) about the trophy, she told me a story about her boyfriend getting arrested on the night of her birthday… and making it up to her by commissioning this trophy in her honor. Also at Lissi's party, I spotted a book about New York sneaker culture; it was titled Where'd You Get Those? The title of this book, combined with the observations I'd just been making, coalesced in my head with an audible click.
Carol and I, I announced on the spot, were going to put together a book of nonfiction narratives about objects with unexpected significance. We'd invite our talented, creative friends — and friends of friends — to explain to the significance of worthless-looking objects on display in their homes or offices. The book would be illustrated by the contributors' own photos of their objects.
Once we started working on this project, I recognized the wisdom of Alane's advice. Coming up with a theme, persuading writers — including smart, talented folks who didn't think of themselves as writers — to contribute an essay on that theme, then analyzing their contributions and writing up a few introductory thoughts in which I attempt to make sense of it all…. Working closely with artists and a designer to make the reader's experience a richly visual one…. Hustling to get the final product published, distributed, and publicized…. The ten years I'd spent on Hermenaut, not to mention my time at Utne Reader, Tripod.com and the Boston Globe, had taught me how to do all of these things. Taking Things Seriously would be, essentially, the 17th issue of Hermenaut.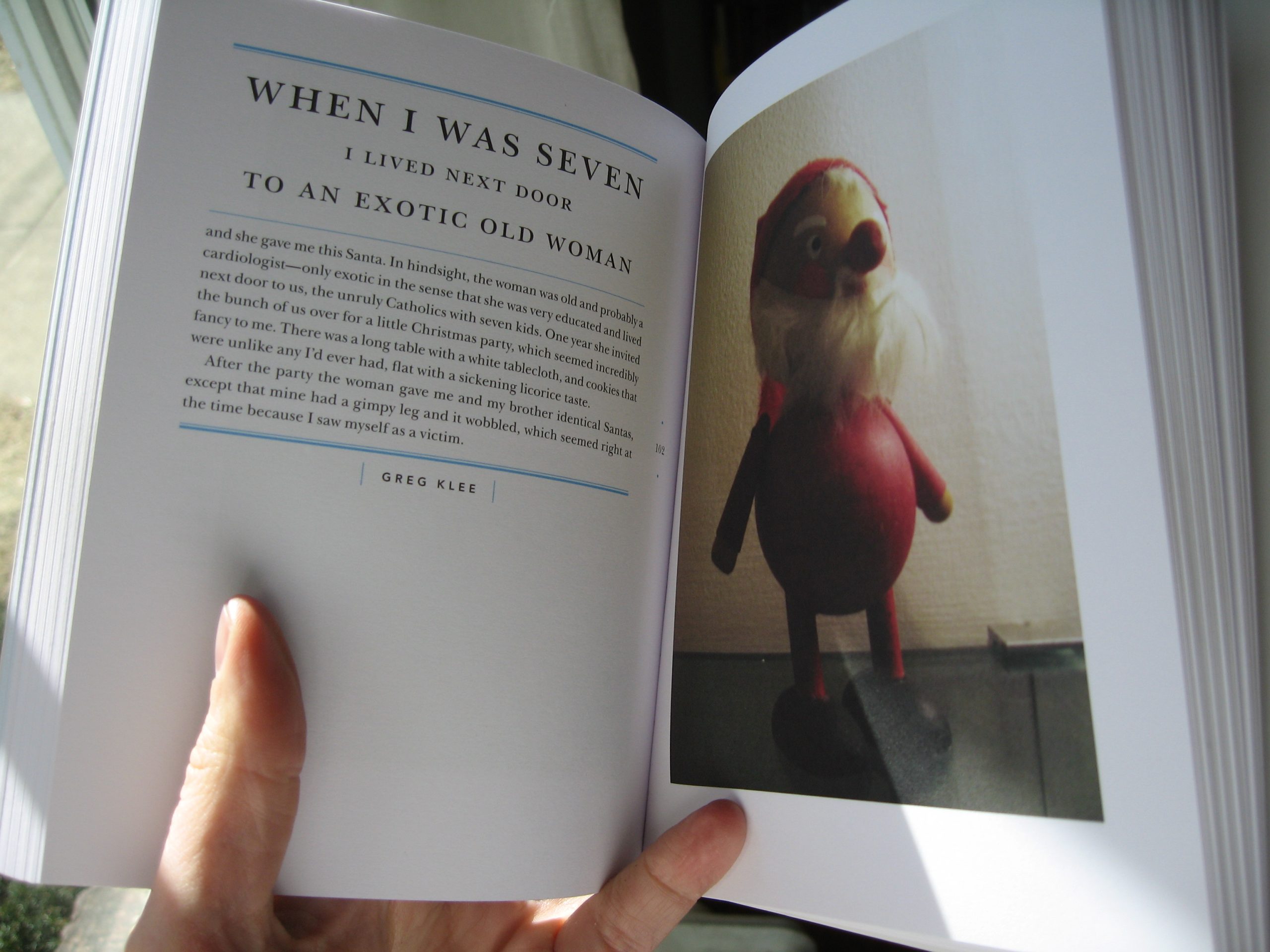 Carol and I gathered a few sample stories and objects, then mocked up sample spreads to show to publishers. (This has been my preferred method of pitching a book ever since.) Princeton Architectural Press would publish Taking Things Seriously in 2007. See this page for more info; and to read some of the book's reviews.
Although middlebrow crossword puzzles would have us understand that editing is entirely a process of meddling with and cutting a writer's prose (typical clues for EDIT: "revise," "emend," "redact," "rework," "amend," "red-pencil," "alter," "cut," "shorten," "fine-tune," "chop"), I beg to differ. To edit — a word that derives ultimately from the Latin edere "bring forth, produce" (from ex "out" + -dere, combining form of dare "to give") — is to muster, rally, and mobilize, and also to importune, or appeal for. "Editing" is the answer to the foundational question asked by philosophers and physicists alike: "Why is there something rather than nothing?" Editing is an arcane summoning ritual at which I'm talented.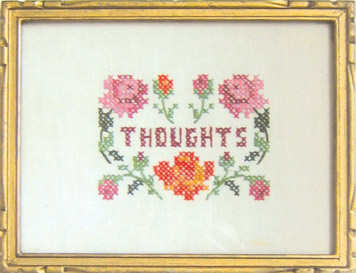 Hermenaut contributors and friends Marilyn Snell, Lisa Carver, Tom Frank, Jen Collins, A.S. Hamrah, Patrick Smith, Matthew Battles, Chris Fujiwara, Mimi Lipson, Clarke Cooper, Ingrid Schorr, Heather Kasunick, Lynn Peril, Michael Lewy, Tony Leone, and Lydia Millet contributed essays to Taking Things Seriously. Also — as I'd done while developing the Hermenaut roster — I reached out to folks whose work I admired, and persuaded some of them to participate too: Bill Griffith, for example, and Lucy (then: Luc) Sante, James Kochalka, Chip Wass, Becky Neiman, Josh Ozersky, Joe Keohane, Paul Lukas, William Drenttel, Helene Silverman, Mark Kingwell, Lindsay Waters, Sina Najafi, Mark Newgarden, Rosamond Purcell, and Tony Millionaire. Although Carol, who beautifully designed Taking Things Seriously, didn't edit (revise, rework, fine-tune) any of the writing, she was responsible for bringing many designer and artist friends of hers into the book; in this sense, she's its co-editor.
I'd found a way to do something creative with my material-culture fascination; it felt good! Also, I discovered that it was fascinating to think about how objects were meaningful to their owners. In writing the Introduction to Taking Things Seriously, I did quite a bit of reading up on the subject*, and considered the essays I'd commissioned, before proposing — in an Introduction section titled "Complicating Things" — that we supposedly modern types still regarded certain objects as totems (tutelary spirits from the natural world — animal, vegetable, or mineral), fossils (objects that bear witness to a vanished way of life), and talismans (objects that have magical power, are lucky, or are alive). I've since developed this object-meaning typology further in Significant Objects and Lost Objects.
* I particularly recommend the 2004 essay collection Things, edited by Bill Brown. See in particular the essays by Brown, Bruno Latour, and W.J.T. Mitchell.
*
Around this time, the UK commercial semiotics agency Space Doctors (mentioned previously) was taking off — and they valued my US reports. I was busy with the Boston Globe, and Taking Things Seriously, and freelance writing, and consulting for other agencies; and I had young children… I couldn't produce work quickly enough for them. So they offered me a retainer deal, guaranteeing me 14 days per month of work, at a rate of over $900/day. A little back-of-the-envelope calculating revealed that this would allow me to work part-time while earning more than I did full-time at the Globe. It was a difficult decision, though, because I really enjoyed working for my hometown newspaper. However, I wanted to spend more time with my young children; and I wanted to pursue other, post-Taking Things Seriously book projects; and Susan wanted to go to graduate school; and the future of the Globe, which was visibly shrinking, was precarious. (In 2009, The New York Times Company would threaten to close the Globe if its unions did not agree to $20 million of cost savings; in 2013 the NYTC sold it to John W. Henry.) So I said "yes."
*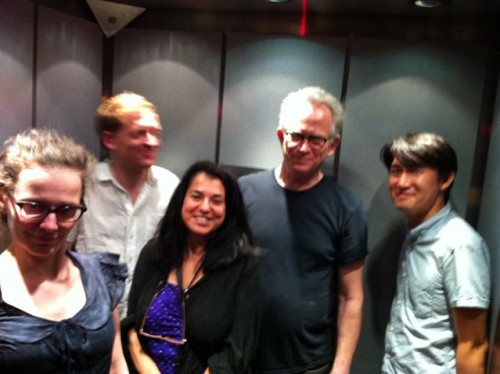 One thing worried me about leaving the Globe was this: Would I lose touch with the talented folks I'd met through writing my column and blog, and as an IDEAS section editor? People like Lucy (then: Luc) Sante, Annie Nocenti, Sheila Heti, Nicholson Baker, Jenny Offill, Benjamen Walker, Gary Panter, Annie Nocenti, Douglas Wolk, Cintra Wilson, Ed Park, and Sean Howe? With this concern in mind, I may or may not have started a secretive online community around this time. Who gathered from time to time in offline "meetups." I can neither confirm nor deny that I was the manager of the Hermenautic Circle for a decade, nor can I indicate who else may have belonged at various points during that time. As to the question of whether or not the group still exists, I can only say that if it does, I'm no longer its manager. For more info, I refer you to this New Yorker story.
*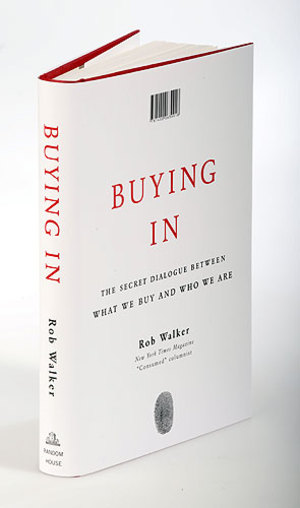 In 2008, Rob Walker and I finally got in touch. Rob's book Buying In: The Secret Dialogue Between What We Buy and Who We Are — a distillation of the sorts of topics he'd been covering in his CONSUMED column, and a potent "read" on how and why marketing and design work — appeared that year. Before he came to Boston on his book tour, he got in touch and said that he'd enjoyed Taking Things Seriously — in fact, he'd had an idea for a similar project, and wished he'd beaten me to the punch. We went out for a beer or two after his Boston event, and he let me in on a project that he'd been contemplating: a literary project, but one with anthropological and economic aspects. We both understood that story-telling is a powerful driver of an object's subjective value; that's what our books, each in their own way, were about. But might it not be possible — by purchasing geegaws from thrift stores and yard sales, then selling them on eBay with invented stories replacing factual descriptions — to objectively measure the effect of story telling on the subjective value of these worthless things?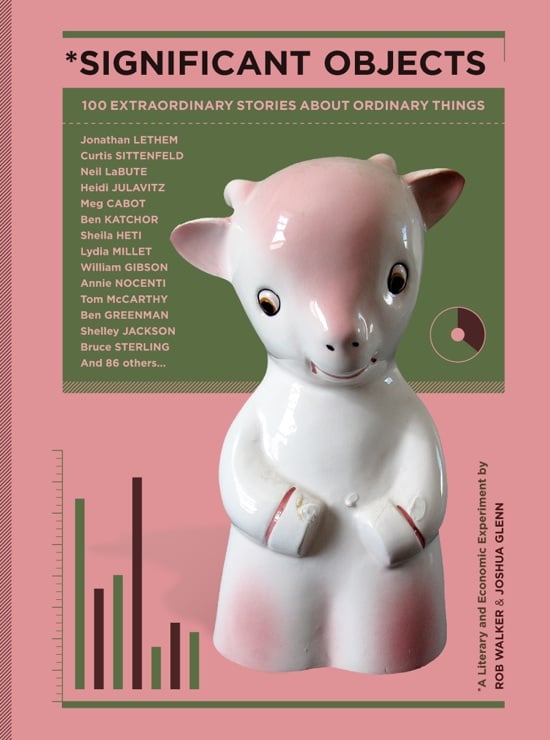 Over the next several months, Rob and I purchased a hundred objects — for no more than a few dollars apiece — at thrift stores, junk shops, and yard sales. Then we contacted writers whose work we admired — including Sheila Heti, William Gibson, Nicholson Baker, Jenny Offill, Bruce Sterling, Colson Whitehead, Scarlett Thomas, Kurt Andersen, Meg Cabot, Wayne Koestenbaum, Neil LaBute, and Curtis Sittenfeld, as well as up-and-comers and talented friends of ours — and asked them to invent a story about one of the objects. Hermenaut contributors and friends Matthew Battles, Matthew De Abaitua, Mark Frauenfelder, Todd Levin, Mimi Lipson, Katie Hennessey, Lydia Millet, James Parker, Dan Reines, Rob Agredo, and Greg Rowland participated. So did many of the talented folks with whom I'd become acquainted (in many cases, via the Hermenautic Circle) since Hermenaut: including Lucy (then: Luc) Sante, Jonathan Lethem, Patrick Cates, Jason Grote, Annie Nocenti, Gary Panter, Douglas Wolk, Annalee Newitz, Cintra Wilson, Joanne McNeil, Sarah Weinman, Shelley Jackson, Barbara Bogaev, James Hannaham, Kate Bernheimer, Matthew Sharpe, Ed Park, Dean Haspiel, Sean Howe, and many others. Rob introduced me to dozens of his favorite thinkers and writers, too.
My friend Emma Westling (now manager of exhibitions at the MIT Museum) was tremendously helpful to us, in acquiring and curating our collection of insignificant objects. With some help from Joe Alterio, Rob and I started a website. Finally, beginning in July 2009, we listed the objects for sale on eBay. In place of factual descriptions, we used the fictional stories. We weren't attempting to hoax eBay users; we made it clear that the stories were fiction, and the author's bylines appeared with their stories. Voila! A collection of unremarkable castoffs were now transformed into "significant" objects.
The project was imaginative, exhilarating, ridiculous, and — thanks to the extraordinary stories contributed to it — sorta brilliant. As a piece of material-culture analysis, our introductory essay and analytical appendices to the book (published by Fantagraphics, one of my favorite publishers of all time; and designed by the visionary Jacob Covey) were neither snarky nor craven, neither pro- nor anti-materialism but instead alien-anthropological. Rob and I greatly enjoyed working with the 200+ writers who would eventually write SO stories; and although Rob may have been unaware of this at the time, in my imagination he and I were co-editing the 18th issue of Hermenaut.
*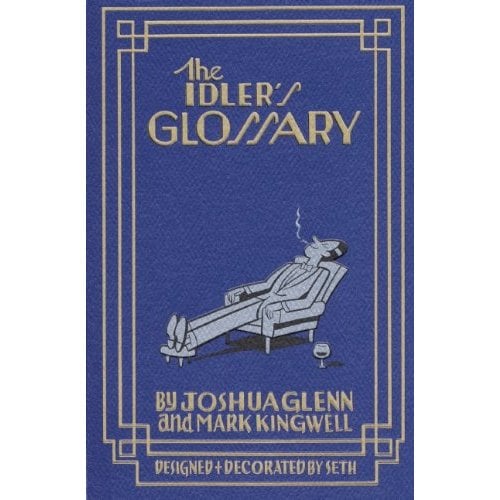 Also in 2008: The Canadian publisher Biblioasis brought out The Idler's Glossary. I'd originally written a version of this counter-ideological (yet humorous) analysis of scores of words and phrases related to idling, slacking, and taking it easy for Tom Hodgkinson and Matthew De Abaitua at The Idler. Impressed by Classic Cocktails, a 2007 book written by Mark Kingwell and illustrated by Seth, I'd persuaded Mark to write an introduction to an expanded version of my glossary; and he persuaded Seth to illustrate it. According to The Guardian, the book "fulminates most entertainingly against labour and industrial amusement, gambols gaily in etymological thickets, and poses crucial questions for further research."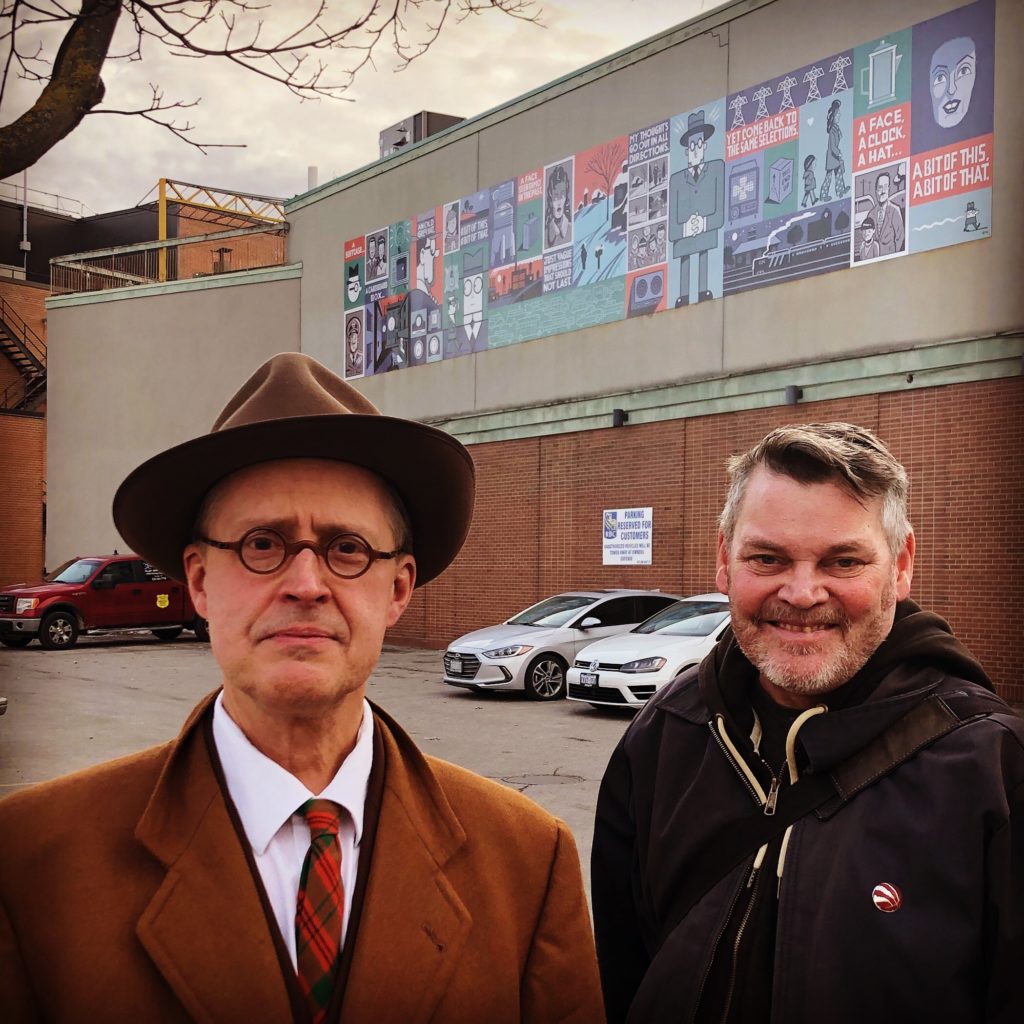 Mark and Seth and I have since collaborated on two additional glossaries: The Wage Slave's Glossary (Biblioasis, 2011) and The Adventurer's Glossary (McGill-Queen's University Press). The three of us have become good friends; that's Seth (left) and Mark in the photo above — from my visit to the exhibition Seth: A Life, All Play, at the Art Gallery of Guelph in 2019. Mark has written frequently for HILOBROW; and we've conducted a few 20,000+ word epistolary exchanges on adventure fiction and movies, science fiction, and the like.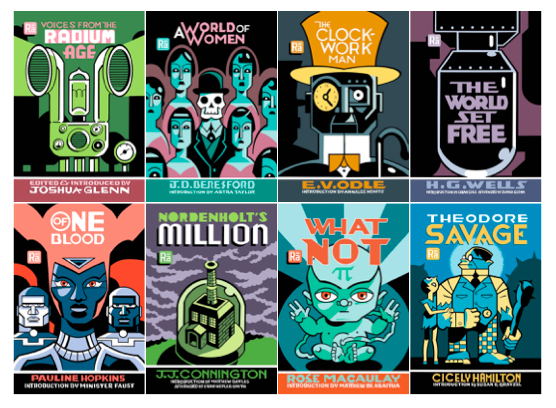 Recently, I've persuaded Seth to illustrate and design the covers for MIT Press's Radium Age series of reissued proto-sf novels. Yay!
*
Next time: PARTNERING
***
MORE FURSHLUGGINER THEORIES BY JOSH GLENN: SCHEMATIZING | IN CAHOOTS | JOSH'S MIDJOURNEY | POPSZTÁR SAMIZDAT | VIRUS VIGILANTE | TAKING THE MICKEY | WE ARE IRON MAN | AND WE LIVED BENEATH THE WAVES | IS IT A CHAMBER POT? | I'D LIKE TO FORCE THE WORLD TO SING | THE ARGONAUT FOLLY | THE PERFECT FLANEUR | THE TWENTIETH DAY OF JANUARY | THE REAL THING | THE YHWH VIRUS | THE SWEETEST HANGOVER | THE ORIGINAL STOOGE | BACK TO UTOPIA | FAKE AUTHENTICITY | CAMP, KITSCH & CHEESE | THE UNCLE HYPOTHESIS | MEET THE SEMIONAUTS | THE ABDUCTIVE METHOD | ORIGIN OF THE POGO | THE BLACK IRON PRISON | BLUE KRISHMA | BIG MAL LIVES | SCHMOOZITSU | YOU DOWN WITH VCP? | CALVIN PEEING MEME | DANIEL CLOWES: AGAINST GROOVY | DEBATING IN A VACUUM | PLUPERFECT PDA | SHOCKING BLOCKING.