KILL YOUR ENTHUSIASM (16)
By: Kelly Jean Fitzsimmons
November 16, 2022
One in a series of 25 enthusiastic posts, contributed by 25 HILOBROW friends and regulars, on the topic of favorite killed-off TV characters. Series edited by Heather Quinlan.
*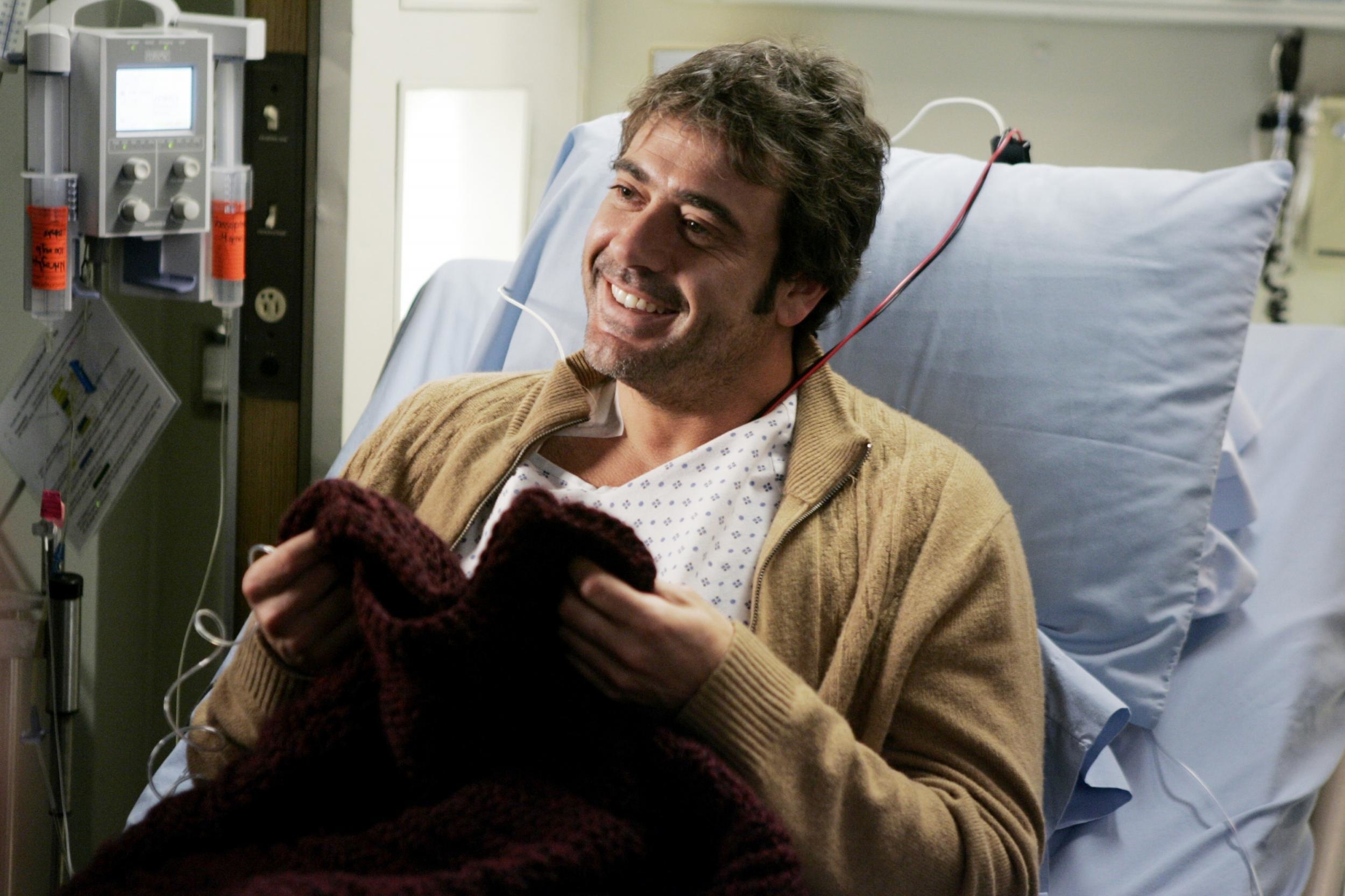 DENNY DUQUETTE
If the words "cut the LVAD wire" are a punch to the gut, that's because you, too, mourned the loss of Denny Duquette on Grey's Anatomy. Even after 19 seasons (and counting), I still watch Grey's Anatomy and will continue to watch long as they keep churning out episodes. My refusal to abandon ship is due mainly to my genetic predisposition to consume soap operas — Grey's is "my program."
There have been far more dramatic deaths since Dr. Izzie Stevens fell in love with Denny, cutting his LVAD wire to move her patient up the heart transplant list, only to have her heart destroyed when he died of a stroke after the transplant. Beloved characters have been squashed by a bus, shot, stabbed, or killed in a plane crash or from complications after the crash, which begs the question, why can't I get over Denny Duquette? (And, also, should any of these people still be practicing medicine after suffering so much trauma?)
The obvious answer as to why we will forever mourn Denny is that the character, played by Jeffrey Dean Morgan, was perfect — a quick-witted, charming guy who is ridiculously handsome. Years ago, when cutting through Washington Square Park one night, I spotted the actor wearing a tuxedo and carrying an armful of roses. It turns out he was filming some romantic comedy with Uma Thurman. At that moment, though, the man looked so damn fine striding through the moonlit city I thought I'd had a stroke.
My answer as to why Denny's death remains one of the most devastating in TV history is… The Prom. What appears to be a humorous plot point in the second season's final episode — a teenage patient, who is also The Chief's niece, wants the best prom ever — is the razor-sharp scalpel the writers wield to slice open our collective hearts. Izzie and her fellow LVAD wire co-conspirators, Meredith, Cristina, George, and Alex, are charged with making the teen's dream come true. The Chief heightens the stakes by requiring everyone to dress up and attend the hospital's prom.
Prom is filled with promise, and the event's energy matches Denny's newfound hope for the future. He has warm hands for the first time, a regular heartbeat, and now that he can do whatever he wants, what he wants is Izzie. Except when she goes to show off her prom dress to her future husband, Izzie finds him dead in his hospital bed.
The iconic image of Izzie climbing into Denny's bed to be with him in her huge, rose-pink dress is tear-inducing enough. However, watching a tuxedo-clad Alex gently extract Izzie from her place beside the body, gathering up the crinoline layers of her prom dress as he carries her away from a lost future, remains the most heartbreaking moment of Grey's Anatomy. Popular culture paints prom night as either a fairy tale or a horror show; the death of Denny Duquette is operatic in its tragedy because both endings come true.
***
KILL YOUR ENTHUSIASM: INTRODUCTION by Heather Quinlan | Max Alvarez on LANE PRYCE | Lynn Peril on PETE DUEL | Miranda Mellis on LISA KIMMEL FISHER | Trav SD on COL. HENRY BLAKE | Russ Hodge on DET. BOBBY SIMONE | Kathy Biehl on PHIL HARTMAN| Jack Silbert on MARTY FUNKHOUSER | Catherine Christman on MRS. LANDINGHAM | Kevin J. Walsh on YEOMAN JANICE RAND | Heather Quinlan on DERMOT MORGAN | Adam McGovern on LT. TASHA YAR | Nick Rumaczyk on BEN URICH | Josh Glenn on CHUCKLES THE CLOWN | Bart Beaty on COACH | Krista Margies Kunkle on JOYCE SUMMERS | Kelly Jean Fitzsimmons on DENNY DUQUETTE | Marc Weidenbaum on SGT. PHIL ESTERHAUS | Michael Campochiaro on GORDON CLARK | Fran Pado on EDITH BUNKER | Mark Kingwell on OMAR LITTLE | Bridget Bartolini on ALEX KAMAL | David Smay on VANESSA IVES | Tom Nealon on JOSS CARTER | Michele Carlo on FREDDIE PRINZE | Crockett Doob on AUNT LOUISE.
MORE ENTHUSIASM at HILOBROW
CURVE YOUR ENTHUSIASM (3Q2023): PIZZA PURISM | BOY BANDS | THE '86 METS | LOVE ISLAND UK | LIVERWURST | & 20 other reconsidered enthusiasms. TEEN YOUR ENTHUSIASM (2Q2023): ANDY GIBB | VALERIE BERTINELLI | KIM WILDE | ARLO GUTHRIE | MIKE PATTON | & 20 other heartthrobs from our adolescences. DOLLY YOUR ENTHUSIASM (1Q2023): WE FOUND IT | TOGETHER AGAIN | SUNDAY MORNIN' COMIN' DOWN | BAD CASE OF THE BLUES | FANCY | & 20 other Sixties (1964–1973) Country records. KILL YOUR ENTHUSIASM (4Q2022): LT. TASHA YAR | JOYCE SUMMERS | COL. HENRY BLAKE | MRS. LANDINGHAM | ALEX KAMAL | & 20 other TV deaths. BLURB YOUR ENTHUSIASM (3Q2022): LEFT-CORNER BRICK | JOY IS RESISTANCE | THE FUTURE IS PASSÉ | EVERY MINUTE AN OCEAN | SHUT UP, HE EXPLAINED | & 20 other apothegms to live by. KOJAK YOUR ENTHUSIASM (2Q2022): ARK II | WKRP IN CINCINNATI | BUCK ROGERS | THE WHITE SHADOW | POLICE WOMAN | & 20 other Seventies (1974–1983) TV shows. KICK YOUR ENTHUSIASM (1Q2022): KUILL | CATO | COSMO | TRIXIE | VOLSTAGG | & 20 other sidekicks. NERD YOUR ENTHUSIASM (4Q2021): TIME | THE POST OFFICE | ARDUIN | DOUBT | SUMMATIONS | & 20 other nerdy passions. SWERVE YOUR ENTHUSIASM (3Q2021): WARHOL'S WALT WHITMAN | 70, GIRLS, 70 | TYRAEL'S MIGHT | SHIRATO SANPEI | THE LEON SUITES | & 20 other never-realized cultural productions. FIVE-O YOUR ENTHUSIASM (2Q2021): DARK SHADOWS | MANNIX | GET SMART | THE ADDAMS FAMILY | I DREAM OF JEANNIE | & 20 other Sixties (1964–1973) TV shows. FERB YOUR ENTHUSIASM (1Q2021): STEVEN UNIVERSE | TOP CAT | REN & STIMPY | SHE-RA AND THE PRINCESSES OF POWER | DRAGON BALL Z | & 20 other animated series. CARBONA YOUR ENTHUSIASM (2020): "Sex Bomb" | "Going Underground" | "Soft South Africans" | "Typical Girls" | "Human Fly" | & 20 other Seventies (1974–1983) punk singles. KLAATU YOU (2020 weekly): ZARDOZ | METROPOLIS | DARK STAR | SINS OF THE FLESHAPOIDS | SOLARIS | & dozens of other pre-STAR WARS sci-fi movies. CONVOY YOUR ENTHUSIASM (2019): THE TAKING OF PELHAM ONE TWO THREE | ROLLERBALL | BLACK SUNDAY | SORCERER | STRAIGHT TIME | & 20 other Seventies (1974–1983) action movies. SERIOCOMIC (2019 weekly): LITTLE LULU | VIZ | MARSUPILAMI | ERNIE POOK'S COMEEK | HELLBOY | & dozens of other comics. TUBE YOUR ENTHUSIASM (2018): LOONEY TUNES | THREE STOOGES | THE AVENGERS | ROCKY & BULLWINKLE | THE TWILIGHT ZONE | & 20 other Fifties (1954–1963) TV shows. WOWEE ZOWEE (2018 weekly): UNISEX | UNDER THE PINK | DUMMY | AMOR PROHIBIDO | HIPS AND MAKERS | & dozens of other Nineties (1994–2003) albums. KLUTE YOUR ENTHUSIASM (2017): THE KILLERS | BANDE À PART (BAND OF OUTSIDERS) | ALPHAVILLE | HARPER | BLOW-UP | & 20 other Sixties (1964–1973) neo-noir movies. #SQUADGOALS (2017 weekly): THE WILD BUNCH | BOWIE'S BAND | THE BLOOMSBURY GROUP | THE HONG KONG CAVALIERS | VI ÄR BÄST! & dozens of other squads. GROK MY ENTHUSIASM (2016 weekly): THE THEORY AND PRACTICE OF LUNCH | WEEKEND | MILLION YEAR PICNIC | LA BARONNE EMILE D'ERLANGER | THE SURVIVAL SAMPLER | & dozens more one-off enthusiasms. QUIRK YOUR ENTHUSIASM (2016): "Tainted Love" | "Metal" | "Frankie Teardrop" | "Savoir Faire" | "Broken English" | & 20 other Seventies (1974–1983) new wave singles. CROM YOUR ENTHUSIASM (2015): DARKER THAN YOU THINK | THE SWORD IN THE STONE | OUT OF THE SILENT PLANET | THIEVES' HOUSE | QUEEN OF THE BLACK COAST | & 20 other Thirties (1934–1943) fantasy novels. KERN YOUR ENTHUSIASM (2014): ALDINE ITALIC | DATA 70 | TORONTO SUBWAY | JOHNSTON'S "HAMLET" | TODD KLONE | & 20 other typefaces. HERC YOUR ENTHUSIASM (2013): "Spoonin' Rap" | "Rapper's Delight" | "Rappin' Blow" | "The Incredible Fulk" | "The Adventures of Super Rhyme" | & 20 other Seventies (1974–1983) hip-hop songs. KIRK YOUR ENTHUSIASM (2012): Justice or vengeance? | Kirk teaches his drill thrall to kiss | "KHAAAAAN!" | "No kill I" | Kirk browbeats NOMAD | & 20 other Captain Kirk scenes. KIRB YOUR ENTHUSIASM (2011): THE ETERNALS | BLACK MAGIC | DEMON | OMAC | CAPTAIN AMERICA | & 20 other Jack Kirby panels.