CONSTANT CLOSET (5)
By: Lynn Peril
April 17, 2021
We are delighted to present CONSTANT CLOSET, a series in which HILOBROW friend Lynn Peril shares vintage items of clothing that she's continued to wear for decades.
---
SAK'S LAMÉ JACKET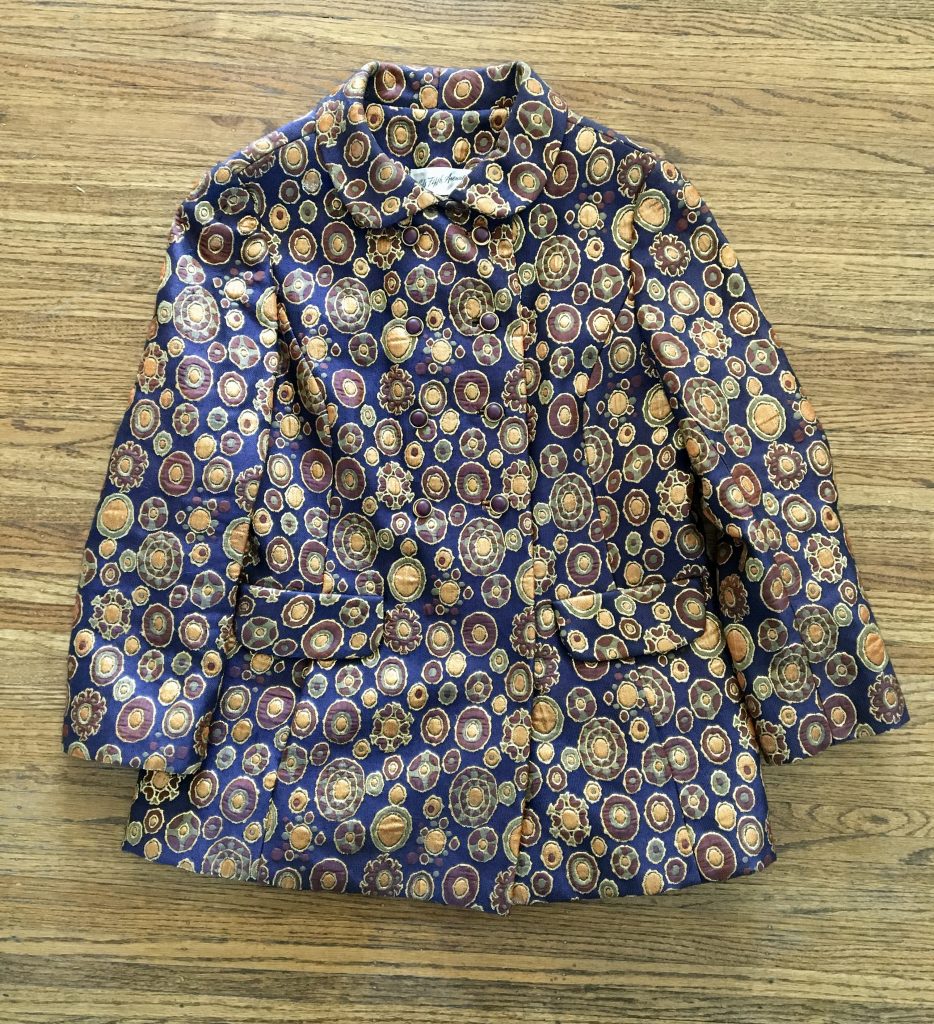 For a closer look, click on image.
Buying vintage often means you can wear clothing of a quality you would not be able to purchase new, even were you able to find such workmanship in today's stores. This faboo number with a Sak's Fifth Avenue label is a case in point — just look at that gorgeous fabric! If anyone is currently producing such a beautiful combo of metallic threads and what feels like heavyweight silk, well, I don't know who they are, because I can't afford to set foot in the shop where it's sold. Quality might also mean an item of clothing has been durable enough to survive over the years. That this jacket was probably saved for special occasions also contributed to the pristine condition I found it in, hanging on a rack at Wasteland on Haight Street back in the glorious '90s. I've worn the jacket to night clubs (pictured here, the Derby in Los Angeles in 2005) and parties, but who knows when we'll feel safe enough to venture out again post-pandemic. I think it's time to slip on this jacket for trips to the grocery store and while running errands. Beauty like this shouldn't be kept closed up in the closet.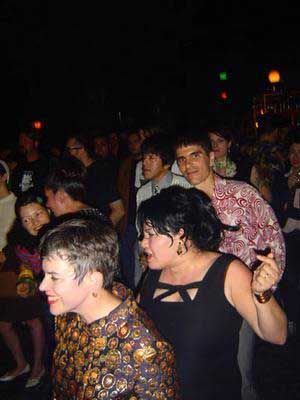 ***
MORE LYNN PERIL at HILOBROW: PLANET OF PERIL series | FIVE-O YOUR ENTHUSIASM: DARK SHADOWS | FERB YOUR ENTHUSIASM: JONNY QUEST | CARBONA YOUR ENTHUSIASM: "SMOTHER LOVE" | MOVIE OBJECTS: TRANSISTOR RADIO | KLAATU YOU: ATTACK OF THE 50-FT. WOMAN | TUBE YOUR ENTHUSIASM: THE DICK VAN DYKE SHOW | FLAIR: BASEBALL RING | #SQUADGOALS: The Daly Sisters | KLUTE YOUR ENTHUSIASM: BLOW-UP | MUSEUM OF FEMORIBILIA series | HERMENAUTIC TAROT: The Waiting Man | KIRB YOUR ENTHUSIASM: YOUNG ROMANCE | CROM YOUR ENTHUSIASM: CONJURE WIFE | HILO HERO ITEMS on: Tura Satana, Paul Simonon, Vivienne Westwood, Lucy Stone, Lydia Lunch, Gloria Steinem, Gene Vincent, among many others.