CONSTANT CLOSET (4)
By: Lynn Peril
April 14, 2021
We are delighted to present CONSTANT CLOSET, a series in which HILOBROW friend Lynn Peril shares vintage items of clothing that she's continued to wear for decades.
---
TURQUOISE SHIRT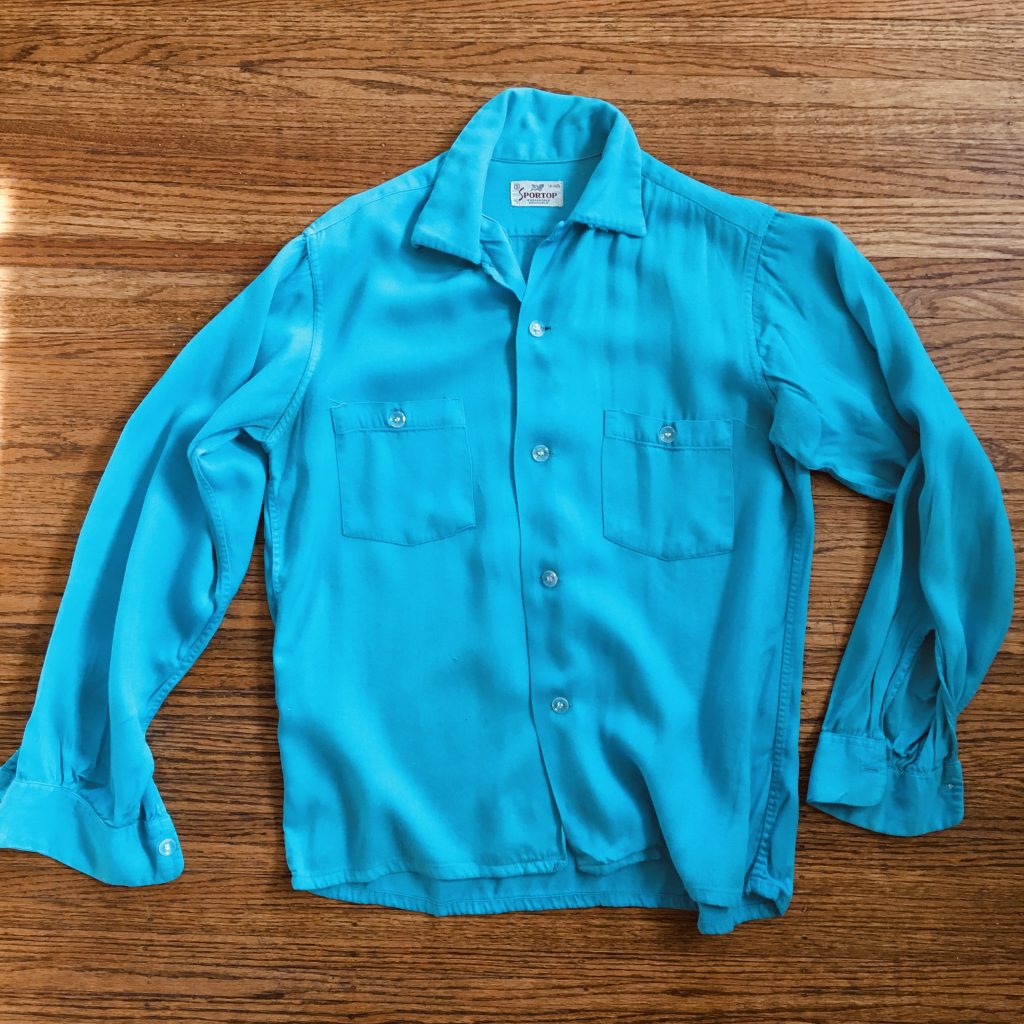 For a closer look, click on image.
When friends tell me I have a good eye for spotting vintage clothing at the thrift store, I think of the many hours I spent ironing at Sweet Doomed Angel, Milwaukee's coolest vintage clothing shop. I worked there from late 1979 to sometime in the early 80s, and it remains one of my favorite jobs ever. Leaning over the ironing board, I learned to identify old clothes not only by their cut, but by their fabrics — how the cloth was woven, and how it felt to the touch. Now when I scan the racks at the thrift store, I wait for those vintage fabrics to jump out at me. There's nothing like vintage gabardine, and this gorgeous men's shirt from the 1950s is one of my few remaining pieces from Sweet Doomed Angel. I try not to let nostalgia clog up my closet, but even though I last wore this shirt on a regular basis in the 1990s, I can't let it go.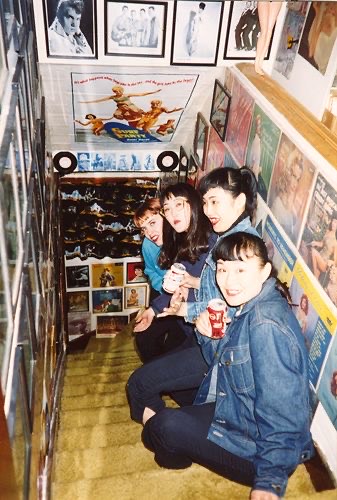 ***
MORE LYNN PERIL at HILOBROW: PLANET OF PERIL series | FIVE-O YOUR ENTHUSIASM: DARK SHADOWS | FERB YOUR ENTHUSIASM: JONNY QUEST | CARBONA YOUR ENTHUSIASM: "SMOTHER LOVE" | MOVIE OBJECTS: TRANSISTOR RADIO | KLAATU YOU: ATTACK OF THE 50-FT. WOMAN | TUBE YOUR ENTHUSIASM: THE DICK VAN DYKE SHOW | FLAIR: BASEBALL RING | #SQUADGOALS: The Daly Sisters | KLUTE YOUR ENTHUSIASM: BLOW-UP | MUSEUM OF FEMORIBILIA series | HERMENAUTIC TAROT: The Waiting Man | KIRB YOUR ENTHUSIASM: YOUNG ROMANCE | CROM YOUR ENTHUSIASM: CONJURE WIFE | HILO HERO ITEMS on: Tura Satana, Paul Simonon, Vivienne Westwood, Lucy Stone, Lydia Lunch, Gloria Steinem, Gene Vincent, among many others.