CONSTANT CLOSET (2)
By: Lynn Peril
April 7, 2021
We are delighted to present CONSTANT CLOSET, a series in which HILOBROW friend Lynn Peril shares vintage items of clothing that she's continued to wear for decades.
---
ZEBRA SWEATER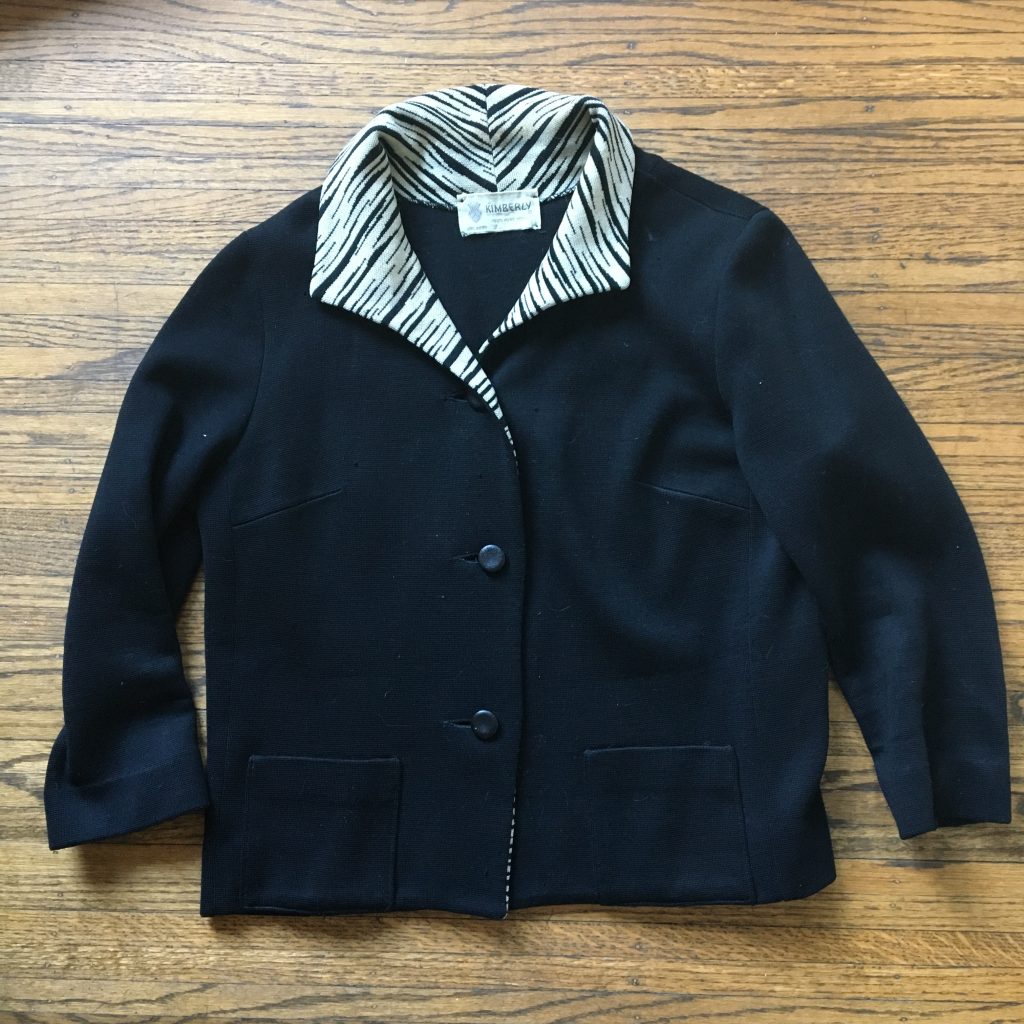 For a closer look, click on image.
This 1960s Kimberley wool double-knit sweater is an excellent example of my constant closet aesthetic. Purchased on ebay for an absurdly low price (ten dollars or so) in the early 2000s, I have photos of me wearing it in 2010, 2013, 2015, and on it goes. It's cozy, flattering, and looks fabulous with the vintage Vera scarf I am wearing with it in almost every photo. Seeing myself in an old photo in an outfit that I still wear on a regular basis used to embarrass me, but I'm beginning to see the constancy of my wardrobe as an asset. Clothing wasn't always disposable. There was "Sunday best" and workaday clothes for the rest of the week, or new clothes and shoes at the beginning of the school year. Fast fashion, frequently made by exploited labor, didn't exist. My sweater has a union label. As a bonus, I nearly fell out of my chair when I spotted super secretary Joan Holloway wearing a red version of this sweater with matching skirt on an episode of Mad Men.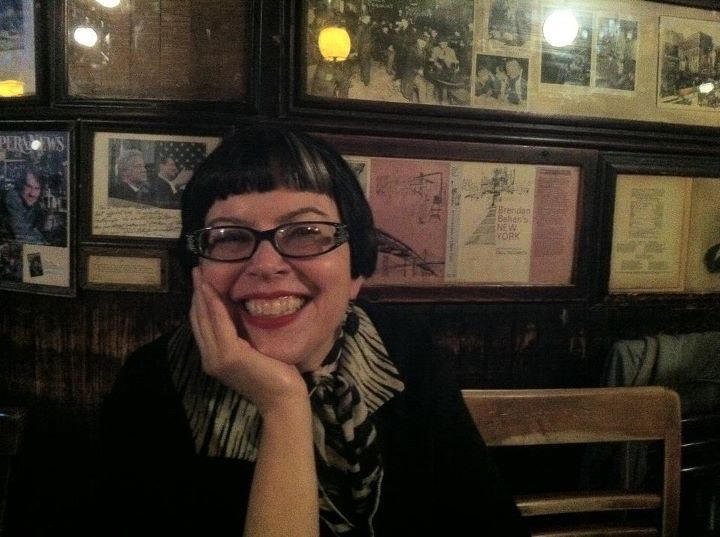 ***
MORE LYNN PERIL at HILOBROW: PLANET OF PERIL series | FIVE-O YOUR ENTHUSIASM: DARK SHADOWS | FERB YOUR ENTHUSIASM: JONNY QUEST | CARBONA YOUR ENTHUSIASM: "SMOTHER LOVE" | MOVIE OBJECTS: TRANSISTOR RADIO | KLAATU YOU: ATTACK OF THE 50-FT. WOMAN | TUBE YOUR ENTHUSIASM: THE DICK VAN DYKE SHOW | FLAIR: BASEBALL RING | #SQUADGOALS: The Daly Sisters | KLUTE YOUR ENTHUSIASM: BLOW-UP | MUSEUM OF FEMORIBILIA series | HERMENAUTIC TAROT: The Waiting Man | KIRB YOUR ENTHUSIASM: YOUNG ROMANCE | CROM YOUR ENTHUSIASM: CONJURE WIFE | HILO HERO ITEMS on: Tura Satana, Paul Simonon, Vivienne Westwood, Lucy Stone, Lydia Lunch, Gloria Steinem, Gene Vincent, among many others.