Diamond Age 75 (42)
By: Joshua Glenn
December 30, 2019
One in a series of posts about the 75 best science fiction novels published during the genre's Diamond Age era (from 1984–2003, according to HILOBROW's periodization schema). For Josh Glenn's complete Diamond Age Sci-Fi 75 list, click here.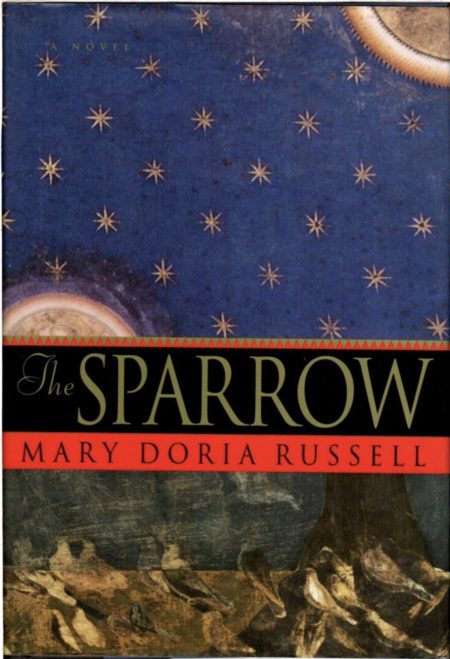 Mary Doria Russell's The Sparrow adventure The Sparrow (1996).
In 2019 (!), a SETI listening post in Puerto Rico picks up radio broadcasts of exquisite singing — coming from another planet. At last! Evidence of intelligent extraterrestrial life. While the United Nations debates the politics of a first-contact mission, the Jesuits, long known for their missionary, linguistic and scientific activities, organize a secretive first expedition to Rakhat — as the planet comes to be known. Only one member of the crew, Jesuit priest and talented linguist Emilio Sandoz, survives the return trip (in 20160). Its story — told in chapters that alternate between an account of the mission itself, and Sandoz's experiences upon his return — about a world so beyond comprehension that it begs the question of what it means to be "human." The characters — including Sandoz, who grew up in a poor Puerto Rican neighborhood, and who questions his faith; Sofia Mendes, a Turkish Jewish artificial intelligence specialist; and other Jesuit priests — encounter two species, upon their arrival at Rakhat. As missionaries and anthropologists will do, they get involved in the local culture in ways which they don't understand… the result is lethal, and for Sandoz extremely traumatic.
Fun facts: Russell earned a Ph.D. in Paleoanthropology, and has studied cultural and social anthropology. The Sparrow, which was the author's first novel, and its 1998 sequel Children of God, explore the problem of evil, and how to reconcile a benevolent deity with human suffering. (The title refers to Matthew 10:29–31, "Yet not one [sparrow] will fall to the ground outside your Father's care.") The Sparrow won the Arthur C. Clarke and James Tiptree, Jr. Awards.
***
DIAMOND AGE SCI-FI at HILOBROW: William Gibson | Bruce Sterling | Margaret Atwood | Ann Nocenti | Frank Miller | Alan Moore | Octavia E. Butler | Iain M. Banks | Grant Morrison | Neal Stephenson | Jonathan Lethem | Charles Burns | China Miéville.
JOSH GLENN'S *BEST ADVENTURES* LISTS: BEST 250 ADVENTURES OF THE 20TH CENTURY | 100 BEST OUGHTS ADVENTURES | 100 BEST RADIUM AGE (PROTO-)SCI-FI ADVENTURES | 100 BEST TEENS ADVENTURES | 100 BEST TWENTIES ADVENTURES | 100 BEST THIRTIES ADVENTURES | 75 BEST GOLDEN AGE SCI-FI ADVENTURES | 100 BEST FORTIES ADVENTURES | 100 BEST FIFTIES ADVENTURES | 100 BEST SIXTIES ADVENTURES | 75 BEST NEW WAVE SCI FI ADVENTURES | 100 BEST SEVENTIES ADVENTURES | 100 BEST EIGHTIES ADVENTURES | 75 BEST DIAMOND AGE SCI-FI ADVENTURES | 100 BEST NINETIES ADVENTURES (in progress) | 1994 | 1995 | 1996 | 1997 | 1998 | 1999 | 2000 | 2001 | 2002 | 2003 | NOTES ON 21st-CENTURY ADVENTURES.