Diamond Age 75 (41)
By: Joshua Glenn
December 22, 2019
One in a series of posts about the 75 best science fiction novels published during the genre's Diamond Age era (from 1984–2003, according to HILOBROW's periodization schema). For Josh Glenn's complete Diamond Age Sci-Fi 75 list, click here.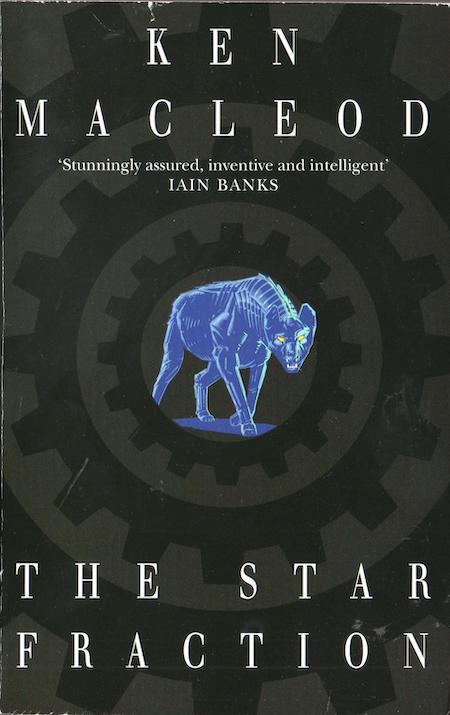 Ken MacLeod's Fall Revolution adventure The Star Fraction (1995).
In a balkanized Britain just a few hundred years from now, Moh Kohn, a smartgun-brandishing Trotskyist mercenary, finds himself embroiled in a revolution against the US/UN — a meta-dictatorship which made itself the neutral arbiter of international security in the wake of World War Three. The US/UN does not rule directly, but instead enforces a set of (sometimes secret) laws over a vast number of global microstates; for example, certain avenues of research, such as intelligence augmentation or artificial intelligence, are prohibited. The revolution, it seems, was set into motion by the Watchmaker, a financial software that may have evolved into an AI — thanks to the illicit work of Janis Taine, a scientist working on memory-enhancing drugs. Along with Janis and Jordan, a teenage atheist and hacker from a fundamentalist Christian microstate, Moh must evade the US/UN's spy satellites — while navigating the violent squabbles of communists, socialists, libertarians, and anarchists. The book, which is replete with Marxist puns and in-jokes, is a throwback to cyberpunk: interfacing technology, biological enhancements, mind-altering drugs, a vibrant underworld. If the plot is too frenetic, and the characters underdeveloped, that's OK — it's the author's first outing. I don't understand it, but I enjoy it.
Fun fact: MacLeod, a Scottish author, continued the Fall Revolution series with The Stone Canal (1996) and The Cassini Division (1998). The Sky Road (1999), meanwhile, represents an alternate sequel to The Stone Canal.
***
DIAMOND AGE SCI-FI at HILOBROW: William Gibson | Bruce Sterling | Margaret Atwood | Ann Nocenti | Frank Miller | Alan Moore | Octavia E. Butler | Iain M. Banks | Grant Morrison | Neal Stephenson | Jonathan Lethem | Charles Burns | China Miéville.
JOSH GLENN'S *BEST ADVENTURES* LISTS: BEST 250 ADVENTURES OF THE 20TH CENTURY | 100 BEST OUGHTS ADVENTURES | 100 BEST RADIUM AGE (PROTO-)SCI-FI ADVENTURES | 100 BEST TEENS ADVENTURES | 100 BEST TWENTIES ADVENTURES | 100 BEST THIRTIES ADVENTURES | 75 BEST GOLDEN AGE SCI-FI ADVENTURES | 100 BEST FORTIES ADVENTURES | 100 BEST FIFTIES ADVENTURES | 100 BEST SIXTIES ADVENTURES | 75 BEST NEW WAVE SCI FI ADVENTURES | 100 BEST SEVENTIES ADVENTURES | 100 BEST EIGHTIES ADVENTURES | 75 BEST DIAMOND AGE SCI-FI ADVENTURES | 100 BEST NINETIES ADVENTURES (in progress) | 1994 | 1995 | 1996 | 1997 | 1998 | 1999 | 2000 | 2001 | 2002 | 2003 | NOTES ON 21st-CENTURY ADVENTURES.