Diamond Age 75 (37)
By: Joshua Glenn
November 24, 2019
One in a series of posts about the 75 best science fiction novels published during the genre's Diamond Age era (from 1984–2003, according to HILOBROW's periodization schema). For Josh Glenn's complete Diamond Age Sci-Fi 75 list, click here.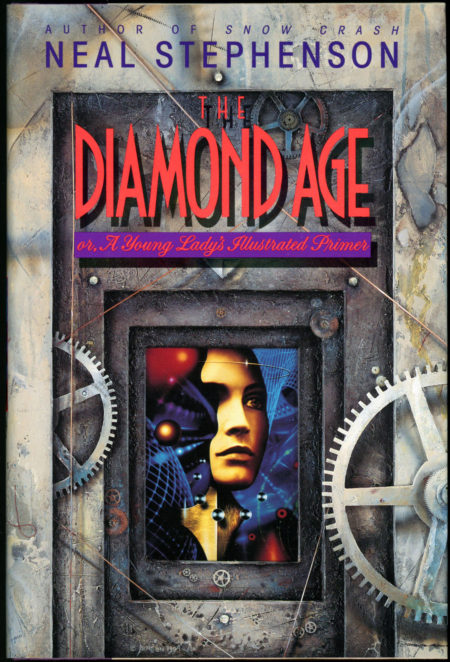 Neal Stephenson's The Diamond Age: Or, A Young Lady's Illustrated Primer (1995).
When the designer of the Young Lady's Illustrated Primer: a Propædeutic Enchiridion — an interactive story-telling device intended to inculcate in the granddaughter of "Equity Lord" Alexander Chung-Sik Finkle-McGraw the knowledge and skills to subvert the dominant paradigm — bootlegs a copy for his own daughter, it instead falls into the hands of young Nell, a bright 4-year-old slum-dweller. Under the tutelage of the Primer, Nell not only survives but thrives. Lord Finkle-McGraw, meanwhile, attempts to exploit Hackworth to advance the goals of his tribe; so does Dr. X, the Chinese engineer (and powerful Confucian leader) who'd helped Hackworth create the illicit Primer. Meanwhile, the actress Miranda, who provides the voice of the Primer and becomes a kind of surrogate mother to Nell, seeks the child out. All of this takes place against the backdrop of a Neo-Victorian British colonial society in which nanotechnology has made it possible for anyone to 3-D print food and objects, and government has become obsolete. The relationship between Nell and her Primer is an affecting one; in a sense, this is a book is a bildungsroman about homo superior — like Stapledon's Last Men in London or Odd John, say, or Beresford's The Hampdenshire Wonder. However, in the book's second half, the plot goes off the rails — with the introduction of tribes such as the Drummers, who create a subconscious hive mind through sexual orgies (is this a reference to Alan Moore's Halo Jones comic?); the powerful CryptNet organization; and the Chinese Fists of Righteous Harmony. Stephenson's goal is to explore the unintended consequences of a post-scarcity world… but the story ends abruptly and inconclusively.
Fun fact: An enchiridion is a handbook; a propædeutic is a preliminary teaching, for beginners. Other fun fictional propædeutic enchiridions include Owen Hughes's Arithmetic, Grammar, Botany & these Pleasing Sciences made Familiar to the Capacities of Youth, in Joan Aiken's The Whispering Mountain (1968); and Huey, Dewey and Louie's Junior Woodchucks' Guidebook, from Carl Barks's Donald Duck comics; the Junior Woodchucks first appear in 1951. PS: When my friends Elizabeth Foy Larsen and Tony Leone and I pitched the family activity book UNBORED to Bloomsbury, in 2010, we explicitly compared it to Stephenson's Young Lady's Illustrated Primer.
***
DIAMOND AGE SCI-FI at HILOBROW: William Gibson | Bruce Sterling | Margaret Atwood | Ann Nocenti | Frank Miller | Alan Moore | Octavia E. Butler | Iain M. Banks | Grant Morrison | Neal Stephenson | Jonathan Lethem | Charles Burns | China Miéville.
JOSH GLENN'S *BEST ADVENTURES* LISTS: BEST 250 ADVENTURES OF THE 20TH CENTURY | 100 BEST OUGHTS ADVENTURES | 100 BEST RADIUM AGE (PROTO-)SCI-FI ADVENTURES | 100 BEST TEENS ADVENTURES | 100 BEST TWENTIES ADVENTURES | 100 BEST THIRTIES ADVENTURES | 75 BEST GOLDEN AGE SCI-FI ADVENTURES | 100 BEST FORTIES ADVENTURES | 100 BEST FIFTIES ADVENTURES | 100 BEST SIXTIES ADVENTURES | 75 BEST NEW WAVE SCI FI ADVENTURES | 100 BEST SEVENTIES ADVENTURES | 100 BEST EIGHTIES ADVENTURES | 75 BEST DIAMOND AGE SCI-FI ADVENTURES | 100 BEST NINETIES ADVENTURES (in progress) | 1994 | 1995 | 1996 | 1997 | 1998 | 1999 | 2000 | 2001 | 2002 | 2003 | NOTES ON 21st-CENTURY ADVENTURES.