Diamond Age 75 (33)
By: Joshua Glenn
October 28, 2019
One in a series of posts about the 75 best science fiction novels published during the genre's Diamond Age era (from 1984–2003, according to HILOBROW's periodization schema). For Josh Glenn's complete Diamond Age Sci-Fi 75 list, click here.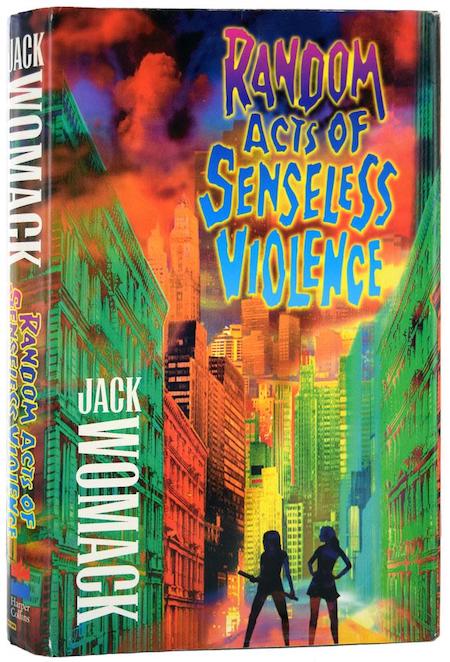 Jack Womack's Dryco adventure Random Acts of Senseless Violence (1993).
In near-future New York, 12-year-old Lola Hart must contend with political and civil unrest (riots, fires, disease outbreaks, roaming gangs), as well as the effects of increasing inflation. When her formerly well-to-do family is forced to move to Harlem, she loses touch with her private-school friends and takes up instead with three streetwise African American girls: Iz, Jude, and Weezie. This prequel to Womack's six-book Dryco series is the Mad Max of the series; in this installment, things rapidly go from screwed-up to abysmal. The military struggles to control what remains of the American state; a sinister corporation called Dryco assumes possession of what were formerly public-sector goods; and an increasingly ignorant and desperate populace worships "E" — a bygone rock'n'roller turned godling. In just a few months, the United States descends into violent anarchy; rape and murder are everyday facts of life, for Lola and her scrappy crew. Lola's diary, which we're reading, and whose vocabulary and idioms change dramatically from beginning to end ("Everything downcame today, the world's spinning out and I spec we finally all going to be riding raw"), suggests that such violence is systemic… and by no means random.
Fun facts: The Dryco series begins with — in order of publication — Ambient (1987), Terraplane (1988), Heathern (1990), and Elvissey (1993). An adult version of Lola's character appears briefly, and violently, in Ambient. Cory Doctorow and others have called Random Acts of Senseless Violence Womack's under-appreciated masterpiece; when asked why he thought the book hadn't succeeded, Womack blamed its terrible cover art.
***
DIAMOND AGE SCI-FI at HILOBROW: William Gibson | Bruce Sterling | Margaret Atwood | Ann Nocenti | Frank Miller | Alan Moore | Octavia E. Butler | Iain M. Banks | Grant Morrison | Neal Stephenson | Jonathan Lethem | Charles Burns | China Miéville.
JOSH GLENN'S *BEST ADVENTURES* LISTS: BEST 250 ADVENTURES OF THE 20TH CENTURY | 100 BEST OUGHTS ADVENTURES | 100 BEST RADIUM AGE (PROTO-)SCI-FI ADVENTURES | 100 BEST TEENS ADVENTURES | 100 BEST TWENTIES ADVENTURES | 100 BEST THIRTIES ADVENTURES | 75 BEST GOLDEN AGE SCI-FI ADVENTURES | 100 BEST FORTIES ADVENTURES | 100 BEST FIFTIES ADVENTURES | 100 BEST SIXTIES ADVENTURES | 75 BEST NEW WAVE SCI FI ADVENTURES | 100 BEST SEVENTIES ADVENTURES | 100 BEST EIGHTIES ADVENTURES | 75 BEST DIAMOND AGE SCI-FI ADVENTURES | 100 BEST NINETIES ADVENTURES (in progress) | 1994 | 1995 | 1996 | 1997 | 1998 | 1999 | 2000 | 2001 | 2002 | 2003 | NOTES ON 21st-CENTURY ADVENTURES.