Diamond Age 75 (31)
By: Joshua Glenn
October 13, 2019
One in a series of posts about the 75 best science fiction novels published during the genre's Diamond Age era (from 1984–2003, according to HILOBROW's periodization schema). For Josh Glenn's complete Diamond Age Sci-Fi 75 list, click here.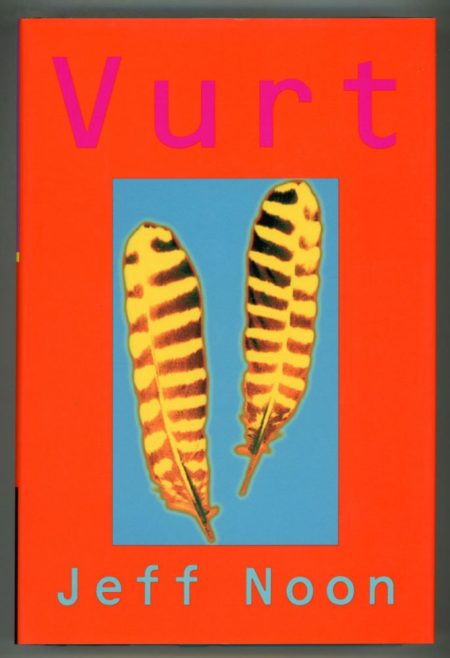 Jeff Noon's Vurt adventure Vurt (1993).
In the anarchic, rain-swept environs of future Manchester, England, nearly everyone is obsessed with "Vurt" — a vast multiplayer virtual reality game/consensual hallucination accessed by sucking on drug-infused colored feathers. (Also: dog-human hybrids have formed a thriving subculture, with their own rock stars; flesh cops and shadowcops pursue those who access illicit versions of vurt; and there's and there's a tentacled, multi-orificed, harmless Thing From Outer Space, too.) Vurt, it seems, is in fact a kind of parallel world, or multiverse; you can lose things there, and bring other things back. This is the situation haunting our narrator, Scribble, who's lost his sister — with whom he is sexually obsessed — somewhere in the game. As he careens around with his friends, the charismatic but unsympathetic Stash Riders, in search of exotic and illicit vurt feathers, Scribble schemes to retrieve Desdemona, somehow, from wherever she may be. (There's an echo, here, of the Tammuz/Ishtar myth.) In the end, Scribble may have to give up everything he knows and loves in order to succeed in his quest. For better and worse, this is a story very much of its moment: "In science fiction, once a generation there are one or two voices that capture the times the same as bands do," says Warren Ellis. "In 1993, post-rave, where things were still jumping but they were starting to get a bit dark… Jeff Noon was the sound of post-rave."
Fun fact: Winner of the Arthur C. Clarke Award. Noon's second book, a sequel, is titled Pollen (1995); he also wrote a prequel, Nymphomation (1997). In 2017, Ravendesk Games published a tabletop role-playing game version of Vurt.
***
DIAMOND AGE SCI-FI at HILOBROW: William Gibson | Bruce Sterling | Margaret Atwood | Ann Nocenti | Frank Miller | Alan Moore | Octavia E. Butler | Iain M. Banks | Grant Morrison | Neal Stephenson | Jonathan Lethem | Charles Burns | China Miéville.
JOSH GLENN'S *BEST ADVENTURES* LISTS: BEST 250 ADVENTURES OF THE 20TH CENTURY | 100 BEST OUGHTS ADVENTURES | 100 BEST RADIUM AGE (PROTO-)SCI-FI ADVENTURES | 100 BEST TEENS ADVENTURES | 100 BEST TWENTIES ADVENTURES | 100 BEST THIRTIES ADVENTURES | 75 BEST GOLDEN AGE SCI-FI ADVENTURES | 100 BEST FORTIES ADVENTURES | 100 BEST FIFTIES ADVENTURES | 100 BEST SIXTIES ADVENTURES | 75 BEST NEW WAVE SCI FI ADVENTURES | 100 BEST SEVENTIES ADVENTURES | 100 BEST EIGHTIES ADVENTURES | 75 BEST DIAMOND AGE SCI-FI ADVENTURES | 100 BEST NINETIES ADVENTURES (in progress) | 1994 | 1995 | 1996 | 1997 | 1998 | 1999 | 2000 | 2001 | 2002 | 2003 | NOTES ON 21st-CENTURY ADVENTURES.