Diamond Age 75 (27)
By: Joshua Glenn
September 15, 2019
One in a series of posts about the 75 best science fiction novels published during the genre's Diamond Age era (from 1984–2003, according to HILOBROW's periodization schema). For Josh Glenn's complete Diamond Age Sci-Fi 75 list, click here.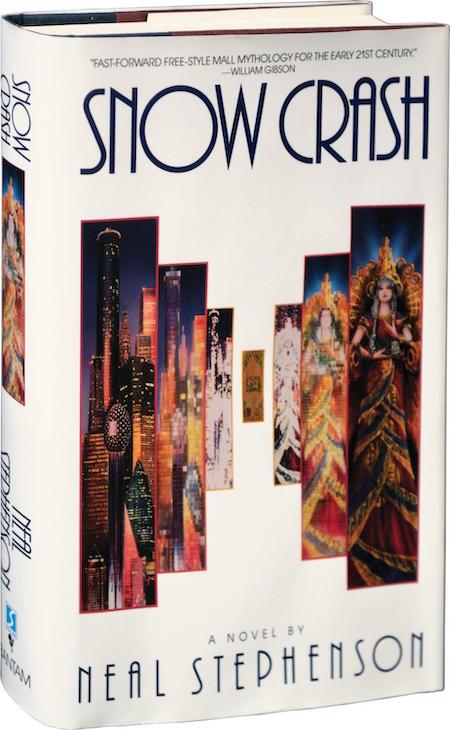 Neal Stephenson's Snow Crash (1992).
Snow Crash, Stephenson's first sci-fi novel, was developed from elements of a Ghost in the Shell-esque graphic novel that he'd abandoned; as such, it's visionary yet goofy, deep yet two-dimensional, thrilling yet rambling and tedious, stylish yet stupid — which is fun. It's set not only in a cyberpunk-influenced, ambiguous-libertarian-utopian future Los Angeles, but also in the "Metaverse," a virtual reality-based successor to the Internet — the users of which interact as "avatars" (a term this book didn't coin but popularized), with one another as well as with software agents. But if you're expecting William Gibson's spare, neo-noir prose, you'll be disappointed; Stephenson is a maximalist — diving down every open rabbit-hole. Prose limitations aside, it's a terrific thrill-ride. The quick-thinking, skateboard-riding courier Y.T. (for "Yours Truly") is an impressive female hero; Hiro Protagonist, the half-black, half-Japanese hacker who teams up with her has awesome skills… though he's not the protagonist. Within the Metaverse, Hiro is offered a datafile named Snow Crash — the term refers to a particular software failure mode on early Apple Macs; hackers who view the file (a virus, a drug, a religion — what's the difference?) suffer not only catastrophic computer problems but brain damage. A massive infodump informs us that cultural information comes in discreet self-replicating packets, which can be transmitted like a virus or genetic code; and that the Sumerian language is the firmware programming language for the human brainstem, which supposedly functions as the BIOS for the brain itself. (In Stephenson's recounting of the story of the Tower of Babel, the goddess Asherah personifies a linguistic virus created to control all humankind; the god Enki created a counter-program that caused humans to speak other languages.) Raven, the story's villain, is terrifying and oddly sympathetic; Uncle Enzo, the Mafia kingpin who takes a paternal interest in Y.T., is also a compelling figure. There is plenty of action, here, even if the climactic action sequence is somewhat of a letdown.
Fun facts: Snow Crash's Metaverse has influenced the development of everything from Second Life to the videogame Quake. In 2017, Amazon announced that it was co-producing an hour-long sci-fi TV show based on Snow Crash; Joe Cornish is executive producer.
***
DIAMOND AGE SCI-FI at HILOBROW: William Gibson | Bruce Sterling | Margaret Atwood | Ann Nocenti | Frank Miller | Alan Moore | Octavia E. Butler | Iain M. Banks | Grant Morrison | Neal Stephenson | Jonathan Lethem | Charles Burns | China Miéville.
JOSH GLENN'S *BEST ADVENTURES* LISTS: BEST 250 ADVENTURES OF THE 20TH CENTURY | 100 BEST OUGHTS ADVENTURES | 100 BEST RADIUM AGE (PROTO-)SCI-FI ADVENTURES | 100 BEST TEENS ADVENTURES | 100 BEST TWENTIES ADVENTURES | 100 BEST THIRTIES ADVENTURES | 75 BEST GOLDEN AGE SCI-FI ADVENTURES | 100 BEST FORTIES ADVENTURES | 100 BEST FIFTIES ADVENTURES | 100 BEST SIXTIES ADVENTURES | 75 BEST NEW WAVE SCI FI ADVENTURES | 100 BEST SEVENTIES ADVENTURES | 100 BEST EIGHTIES ADVENTURES | 75 BEST DIAMOND AGE SCI-FI ADVENTURES | 100 BEST NINETIES ADVENTURES (in progress) | 1994 | 1995 | 1996 | 1997 | 1998 | 1999 | 2000 | 2001 | 2002 | 2003 | NOTES ON 21st-CENTURY ADVENTURES.