Diamond Age 75 (24)
By: Joshua Glenn
August 25, 2019
One in a series of posts about the 75 best science fiction novels published during the genre's Diamond Age era (from 1984–2003, according to HILOBROW's periodization schema). For Josh Glenn's complete Diamond Age Sci-Fi 75 list, click here.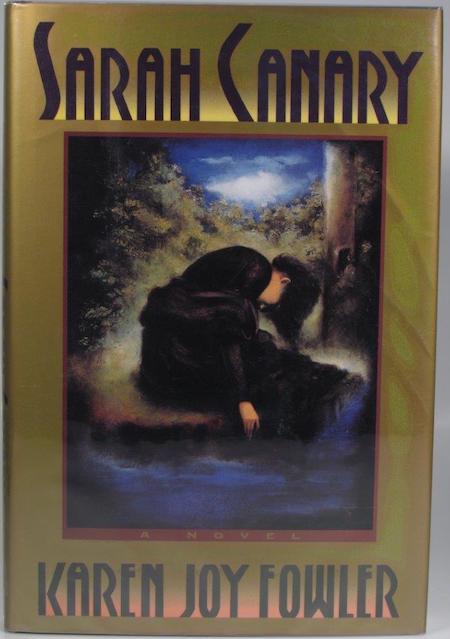 Karen Joy Fowler's Sarah Canary (1991).
Is Sarah Canary a sci-fi novel? It was nominated for Nebula Award, so sci-fi readers certainly think it is. A weird-looking, white-skinned woman — wearing a battered but fashionable black dress — wanders into a railway camp in Steilacoom, Washington in 1873; she warbles like a canary instead of speaking. Railway worker Chin Ah Kin is ordered to take "Sarah Canary," as she's dubbed, to a nearby asylum; he ends up in the asylum, himself. There, the two meet B.J., an inmate who is sporadically sane. The three of them escape and head for San Francisco. The traveling party comes to include a showman named Harold, and Adelaide, a suffragette who fears the conventional roles of women; both seek to exploit Sarah for their own purposes. What follows is a funny, moving, sometimes terrifying series of adventures and misadventures. The reader may suspect that this is a first-contact novel; Sarah indeed seems to possess unearthly abilities, or maybe unearthly technology. However, if our titular character is indeed a visiting extraterrestrial, then this picaresque makes it clear that the year 1873 was a particularly unfortunate time for a tour of the misogynist, racist American West — which Fowler renders as strange and terrifying as any alien planet.
Fun fact: Fowler is best known as the author of The Jane Austen Book Club, a best-selling novel that was made into a 2007 romantic movie of the same name. But she began her career as a writer publishing sci-fi stories; Sarah Canary was her first novel. In 1991, Fowler cofounded the James Tiptree, Jr. Award, a literary prize for science fiction or fantasy that "expands or explores our understanding of gender."
***
DIAMOND AGE SCI-FI at HILOBROW: William Gibson | Bruce Sterling | Margaret Atwood | Ann Nocenti | Frank Miller | Alan Moore | Octavia E. Butler | Iain M. Banks | Grant Morrison | Neal Stephenson | Jonathan Lethem | Charles Burns | China Miéville.
JOSH GLENN'S *BEST ADVENTURES* LISTS: BEST 250 ADVENTURES OF THE 20TH CENTURY | 100 BEST OUGHTS ADVENTURES | 100 BEST RADIUM AGE (PROTO-)SCI-FI ADVENTURES | 100 BEST TEENS ADVENTURES | 100 BEST TWENTIES ADVENTURES | 100 BEST THIRTIES ADVENTURES | 75 BEST GOLDEN AGE SCI-FI ADVENTURES | 100 BEST FORTIES ADVENTURES | 100 BEST FIFTIES ADVENTURES | 100 BEST SIXTIES ADVENTURES | 75 BEST NEW WAVE SCI FI ADVENTURES | 100 BEST SEVENTIES ADVENTURES | 100 BEST EIGHTIES ADVENTURES | 75 BEST DIAMOND AGE SCI-FI ADVENTURES | 100 BEST NINETIES ADVENTURES (in progress) | 1994 | 1995 | 1996 | 1997 | 1998 | 1999 | 2000 | 2001 | 2002 | 2003 | NOTES ON 21st-CENTURY ADVENTURES.