Diamond Age 75 (23)
By: Joshua Glenn
August 18, 2019
One in a series of posts about the 75 best science fiction novels published during the genre's Diamond Age era (from 1984–2003, according to HILOBROW's periodization schema). For Josh Glenn's complete Diamond Age Sci-Fi 75 list, click here.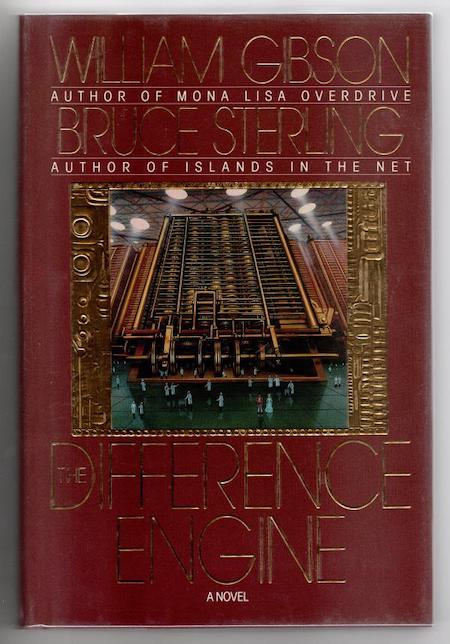 William Gibson and Bruce Sterling's The Difference Engine (1990).
If Adorno and Horkheimer had, instead of writing The Dialectic of Enlightenment, collaborated on an alternate-history novel about how things might have looked differently, in Victorian-era Britain, had Charles Babbage (the mathematician and inventor who in real life never completed his "difference engine" — a mechanical computer designed to produce error-free tables of mathematical functions commonly used by engineers and scientists — achieved his vision, the result might have looked something like this. By 1855 the Tory Party and hereditary peerage have been eclipsed by Babbage's Industrial Radical Party, which champions the acceleration of technological change and social upheaval. Mechanical computers are now ubiquitous, though electricity is still just a theory; all sorts of steam-powered technologies have flourished. There's a big downside: A proto-Orwellian surveillance state has come into being. Against this rich backdrop — too rich, perhaps; the book is in part a collage of material lifted from Victorian journalism and pulp fiction, and it's crammed with historical jokes — we follow three stories, linked by a mysterious set of powerful computer punch cards. Sybil Gerard, a political courtesan, wants revenge for the execution of her Luddite father; Edward Mallory, a dinosaur expert, chances into possession of the cards, and must dodge secret agents in a London on the brink of anarchy; Laurence Oliphant, a real-life explorer and British spy, plays a smaller but provocative role. The book doesn't have a conventional resolution; instead, Ada Lovelace, the real-world mathematician who published the first algorithm intended to be carried out by Babbage's mechanical computer, thus inventing computer programming, explains the cards' significance in a lecture about open systems. Also, we finally realize just who has been narrating this wild history.
Fun fact: The Difference Engine, which the authors wrote by swapping a floppy disk back and forth, was not the first steampunk novel, but it is perhaps the most influential early example of the genre. Eileen Gunn's online Difference Dictionary is a helpful resource, when reading this book.
***
DIAMOND AGE SCI-FI at HILOBROW: William Gibson | Bruce Sterling | Margaret Atwood | Ann Nocenti | Frank Miller | Alan Moore | Octavia E. Butler | Iain M. Banks | Grant Morrison | Neal Stephenson | Jonathan Lethem | Charles Burns | China Miéville.
JOSH GLENN'S *BEST ADVENTURES* LISTS: BEST 250 ADVENTURES OF THE 20TH CENTURY | 100 BEST OUGHTS ADVENTURES | 100 BEST RADIUM AGE (PROTO-)SCI-FI ADVENTURES | 100 BEST TEENS ADVENTURES | 100 BEST TWENTIES ADVENTURES | 100 BEST THIRTIES ADVENTURES | 75 BEST GOLDEN AGE SCI-FI ADVENTURES | 100 BEST FORTIES ADVENTURES | 100 BEST FIFTIES ADVENTURES | 100 BEST SIXTIES ADVENTURES | 75 BEST NEW WAVE SCI FI ADVENTURES | 100 BEST SEVENTIES ADVENTURES | 100 BEST EIGHTIES ADVENTURES | 75 BEST DIAMOND AGE SCI-FI ADVENTURES | 100 BEST NINETIES ADVENTURES (in progress) | 1994 | 1995 | 1996 | 1997 | 1998 | 1999 | 2000 | 2001 | 2002 | 2003 | NOTES ON 21st-CENTURY ADVENTURES.