Diamond Age 75 (22)
By: Joshua Glenn
August 11, 2019
One in a series of posts about the 75 best science fiction novels published during the genre's Diamond Age era (from 1984–2003, according to HILOBROW's periodization schema). For Josh Glenn's complete Diamond Age Sci-Fi 75 list, click here.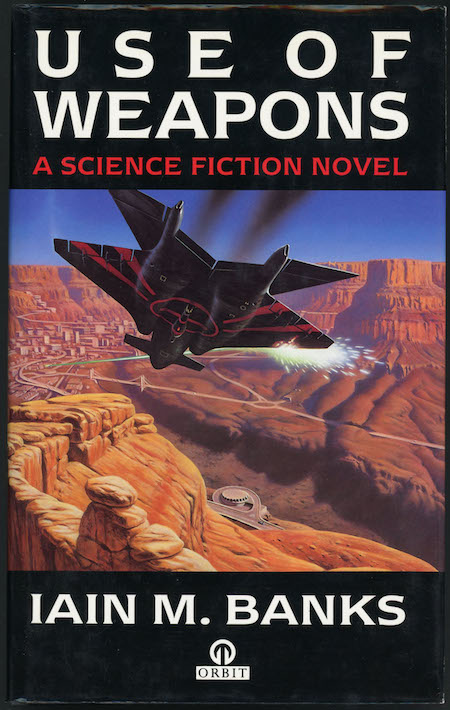 Iain M. Banks's Culture adventure Use of Weapons (1990).
There are two narratives in this, the third Culture novel. In one, which moves forward in time, we follow Special Circumstances agents Diziet Sma, a female human, and Skaffen-Amtiskaw, a snarky AI drone, as they recruit ex-agent Cheradenine Zakalwe, a rogue, assassin, military genius, and sad sack, to further the aims of the Culture — nudging benighted galactic civilizations away from political tyranny, economic plutocracy, and cultural ignorance and intolerance, and towards enlightenment, left-libertarianism, and peace — in a politically unstable star system. (The drone believes that Zakalwe is burned-out; it can't even guess at his real problem.) These are three of Banks's best characters, and it's fun to watch them in action; Zakalwe is the titular used weapon — the Culture needs him to do things that it regards as reprehensible. There is plenty of action as Zakalwe heroically achieves the Culture's goals. The second narrative, meanwhile, moves chronologically in reverse! Here, we learn about earlier jobs that the near-sociopathic Zakalwe has performed for Special Circumstances, and eventually we learn about his childhood — growing up in a non-Culture social order, and commanding an army in a bloody civil war. Zakalwe has demanded that his Culture handlers locate a woman named Livueta; when he finally reunites with her, there's a major plot twist that helps us to understand his motivation. As with every Culture novel, we're left grappling with political-science conundrums.
Fun facts: Diziet Sma and Skaffen-Amtiskaw also appear in Banks's story "The State of the Art"; and we'll meet Zakalwe again, too, under a different name. One hears that Banks wrote an even more complex version of this story in 1974, but abandoned it; years later, fellow Scottish sci-fi author Ken MacLeod — also known for chronologically tricksy story telling — helped him figure out how to transform it into something publishable.
***
DIAMOND AGE SCI-FI at HILOBROW: William Gibson | Bruce Sterling | Margaret Atwood | Ann Nocenti | Frank Miller | Alan Moore | Octavia E. Butler | Iain M. Banks | Grant Morrison | Neal Stephenson | Jonathan Lethem | Charles Burns | China Miéville.
JOSH GLENN'S *BEST ADVENTURES* LISTS: BEST 250 ADVENTURES OF THE 20TH CENTURY | 100 BEST OUGHTS ADVENTURES | 100 BEST RADIUM AGE (PROTO-)SCI-FI ADVENTURES | 100 BEST TEENS ADVENTURES | 100 BEST TWENTIES ADVENTURES | 100 BEST THIRTIES ADVENTURES | 75 BEST GOLDEN AGE SCI-FI ADVENTURES | 100 BEST FORTIES ADVENTURES | 100 BEST FIFTIES ADVENTURES | 100 BEST SIXTIES ADVENTURES | 75 BEST NEW WAVE SCI FI ADVENTURES | 100 BEST SEVENTIES ADVENTURES | 100 BEST EIGHTIES ADVENTURES | 75 BEST DIAMOND AGE SCI-FI ADVENTURES | 100 BEST NINETIES ADVENTURES (in progress) | 1994 | 1995 | 1996 | 1997 | 1998 | 1999 | 2000 | 2001 | 2002 | 2003 | NOTES ON 21st-CENTURY ADVENTURES.