Diamond Age 75 (20)
By: Joshua Glenn
July 28, 2019
One in a series of posts about the 75 best science fiction novels published during the genre's Diamond Age era (from 1984–2003, according to HILOBROW's periodization schema). For Josh Glenn's complete Diamond Age Sci-Fi 75 list, click here.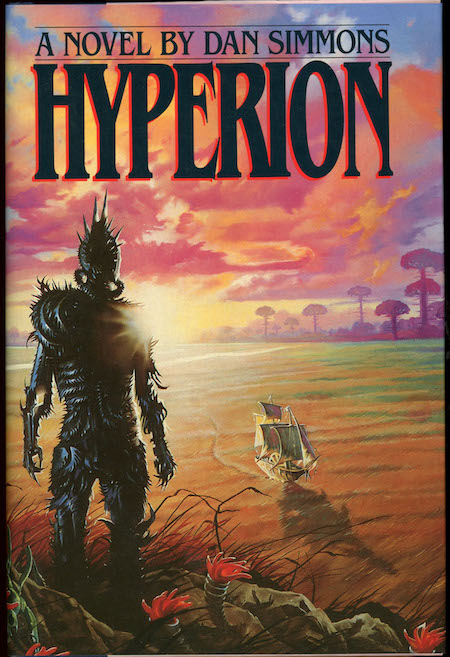 Dan Simmons's Hyperion Cantos adventure Hyperion (1989).
Chaucer's Canterbury Tales is a collection of stories — told by a disparate group of pilgrims — within a frame story, the overall effect of which is to paint a sardonic portrait of 14th-century English society. This 29th-century Chaucerian space opera gives us a priest, a soldier, a poet, a scholar, and other pilgrims chosen by the Shrike Church and the Hegemony of Man (which rules some 200 human-inhabited planets) to make a request of the so-called Shrike, a deadly half-mechanical, half-organic creature that can control the flow of time. As they progress in their journey, away from their home planets (simulacra of ancient Earth societies and cultures) towards the remote, titular planet Hyperion, where the mysterious Shrike dwells, we learn — via the pilgrims' stories — that the Ousters, a faction of humanity mutated by centuries of living in deep space, plans to invade Hyperion… and that Hyperion's enormous, provocatively empty Time Tombs are about to finally reveal their secrets. Earth has reportedly been destroyed; the Hegemony's technology (strikingly, readily available teleportation devices) comes from a secretive civilization of self-aware AIs, who inhabit a cyberspace-esque realm that is divided into warring factions. There's a legend suggesting that all but one of a group of pilgrims to the Shrike will be horribly killed, and the other granted one wish; why has this group of individuals been selected for this mission? It's a metatextual novel: The astute reader will pick up allusions to everything from Shakespeare to The Long Goodbye and The Wizard of Oz, and of course to other sci-fi novels. And it's a literary work, too: Each novella mashes up genres, from the detective story and horror to action-packed combat, even romance. Phew!
Fun facts: Winner of the Hugo and Locus Awards. The next book in the series was The Fall of Hyperion, published in 1990.
***
DIAMOND AGE SCI-FI at HILOBROW: William Gibson | Bruce Sterling | Margaret Atwood | Ann Nocenti | Frank Miller | Alan Moore | Octavia E. Butler | Iain M. Banks | Grant Morrison | Neal Stephenson | Jonathan Lethem | Charles Burns | China Miéville.
JOSH GLENN'S *BEST ADVENTURES* LISTS: BEST 250 ADVENTURES OF THE 20TH CENTURY | 100 BEST OUGHTS ADVENTURES | 100 BEST RADIUM AGE (PROTO-)SCI-FI ADVENTURES | 100 BEST TEENS ADVENTURES | 100 BEST TWENTIES ADVENTURES | 100 BEST THIRTIES ADVENTURES | 75 BEST GOLDEN AGE SCI-FI ADVENTURES | 100 BEST FORTIES ADVENTURES | 100 BEST FIFTIES ADVENTURES | 100 BEST SIXTIES ADVENTURES | 75 BEST NEW WAVE SCI FI ADVENTURES | 100 BEST SEVENTIES ADVENTURES | 100 BEST EIGHTIES ADVENTURES | 75 BEST DIAMOND AGE SCI-FI ADVENTURES | 100 BEST NINETIES ADVENTURES (in progress) | 1994 | 1995 | 1996 | 1997 | 1998 | 1999 | 2000 | 2001 | 2002 | 2003 | NOTES ON 21st-CENTURY ADVENTURES.