Best 1953 Adventures (3)
By: Joshua Glenn
July 23, 2018
One in a series of 10 posts identifying Josh Glenn's favorite 1953 adventure novels. Happy 65th anniversary!
*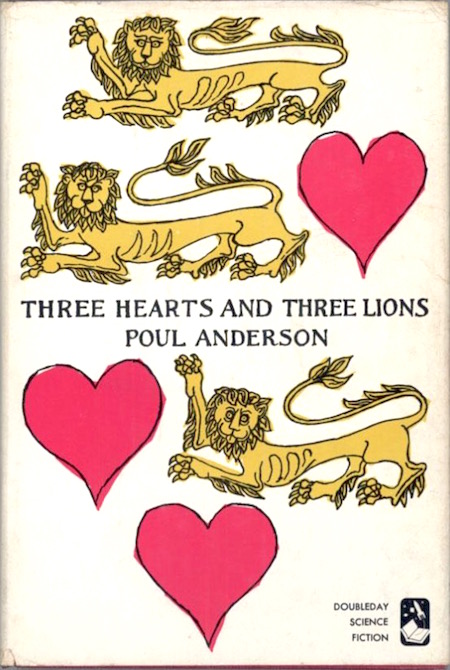 Poul Anderson's sci-fi/fantasy adventure Three Hearts and Three Lions (1953; as a book, 1961).
Often inadequately classified as a work of fantasy (I've classified it this way myself), Three Hearts and Three Lions is that rarest of phenomena: a fun, ingenious blend of science fiction and fantasy alike. When Holger Carlsen, a Danish-born American engineer who during WWII returns to Denmark to join the resistance (in an effort to smuggle out a physicist who alone can end the war), is grazed on the head by a bullet, he is transported to a parallel Earth — a medieval fantasy-land where Charlemagne is king, and trolls and unicorns wander the woods. Stranger still, Holger discovers a knight's equipment (emblazoned with three hearts and three lions) and horse waiting for him; and he knows how to use the weapons and speak an archaic form of French. Soon, he becomes embroiled in an epic showdown: the forces of Faery are poised to overthrow humankind and their allies who support Law over Chaos. Embarking on a quest for an anti-chaos WMD, the legendary sword Cortana, Holger is joined by a gruff dwarf, a swan-may, and a Saracen knight; he is also aided by his understanding of science and engineering — because "magic," it turns out, is indistinguishable from advanced technology.
Fun fact: A novella version first appeared in the magazine Fantasy & Science Fiction. Anderson's obsession with Northern European legends, and his admiration for medieval virtues — developed further in The Broken Sword (1954) — directly inspired the game Dungeons & Dragons. His notion of a battle between Law and Chaos, and that of the Eternal Champion, were also directly influential on Michael Moorcock's creation of Elric of Melniboné.
***
JOSH GLENN'S *BEST ADVENTURES* LISTS: BEST 250 ADVENTURES OF THE 20TH CENTURY | 100 BEST OUGHTS ADVENTURES | 100 BEST RADIUM AGE (PROTO-)SCI-FI ADVENTURES | 100 BEST TEENS ADVENTURES | 100 BEST TWENTIES ADVENTURES | 100 BEST THIRTIES ADVENTURES | 75 BEST GOLDEN AGE SCI-FI ADVENTURES | 100 BEST FORTIES ADVENTURES | 100 BEST FIFTIES ADVENTURES | 100 BEST SIXTIES ADVENTURES | 75 BEST NEW WAVE SCI FI ADVENTURES | 100 BEST SEVENTIES ADVENTURES | 100 BEST EIGHTIES ADVENTURES | 75 BEST DIAMOND AGE SCI-FI ADVENTURES | 100 BEST NINETIES ADVENTURES (in progress) | 1994 | 1995 | 1996 | 1997 | 1998 | 1999 | 2000 | 2001 | 2002 | 2003 | NOTES ON 21st-CENTURY ADVENTURES.