New Wave Sci-Fi 75 (65)
By: Joshua Glenn
December 30, 2018
One in a series of posts about the 75 best science fiction novels published during the genre's New Wave era (from 1964–1983, according to HILOBROW's periodization schema). For Josh Glenn's complete New Wave Sci-Fi 75 list, click here.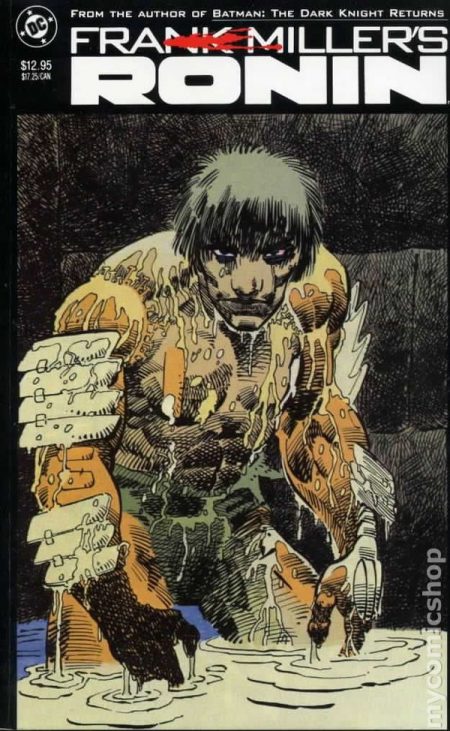 Frank Miller's sci-fi graphic novel Rōnin (1983–1984).
A six-issue DC miniseries written and drawn by Miller, who a couple of years earlier had earned a brilliant reputation as a writer and penciller on Daredevil. While researching martial-arts movies and Japanese samurai manga for that comic, Miller became fascinated with the medieval figure of the ronin — a rootless samurai whose master has been killed. Drawn in a weird, expressionistic style synthesizing manga and Moebius, Miller's Rōnin tells the story of Billy Challas, a limbless and abused mutant with telekinetic powers who — while testing cutting-edge prosthetic limbs for the biocircuitry company Aquarius, located in a post-apocalyptic New York — appears to be possessed by a ronin from feudal Japan. Virgo, the artificial intelligence at the heart of the Aquarius Complex, is a major character in this enthralling, often wordless yarn; other players include Peter McKenna, inventor of biocircuitry, his wife, Casey McKenna, Aquarius' bad-ass head of security, and Taggart, who funded and controls Aquarius (and who is replaced by the ronin's almost-immortal enemy, the demon Agat). The action spills out into the streets of New York — where Billy/Ronin must confront a neo-Nazi gang, sewer-dwelling cannibals, and Virgo's lethal robots!
Fun facts: Artwork painted by Lynn Varley. Genndy Tartakovsky has stated that Ronin was one of the major influences on his animated TV series Samurai Jack.
***
NEW WAVE SCI-FI at HILOBROW: 75 Best New Wave (1964–1983) Sci-Fi Novels | Back to Utopia: Fredric Jameson's theorizing about New Wave sci-fi | Douglas Adams | Poul Anderson | J.G. Ballard | John Brunner | William Burroughs | Octavia E. Butler | Samuel R. Delany | Philip K. Dick | Frank Herbert | Ursula K. Le Guin | Barry N. Malzberg | Moebius (Jean Giraud) | Michael Moorcock | Alan Moore | Gary Panter | Walker Percy | Thomas Pynchon | Joanna Russ | James Tiptree Jr. (Alice Sheldon) | Kurt Vonnegut | PLUS: Jack Kirby's Golden Age and New Wave science fiction comics.
JOSH GLENN'S *BEST ADVENTURES* LISTS: BEST 250 ADVENTURES OF THE 20TH CENTURY | 100 BEST OUGHTS ADVENTURES | 100 BEST RADIUM AGE (PROTO-)SCI-FI ADVENTURES | 100 BEST TEENS ADVENTURES | 100 BEST TWENTIES ADVENTURES | 100 BEST THIRTIES ADVENTURES | 75 BEST GOLDEN AGE SCI-FI ADVENTURES | 100 BEST FORTIES ADVENTURES | 100 BEST FIFTIES ADVENTURES | 100 BEST SIXTIES ADVENTURES | 75 BEST NEW WAVE SCI FI ADVENTURES | 100 BEST SEVENTIES ADVENTURES | 100 BEST EIGHTIES ADVENTURES | 75 BEST DIAMOND AGE SCI-FI ADVENTURES | 100 BEST NINETIES ADVENTURES (in progress) | 1994 | 1995 | 1996 | 1997 | 1998 | 1999 | 2000 | 2001 | 2002 | 2003 | NOTES ON 21st-CENTURY ADVENTURES.