New Wave Sci-Fi 75 (56)
By: Joshua Glenn
October 28, 2018
One in a series of posts about the 75 best science fiction novels published during the genre's New Wave era (from 1964–1983, according to HILOBROW's periodization schema). For Josh Glenn's complete New Wave Sci-Fi 75 list, click here.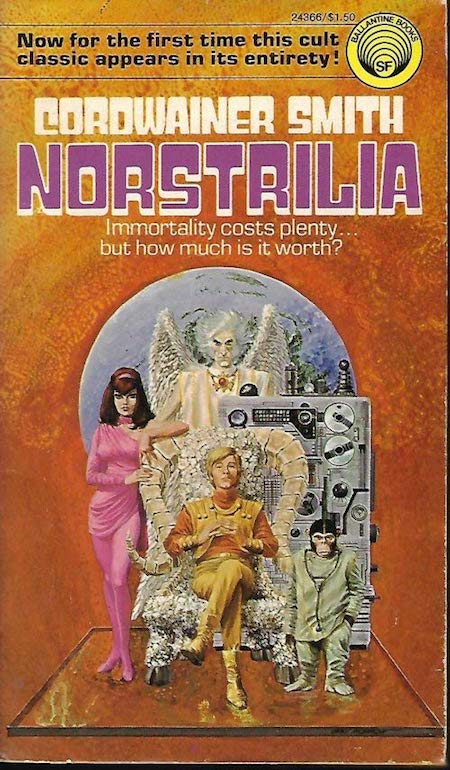 Cordwainer Smith's Instrumentality of Mankind adventure Norstrilia (1975, in complete form).
In the far future, as we know from Smith's other stories (collected in the volume The Rediscovery of Man), once all of humankind's needs have been met — thanks to advanced technology, peace and prosperity, and the use of animal-derived "underpeople" for the few remaining physical jobs — a galaxy-wide administrative body known as the Instrumentality will intervene, in order to make life worth living again. How? By reintroducing cultural and language differences, for example, or even by encouraging the underpeople to revolt. Rod McBan the 151st, a young farmer on the planet Norstrilia — which had long ago been colonized by Australians, and which alone produces the immortality drug stroon — comes to the attention of the Instrumentality because of his unusually powerful, yet difficult-to-control psionic abilities. They help save him from a Norstrilian rite of passage that could otherwise have proven fatal, and when Rod uses an ancient, illegal computer to corner the galactic market for stroon, they help smuggle him back to Earth, humankind's homeworld, before he can be assassinated or kidnapped. Rod is disguised as an underperson — a cat-man — and C'mell, Earth's most beautiful cat-woman, becomes his protector. Sympathizing with the underpeople, Rod sacrifices his fortune for them.
Fun facts: Norstrilia is the only novel published by Paul Linebarger, a scholar and diplomat expert in psychological warfare, as "Cordwainer Smith." Its two parts were published, separately, in Galaxy in 1964; both were then published as novellas. They weren't combined into one volume until 1975.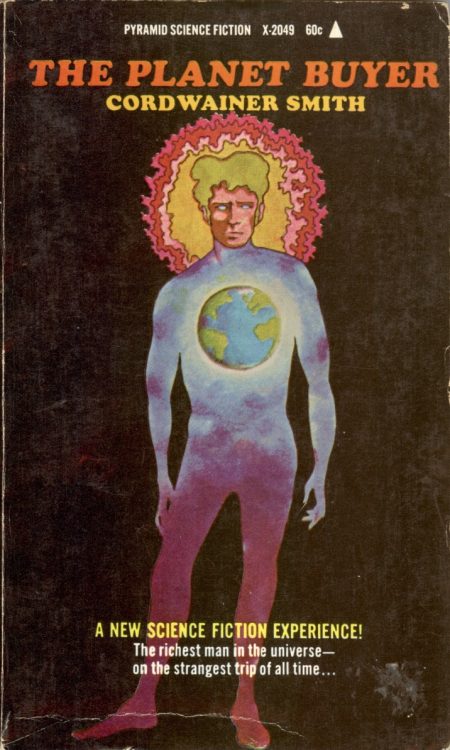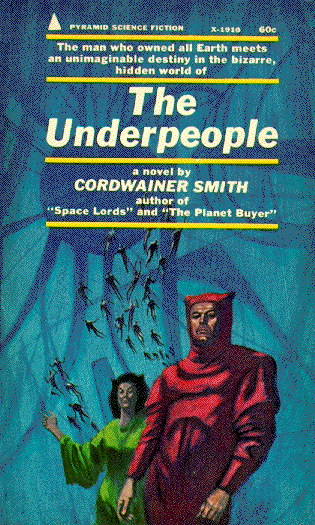 ***
NEW WAVE SCI-FI at HILOBROW: 75 Best New Wave (1964–1983) Sci-Fi Novels | Back to Utopia: Fredric Jameson's theorizing about New Wave sci-fi | Douglas Adams | Poul Anderson | J.G. Ballard | John Brunner | William Burroughs | Octavia E. Butler | Samuel R. Delany | Philip K. Dick | Frank Herbert | Ursula K. Le Guin | Barry N. Malzberg | Moebius (Jean Giraud) | Michael Moorcock | Alan Moore | Gary Panter | Walker Percy | Thomas Pynchon | Joanna Russ | James Tiptree Jr. (Alice Sheldon) | Kurt Vonnegut | PLUS: Jack Kirby's Golden Age and New Wave science fiction comics.
JOSH GLENN'S *BEST ADVENTURES* LISTS: BEST 250 ADVENTURES OF THE 20TH CENTURY | 100 BEST OUGHTS ADVENTURES | 100 BEST RADIUM AGE (PROTO-)SCI-FI ADVENTURES | 100 BEST TEENS ADVENTURES | 100 BEST TWENTIES ADVENTURES | 100 BEST THIRTIES ADVENTURES | 75 BEST GOLDEN AGE SCI-FI ADVENTURES | 100 BEST FORTIES ADVENTURES | 100 BEST FIFTIES ADVENTURES | 100 BEST SIXTIES ADVENTURES | 75 BEST NEW WAVE SCI FI ADVENTURES | 100 BEST SEVENTIES ADVENTURES | 100 BEST EIGHTIES ADVENTURES | 75 BEST DIAMOND AGE SCI-FI ADVENTURES | 100 BEST NINETIES ADVENTURES (in progress) | 1994 | 1995 | 1996 | 1997 | 1998 | 1999 | 2000 | 2001 | 2002 | 2003 | NOTES ON 21st-CENTURY ADVENTURES.