New Wave Sci-Fi 75 (46)
By: Joshua Glenn
August 19, 2018
One in a series of posts about the 75 best science fiction novels published during the genre's New Wave era (from 1964–1983, according to HILOBROW's periodization schema). For Josh Glenn's complete New Wave Sci-Fi 75 list, click here.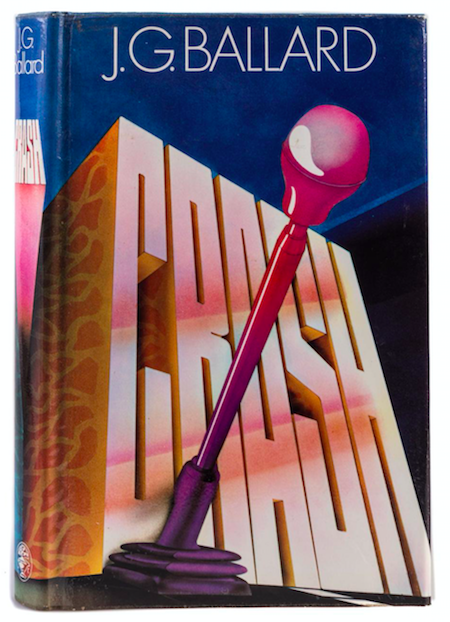 J.G. Ballard's Crash (1973).
If Ballard's early novels — 1964's The Burning World, for example — were sardonic inversions of survivalist cozy catastrophes, then Crash might be read as a sardonic inversion of another Adventure genre: the picaresque. In fact, the episodic, shambolic plot of Crash, in which the protagonist falls under the influence of a charismatic, wildly unconventional kook, and immerses himself in an automobile-centric world of transgressive kicks, feels to this reader like a pessimistic, avant-garde response to the all-American optimism of Kerouac's On the Road. (Ballard himself described Crash as a "warning against that brutal, erotic, and overlit realm that beckons more and more persuasively to us from the margins of the technological landscape.") In this anti-optimistic morality play, "James Ballard" is maimed in a car crash, which leaves the other driver dead; he is subsequently drawn into the orbit of Dr. Vaughan, a car-wreck enthusiast who heads up a kind of sex cult of fellow fetishists. Vaughan, Ballard, and others — Seagrave, a crossdressing stuntman; Gabrielle, a lesbian opium-addict and amputee; Helen, the widow of Ballard's victim — engage in Sadean sex rites in crashed and about-to-be-crashed cars. If Ballard's earlier novels are cataclysms set in the future; Crash takes place in a cataclysmic present, i.e., one in which catastrophe has become normalized.
Fun facts: The Normal's 1978 song "Warm Leatherette" was inspired by Crash; Gary Numan's 1979 song "Cars" may have been, as well. In 1996, Crash was adapted as a film of the same name by David Cronenberg; it stars James Spader, Deborah Kara Unger, Elias Koteas, Holly Hunter, and Rosanna Arquette.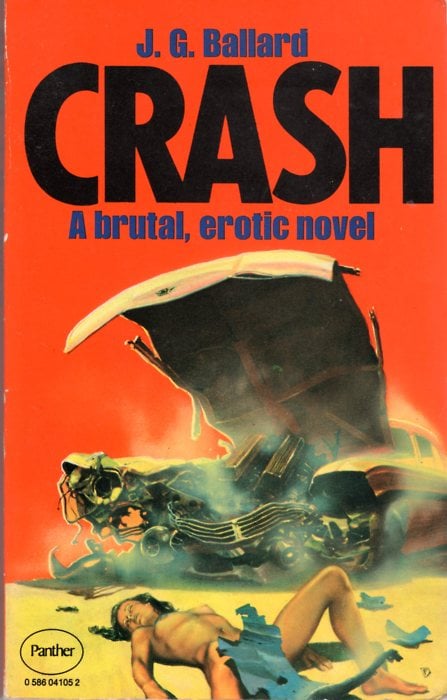 ***
NEW WAVE SCI-FI at HILOBROW: 75 Best New Wave (1964–1983) Sci-Fi Novels | Back to Utopia: Fredric Jameson's theorizing about New Wave sci-fi | Douglas Adams | Poul Anderson | J.G. Ballard | John Brunner | William Burroughs | Octavia E. Butler | Samuel R. Delany | Philip K. Dick | Frank Herbert | Ursula K. Le Guin | Barry N. Malzberg | Moebius (Jean Giraud) | Michael Moorcock | Alan Moore | Gary Panter | Walker Percy | Thomas Pynchon | Joanna Russ | James Tiptree Jr. (Alice Sheldon) | Kurt Vonnegut | PLUS: Jack Kirby's Golden Age and New Wave science fiction comics.
JOSH GLENN'S *BEST ADVENTURES* LISTS: BEST 250 ADVENTURES OF THE 20TH CENTURY | 100 BEST OUGHTS ADVENTURES | 100 BEST RADIUM AGE (PROTO-)SCI-FI ADVENTURES | 100 BEST TEENS ADVENTURES | 100 BEST TWENTIES ADVENTURES | 100 BEST THIRTIES ADVENTURES | 75 BEST GOLDEN AGE SCI-FI ADVENTURES | 100 BEST FORTIES ADVENTURES | 100 BEST FIFTIES ADVENTURES | 100 BEST SIXTIES ADVENTURES | 75 BEST NEW WAVE SCI FI ADVENTURES | 100 BEST SEVENTIES ADVENTURES | 100 BEST EIGHTIES ADVENTURES | 75 BEST DIAMOND AGE SCI-FI ADVENTURES | 100 BEST NINETIES ADVENTURES (in progress) | 1994 | 1995 | 1996 | 1997 | 1998 | 1999 | 2000 | 2001 | 2002 | 2003 | NOTES ON 21st-CENTURY ADVENTURES.