New Wave Sci-Fi 75 (1)
By: Joshua Glenn
October 1, 2017
One in a series of posts about the 75 best science fiction novels published during the genre's New Wave era (from 1964–1983, according to HILOBROW's periodization schema). For Josh Glenn's complete New Wave Sci-Fi 75 list, click here.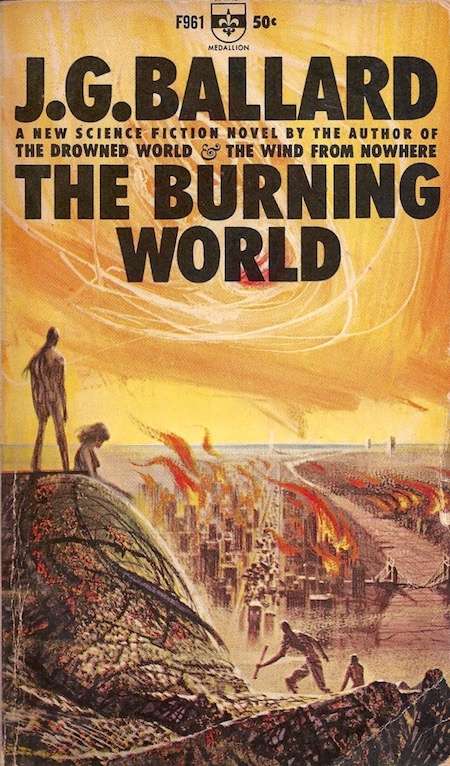 J.G. Ballard's The Burning World (1964).
A difficult book to read, in many respects — with the saving grace that it is not a Golden Age sci-fi "cozy catastrophe," i.e., in which the apocalypse proves to be a kind of wish fulfillment for an alienated male protagonist. As the story begins, a British suburb begins to grapple with the fact that an unending drought — brought on by human pollution — will result in rivers running dry, crops failing, and humankind succumbing to famine and disease. Some years later, a small band of survivors from that suburb traverses vast salt plains in search of potable water. As in Beckett's Endgame, our post-apocalyptic protagonist, the resigned and taciturn Dr. Ransom, and his companions — including a deranged architect who takes to wearing jeweled robes; and a crippled man who walks on stilts — discover that everything they've ever believed is meaningless.
Fun fact: An expanded version, retitled The Drought, was published in 1965. Ballard's other early catastrophe novels include The Wind from Nowhere (1961), The Drowned World (1962), and The Crystal World (1966).
***
NEW WAVE SCI-FI at HILOBROW: 75 Best New Wave (1964–1983) Sci-Fi Novels | Back to Utopia: Fredric Jameson's theorizing about New Wave sci-fi | Douglas Adams | Poul Anderson | J.G. Ballard | John Brunner | William Burroughs | Octavia E. Butler | Samuel R. Delany | Philip K. Dick | Frank Herbert | Ursula K. Le Guin | Barry N. Malzberg | Moebius (Jean Giraud) | Michael Moorcock | Alan Moore | Gary Panter | Walker Percy | Thomas Pynchon | Joanna Russ | James Tiptree Jr. (Alice Sheldon) | Kurt Vonnegut | PLUS: Jack Kirby's Golden Age and New Wave science fiction comics.
JOSH GLENN'S *BEST ADVENTURES* LISTS: BEST 250 ADVENTURES OF THE 20TH CENTURY | 100 BEST OUGHTS ADVENTURES | 100 BEST RADIUM AGE (PROTO-)SCI-FI ADVENTURES | 100 BEST TEENS ADVENTURES | 100 BEST TWENTIES ADVENTURES | 100 BEST THIRTIES ADVENTURES | 75 BEST GOLDEN AGE SCI-FI ADVENTURES | 100 BEST FORTIES ADVENTURES | 100 BEST FIFTIES ADVENTURES | 100 BEST SIXTIES ADVENTURES | 75 BEST NEW WAVE SCI FI ADVENTURES | 100 BEST SEVENTIES ADVENTURES | 100 BEST EIGHTIES ADVENTURES | 75 BEST DIAMOND AGE SCI-FI ADVENTURES | 100 BEST NINETIES ADVENTURES (in progress) | 1994 | 1995 | 1996 | 1997 | 1998 | 1999 | 2000 | 2001 | 2002 | 2003 | NOTES ON 21st-CENTURY ADVENTURES.