New Wave Sci-Fi 75 (42)
By: Joshua Glenn
July 22, 2018
One in a series of posts about the 75 best science fiction novels published during the genre's New Wave era (from 1964–1983, according to HILOBROW's periodization schema). For Josh Glenn's complete New Wave Sci-Fi 75 list, click here.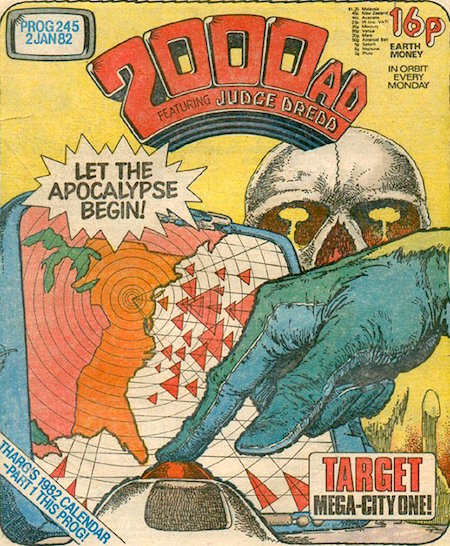 John Wagner, Alan Grant, and Carlos Ezquerra's Judge Dredd adventures "Block Mania" (serialized 10/31/1981 to 12/26/81) and "The Apocalypse War" (1/2/82 to 6/26/82).
In 1977, writer John Wagner and artist Carlos Ezquerra created Judge Dredd — a violent sci-fi comic strip spoofing American action movies (military, cop, western, vigilante) of the Seventies — for British readers of the weekly magazine 2000 AD. In the 22nd century, the titular judge-jury-and-executioner character and his colleagues police Mega-City One, which is subdivided into gigantic towers known as City Blocks stretching from Boston to Key West. In "The Apocalypse War," Russkies from East Meg One, a Soviet citystate, invade Mega-City One. Hundreds of millions of Mega-City One citizens are killed, and ninety percent of the city is captured — while Dredd tries to organize a guerrilla resistance movement. Failing that, he must consider the option of completely obliterating East Meg One! "Block Mania," the prologue to "The Apocalypse War," demonstrates how Mega-City One was softened up for invasion: a massive conflict between City Blocks is engineered by an East Meg One agent, Orlok, who infects the water supply with a psychotropic drug. Orlok also kills Dredd's sidekick, Judge Giant, in an almost casual way — which was shocking to even the shock-proof readers of 2000 AD.
Fun fact: Via his excellent Dredd Reckoning blog, Douglas Wolk notes just how dark the humor of this storyline is: "It's a story about genocide with comedy relief interludes — the Walter-and-Maria slapstick routines, the Country Joe-type folksinger getting splattered by a missile." In 1987, Games Workshop produced a board game, set in the Judge Dredd universe, called Block Mania; players take on the role of rival City Blocks — and use spray paint, guns, flamethrowers and heavy lasers to vandalize and destroy neighboring blocks.
***
NEW WAVE SCI-FI at HILOBROW: 75 Best New Wave (1964–1983) Sci-Fi Novels | Back to Utopia: Fredric Jameson's theorizing about New Wave sci-fi | Douglas Adams | Poul Anderson | J.G. Ballard | John Brunner | William Burroughs | Octavia E. Butler | Samuel R. Delany | Philip K. Dick | Frank Herbert | Ursula K. Le Guin | Barry N. Malzberg | Moebius (Jean Giraud) | Michael Moorcock | Alan Moore | Gary Panter | Walker Percy | Thomas Pynchon | Joanna Russ | James Tiptree Jr. (Alice Sheldon) | Kurt Vonnegut | PLUS: Jack Kirby's Golden Age and New Wave science fiction comics.
JOSH GLENN'S *BEST ADVENTURES* LISTS: BEST 250 ADVENTURES OF THE 20TH CENTURY | 100 BEST OUGHTS ADVENTURES | 100 BEST RADIUM AGE (PROTO-)SCI-FI ADVENTURES | 100 BEST TEENS ADVENTURES | 100 BEST TWENTIES ADVENTURES | 100 BEST THIRTIES ADVENTURES | 75 BEST GOLDEN AGE SCI-FI ADVENTURES | 100 BEST FORTIES ADVENTURES | 100 BEST FIFTIES ADVENTURES | 100 BEST SIXTIES ADVENTURES | 75 BEST NEW WAVE SCI FI ADVENTURES | 100 BEST SEVENTIES ADVENTURES | 100 BEST EIGHTIES ADVENTURES | 75 BEST DIAMOND AGE SCI-FI ADVENTURES | 100 BEST NINETIES ADVENTURES (in progress) | 1994 | 1995 | 1996 | 1997 | 1998 | 1999 | 2000 | 2001 | 2002 | 2003 | NOTES ON 21st-CENTURY ADVENTURES.