New Wave Sci-Fi 75 (19)
By: Joshua Glenn
February 4, 2018
One in a series of posts about the 75 best science fiction novels published during the genre's New Wave era (from 1964–1983, according to HILOBROW's periodization schema). For Josh Glenn's complete New Wave Sci-Fi 75 list, click here.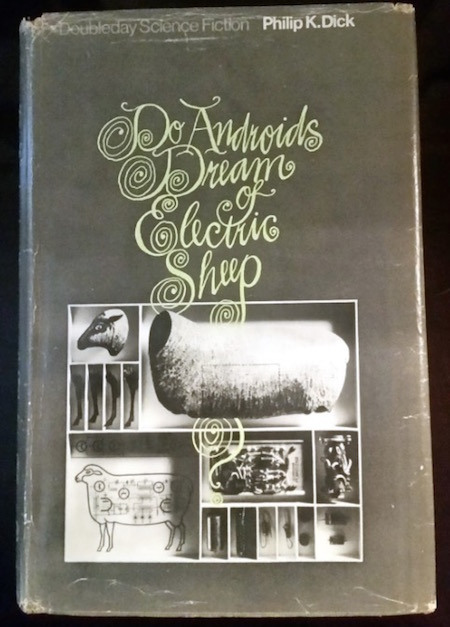 Philip K. Dick's New Wave sci-fi adventure Do Androids Dream of Electric Sheep?.
In a post-apocalyptic San Francisco, bounty hunter Rick Deckard is charged with "retiring" six escaped androids — one of whom, named Pris, moved into a derelict apartment building inhabited only by John Isidore, an intellectually challenged man who attempts to befriend her. Although there are plenty of thrills and chills here (for example, Deckard is seduced by an android whose mission it is to make it impossible for him to kill Pris), this is as much a philosophical novel about empathy as it as an adventure. The androids have no emotions — the only way that Deckard can tell them apart from humans is by giving them empathy tests. The androids, meanwhile, are on a mission to disprove a popular pseudo-religion called "Mercerism," in which grasping the handles of an electronic Empathy Box allows you to "encompass every other living thing." ("Mercerism is a swindle," the androids insist. "The whole experience of empathy is a swindle.") Deckard must prove them wrong… though he begins to wonder whether he, too, is an android.
Fun facts: The theatrical-release version of Blade Runner, Ridley Scott's souped-up adaptation of Dick's novel, doesn't lead viewers to question Deckard's humanity (or does it). And the 2017 sequel, Blade Runner 2049, further muddies the waters.
***
NEW WAVE SCI-FI at HILOBROW: 75 Best New Wave (1964–1983) Sci-Fi Novels | Back to Utopia: Fredric Jameson's theorizing about New Wave sci-fi | Douglas Adams | Poul Anderson | J.G. Ballard | John Brunner | William Burroughs | Octavia E. Butler | Samuel R. Delany | Philip K. Dick | Frank Herbert | Ursula K. Le Guin | Barry N. Malzberg | Moebius (Jean Giraud) | Michael Moorcock | Alan Moore | Gary Panter | Walker Percy | Thomas Pynchon | Joanna Russ | James Tiptree Jr. (Alice Sheldon) | Kurt Vonnegut | PLUS: Jack Kirby's Golden Age and New Wave science fiction comics.
JOSH GLENN'S *BEST ADVENTURES* LISTS: BEST 250 ADVENTURES OF THE 20TH CENTURY | 100 BEST OUGHTS ADVENTURES | 100 BEST RADIUM AGE (PROTO-)SCI-FI ADVENTURES | 100 BEST TEENS ADVENTURES | 100 BEST TWENTIES ADVENTURES | 100 BEST THIRTIES ADVENTURES | 75 BEST GOLDEN AGE SCI-FI ADVENTURES | 100 BEST FORTIES ADVENTURES | 100 BEST FIFTIES ADVENTURES | 100 BEST SIXTIES ADVENTURES | 75 BEST NEW WAVE SCI FI ADVENTURES | 100 BEST SEVENTIES ADVENTURES | 100 BEST EIGHTIES ADVENTURES | 75 BEST DIAMOND AGE SCI-FI ADVENTURES | 100 BEST NINETIES ADVENTURES (in progress) | 1994 | 1995 | 1996 | 1997 | 1998 | 1999 | 2000 | 2001 | 2002 | 2003 | NOTES ON 21st-CENTURY ADVENTURES.