THE KALEVALA (17)
By: James Parker
September 22, 2017
The Kalevala is a sequence of folkloric songs, runes and charms from the Karelia region of Finland, collected in the field and concatenated into epic form by Dr. Elias Lonnrot (1803-1884). The versions presented here are not translations or transliterations — they are respectful bastardizations, working from the 1963 English version of the Kalevala produced by the versatile and witty Francis Peabody Magoun Jr.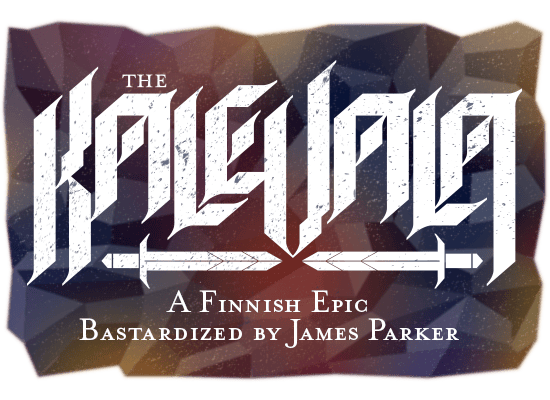 *
LOSING IT
[being a bastardization of The Kalevala, Rune 30, lines 185–188]
The moon she raised her white and crater'd
face
above the sea-crust. Meanly sparkled stars,
and ground the heavens with the rolling of
huge frost-cars.
It was a wicked place,
oxygen-forsaken.
Their heads were aching.
The albatross, frozen stiff
as glass, dropped from the air and
shattered
on a wave's unyielding quiff.
Nothing mattered.
"Wulfi, take my hand, old pal.
Will I go mad here? Will I?"
They were breathing frozen albatross,
in slivers and scintillae.
Said Wulfi:
"To nobler feelings let us not pretend.
This place is very weird.
I foresee no relief.
So pass me your emptied cup, friend:
I'll wring the tears from my soggy beard
and make a full flagon of grief."
They talked thus, the two voyagers,
while nonsense attacked them in goblin
flashes
and their words broke into dots and
dashes.
Said Lemminkainen:
"In boyhood I was lyrical indeed.
I blundered big-eyed into bogs,
where the marsh sprite, with his bog-sweet
breath,
played notes for me on a hollow reed.
I nibbled now and again
at the tuna melt of melancholy.
But nothing serious, nothing lasting.
I lived for gaiety and folly!
Now I wonder, could I just sit and be
with the fiendish and fixated simplicity
of a bluebottle on a cowpat?
Would my nervous system allow that?
What do you think, Wulfi?
Should I lay down my war axe
and sit in the shit
and rotate beautiful colors in my bluebottle
thorax?"
But Wulfi was all preoccupied and full of
ruth.
And he grimaced, and wept, and spoke a
truth:
"You wander here, you wander there,
a mourner on the unmarked roads,
until the Great Bear claps his paws
and your head explodes."
***
Series banner contributed by Rick Pinchera.
ALL INSTALLMENTS: INTRODUCTION: Laughter in the Womb of Time, or Why I Love the Kalevala | RUNE 1: "The Birth of Vainamoinen" | RUNE 2 (departure): "Vainamoinen in November" | RUNE 3 (1–278): "Wizard Battle" | RUNE 4 (1–56): "A Failed Seduction" | RUNE 4 (300–416): "Aino Ends It All" | RUNE 5 (45–139): "An Afternoon Upon the Water" | RUNE 5 (150–241): "The Blue Elk" | RUNE 5 (departure): "Smüt the Dog Praises His Seal Queen" | RUNE 6 (1–114): "Therapy Session" | RUNE 6 (115–130): "Joukahainen's Mother Counsels Him Against Shooting the Wizard Vainamoinen" | RUNE 11 (1–138): "Introducing Kyllikki" | RUNE 17 (1–98): "The Dreaming Giant" | RUNE 23 (485–580): "The Bride's Lament" | RUNE 30 (1–276): "Icebound" | RUNE 30 (120–188): "The Voyage of the Sea-Hare" (Part One) | RUNE 30 (185–188): "Losing It" | RUNE 30 (departure): "Across the Ice" | RUNE 30 (departure): "Song of the Guilty Viking" | RUNE 30 (departure): "The Witch's Dance" | RUNE 31 (215–225): "The Babysitter" | RUNE 31 (223–300): "The Screaming Axe" | RUNE 33 (1–136): "The Cowherd" | RUNE 33 (73): "Song of the Blade: Kullervo" | RUNE 33 (reworked): "The Breaking of the Blade" | RUNE 33 (118–284): "The Cows Come Home" | RUNE 34 (1–82): "The Pipes of Kullervo" | RUNE 45 (259–312, departure): "The Wizard's Secret".
MORE PARKER at HILOBROW: COCKY THE FOX: a brilliant swearing-animal epic, serialized here at HILOBROW from 2010–2011, inc. a newsletter by Patrick Cates | THE KALEVALA — a Finnish epic, bastardized | THE BOURNE VARIATIONS: A series of poems about the Jason Bourne movies | ANGUSONICS: James and Tommy Valicenti parse Angus Young's solos | MOULDIANA: James and Tommy Valicenti parse Bob Mould's solos | BOLANOMICS: James traces Marc Bolan's musical and philosophical development | WINDS OF MAGIC: A curated series reprinting James's early- and mid-2000s writing for the Boston Globe and Boston Phoenix | CROM YOUR ENTHUSIASM: J.R.R. Tolkien's THE HOBBIT | EVEN MORE PARKER, including doggerel; HiLo Hero items on Sid Vicious, Dez Cadena, Mervyn Peake, others; and more.