THE KALEVALA (15)
By: James Parker
July 23, 2017
The Kalevala is a sequence of folkloric songs, runes and charms from the Karelia region of Finland, collected in the field and concatenated into epic form by Dr. Elias Lonnrot (1803-1884). The versions presented here are not translations or transliterations — they are respectful bastardizations, working from the 1963 English version of the Kalevala produced by the versatile and witty Francis Peabody Magoun Jr.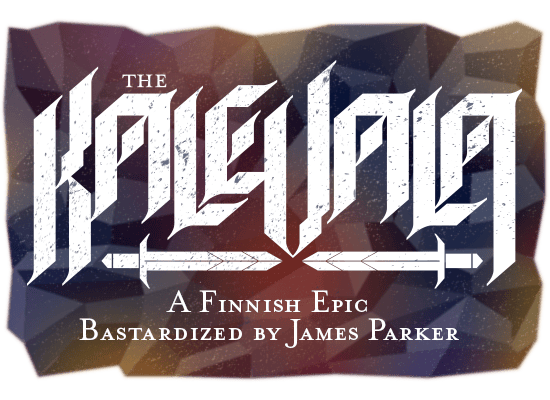 *
ICEBOUND
[being a bastardization of The Kalevala, Rune 30, lines 1-276]
Now let me lay down a line
as keen as the keel of Lemminkainen's
longship
as it carves the bright billow,
gold-greedy and fire-desiring,
en route to tearing up the dozy
homesteaders of North Farm.
Lemminkainen on the beach
hears the call of his battle-boat.
"Let's go, Lemminkainen!
Here I sit, soggy-hulled and sulking,
tugging at my anchor in the cold cove.
Let's go raiding, man.
Let's ram them amidships.
You know how achingly sweet is my
narrowness
and the keenness of my keel.
Let the sea run its hands over me.
Let the sea have a feel!"
"I hear you, boat," says Lemminkainen.
"Stand by. In twenty-four hours
you'll be bristling with pissed-off oarsmen,
all broad-wristed and blister-resistant,
and a mob of gulls will gather,
and away we'll go, to do our damage."
And away they go indeed,
next morning, out into the ocean,
buzzed by the clumsy albatross,
driving into grey anonymity,
on the other side of which is immortal
fame.
The tide sways on its stem, the gulls croon.
Deep thoughts stir the clapper of the sea's
green bell.
How good this feels!
But the witch of North Farm, sensing their
approach,
is by no means defenceless.
She sends out Jack Frost, tinkling and
prickling,
and shedding little musical splinters of ice,
capering over the white tops of waves
in his brass britches and winklepickers,
to produce a staring freeze.
The coves grow a crust.
Trees are paroxysms of ice.
Naughty Jack rejoices,
and the waves halt mid-curl
as if they've just remembered
that they are supposed to remember
something…
Lemminkainen, ice-locked,
hearing the groan of his trapped ship,
works up a counter-charm.
"I know you, Jack Frost," he says.
"Rock-splitter, with your tongue so bitter,
I know your origins.
Allow me to tell you something about your
parents."
"Hang onto your toes, sailor," says saucy
Jack.
"Hang onto your fingertips.
I'll blacken your lips before you finish
talking."
The sea is solid, and ten feet down
fish shatter into blankness.
But Lemminkainen carries on:
"A scraped-up egg, a twinge of sperm,
mixed and muddled to and fro
by a titless witch and a one-eyed worm —
that was Jack Frost in embryo.
They did it round the back of a shed.
They did it with cries to wake the dead.
By a broken gutter
you fussed and fluttered
and the rain made a stain
and the stain was a map of your brain."
Then he says the whole thing again.
And little Jack Frost shrinks back and melts
away in pain.
***
Series banner contributed by Rick Pinchera.
ALL INSTALLMENTS: INTRODUCTION: Laughter in the Womb of Time, or Why I Love the Kalevala | RUNE 1: "The Birth of Vainamoinen" | RUNE 2 (departure): "Vainamoinen in November" | RUNE 3 (1–278): "Wizard Battle" | RUNE 4 (1–56): "A Failed Seduction" | RUNE 4 (300–416): "Aino Ends It All" | RUNE 5 (45–139): "An Afternoon Upon the Water" | RUNE 5 (150–241): "The Blue Elk" | RUNE 5 (departure): "Smüt the Dog Praises His Seal Queen" | RUNE 6 (1–114): "Therapy Session" | RUNE 6 (115–130): "Joukahainen's Mother Counsels Him Against Shooting the Wizard Vainamoinen" | RUNE 11 (1–138): "Introducing Kyllikki" | RUNE 17 (1–98): "The Dreaming Giant" | RUNE 23 (485–580): "The Bride's Lament" | RUNE 30 (1–276): "Icebound" | RUNE 30 (120–188): "The Voyage of the Sea-Hare" (Part One) | RUNE 30 (185–188): "Losing It" | RUNE 30 (departure): "Across the Ice" | RUNE 30 (departure): "Song of the Guilty Viking" | RUNE 30 (departure): "The Witch's Dance" | RUNE 31 (215–225): "The Babysitter" | RUNE 31 (223–300): "The Screaming Axe" | RUNE 33 (1–136): "The Cowherd" | RUNE 33 (73): "Song of the Blade: Kullervo" | RUNE 33 (reworked): "The Breaking of the Blade" | RUNE 33 (118–284): "The Cows Come Home" | RUNE 34 (1–82): "The Pipes of Kullervo" | RUNE 45 (259–312, departure): "The Wizard's Secret".
MORE PARKER at HILOBROW: COCKY THE FOX: a brilliant swearing-animal epic, serialized here at HILOBROW from 2010–2011, inc. a newsletter by Patrick Cates | THE KALEVALA — a Finnish epic, bastardized | THE BOURNE VARIATIONS: A series of poems about the Jason Bourne movies | ANGUSONICS: James and Tommy Valicenti parse Angus Young's solos | MOULDIANA: James and Tommy Valicenti parse Bob Mould's solos | BOLANOMICS: James traces Marc Bolan's musical and philosophical development | WINDS OF MAGIC: A curated series reprinting James's early- and mid-2000s writing for the Boston Globe and Boston Phoenix | CROM YOUR ENTHUSIASM: J.R.R. Tolkien's THE HOBBIT | EVEN MORE PARKER, including doggerel; HiLo Hero items on Sid Vicious, Dez Cadena, Mervyn Peake, others; and more.