Golden Age Sci-Fi 75 (75)
By: Joshua Glenn
December 11, 2016
One in a series of 75 posts about the best science fiction novels published during the genre's so-called Golden Age (from 1934–63, according to HILOBROW's Josh Glenn's periodization schema). For the complete Golden Age Sci-Fi 75 list, click here.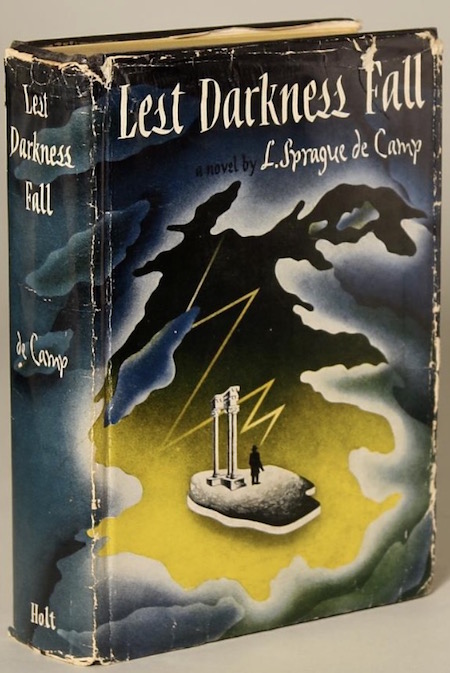 L. Sprague de Camp's Lest Darkness Fall (1941).
Thanks to a Connecticut Yankee in King Arthur's Court-esque time-travel phenomenon, archeologist Martin Padway ends up in Rome, c. 535. The Gothic War — in which the East Roman Emperor Justinian I sought to recover the provinces of the former Western Roman Empire, which the Romans had lost to invading Ostrogoths in the previous century — is about to begin. Because he knows that this conflict would usher in the Dark Ages, Padway attempts to alter the course of history. There is some Robinsonade action, at first, as Padway begins distilling brandy, expanding his business, and getting involved in politics. He teaches his clerks Arabic numerals and double entry bookkeeping; he develops a printing press, issues newspapers, and builds a long-distance semaphore telegraph system. In the last third of this short novel, he restores senile Ostrogoth emperor Theodahad to the throne (as a puppet ruler), moves the capitol to Ravenna (one of the few cities that was never sacked by the Goths), and leads Rome's defense against Belisarius, Justinian's talented general — then enlists Belisarius's help to command an army against the Franks. Oh, and he emancipates the Italian serfs!
Fun fact: A shorter version was first published in Unknown (December 1939). Lest Darkness Fall is considered one of the most influential early alternate-history yarns.
***
GOLDEN AGE SCIENCE FICTION at HILOBROW: Golden Age Sci-Fi: 75 Best Novels of 1934–1963 | Robert Heinlein | Karel Capek | William Burroughs | E.E. "Doc" Smith | Clifford D. Simak | H.P. Lovecraft | Olaf Stapledon | Philip K. Dick | Jack Williamson | George Orwell | Boris Vian | Bernard Wolfe | J.G. Ballard | Jorge Luis Borges |Poul Anderson | Walter M. Miller, Jr. | Murray Leinster | Kurt Vonnegut | Stanislaw Lem | Alfred Bester | Isaac Asimov | Ray Bradbury | Madeleine L'Engle | Arthur C. Clarke | PLUS: Jack Kirby's Golden Age and New Wave science fiction comics.
JOSH GLENN'S *BEST ADVENTURES* LISTS: BEST 250 ADVENTURES OF THE 20TH CENTURY | 100 BEST OUGHTS ADVENTURES | 100 BEST RADIUM AGE (PROTO-)SCI-FI ADVENTURES | 100 BEST TEENS ADVENTURES | 100 BEST TWENTIES ADVENTURES | 100 BEST THIRTIES ADVENTURES | 75 BEST GOLDEN AGE SCI-FI ADVENTURES | 100 BEST FORTIES ADVENTURES | 100 BEST FIFTIES ADVENTURES | 100 BEST SIXTIES ADVENTURES | 75 BEST NEW WAVE SCI FI ADVENTURES | 100 BEST SEVENTIES ADVENTURES | 100 BEST EIGHTIES ADVENTURES | 75 BEST DIAMOND AGE SCI-FI ADVENTURES | 100 BEST NINETIES ADVENTURES (in progress) | 1994 | 1995 | 1996 | 1997 | 1998 | 1999 | 2000 | 2001 | 2002 | 2003 | NOTES ON 21st-CENTURY ADVENTURES.