Golden Age Sci-Fi 75 (74)
By: Joshua Glenn
December 10, 2016
One in a series of 75 posts about the best science fiction novels published during the genre's so-called Golden Age (from 1934–63, according to HILOBROW's Josh Glenn's periodization schema). For the complete Golden Age Sci-Fi 75 list, click here.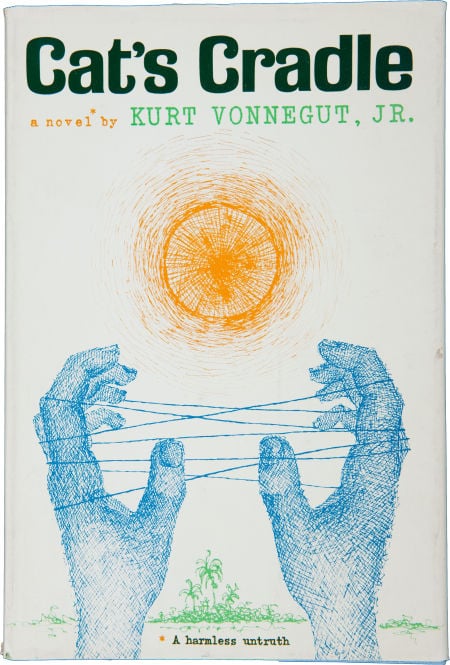 Kurt Vonnegut's Cat's Cradle (1963)
A cat's cradle is a string figure created as the result of a children's folk game; Vonnegut uses this figure as a metaphor for humankind's proclivity to discover meaning where there may in fact be none. The novel is narrated by John, a writer interviewing the children of Felix Hoenikker, a (fictional) physicist who'd helped develop the atomic bomb. John discovers that Hoenikker — driven by scientific zeal, and without any ethical consideration for possible consequences — had developed a substance known as ice-nine, which upon contact with liquid water transforms it into ice; the danger, however, is that ice-nine might come into contact with one of the world's oceans — an apocalyptic scenario. John accompanies Hoenikker's son, Franklin, to a (fictional) Caribbean island, San Lorenzo, where he discovers Bokononism, a utopian religious movement combining irreverent observations about life and God's will with eccentric, harmless rituals. As it turns out, Franklin is in possession of ice-nine… and the world may be doomed. As with Beckett's Endgame, here we find that social and cultural forms offer no help when we're faced with the end of everything.
Fun fact: After turning down his original thesis in 1947, the University of Chicago awarded Vonnegut a master's degree in Anthropology in 1971 for Cat's Cradle.
***
GOLDEN AGE SCIENCE FICTION at HILOBROW: Golden Age Sci-Fi: 75 Best Novels of 1934–1963 | Robert Heinlein | Karel Capek | William Burroughs | E.E. "Doc" Smith | Clifford D. Simak | H.P. Lovecraft | Olaf Stapledon | Philip K. Dick | Jack Williamson | George Orwell | Boris Vian | Bernard Wolfe | J.G. Ballard | Jorge Luis Borges |Poul Anderson | Walter M. Miller, Jr. | Murray Leinster | Kurt Vonnegut | Stanislaw Lem | Alfred Bester | Isaac Asimov | Ray Bradbury | Madeleine L'Engle | Arthur C. Clarke | PLUS: Jack Kirby's Golden Age and New Wave science fiction comics.
JOSH GLENN'S *BEST ADVENTURES* LISTS: BEST 250 ADVENTURES OF THE 20TH CENTURY | 100 BEST OUGHTS ADVENTURES | 100 BEST RADIUM AGE (PROTO-)SCI-FI ADVENTURES | 100 BEST TEENS ADVENTURES | 100 BEST TWENTIES ADVENTURES | 100 BEST THIRTIES ADVENTURES | 75 BEST GOLDEN AGE SCI-FI ADVENTURES | 100 BEST FORTIES ADVENTURES | 100 BEST FIFTIES ADVENTURES | 100 BEST SIXTIES ADVENTURES | 75 BEST NEW WAVE SCI FI ADVENTURES | 100 BEST SEVENTIES ADVENTURES | 100 BEST EIGHTIES ADVENTURES | 75 BEST DIAMOND AGE SCI-FI ADVENTURES | 100 BEST NINETIES ADVENTURES (in progress) | 1994 | 1995 | 1996 | 1997 | 1998 | 1999 | 2000 | 2001 | 2002 | 2003 | NOTES ON 21st-CENTURY ADVENTURES.